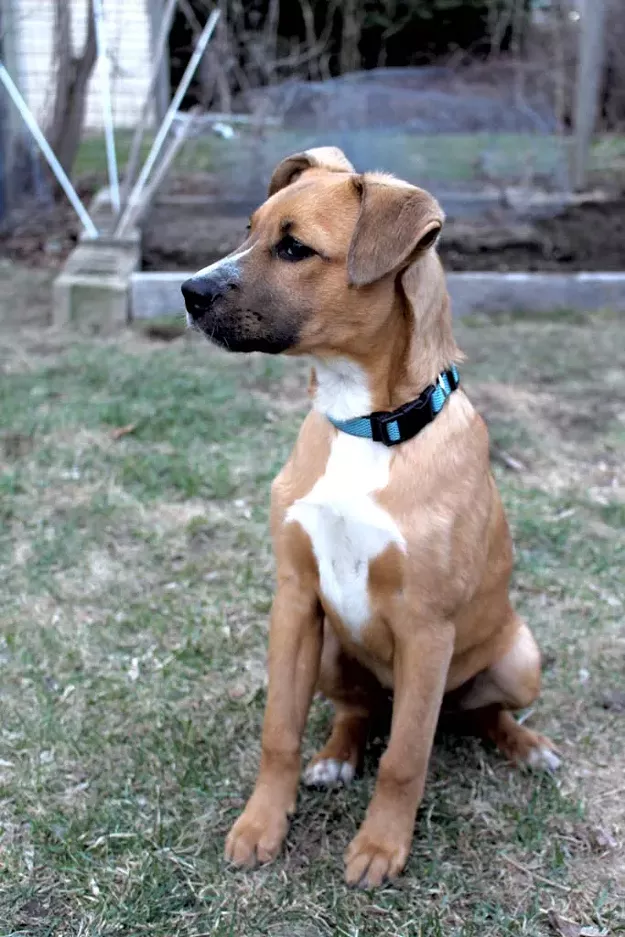 OWNER: Paul Heintz (political columnist) AGE: 6 months WEIGHT: growing, cute BREED: mutt AMBITION: to roam free through a forest of futons with all my dog friends IDEAL TREAT: the stankier the better
OWNER: Don Eggert (associate publisher/creative director) and partner Shawn Lipenski AGE: 4 years WEIGHT: small BREED: Dachshund AMBITION: to drown out the roar of the F-35s with her own supersonic barking IDEAL TREAT: Pup-Peroni (lean beef recipe, of course)
OWNER: Don Eggert and Shawn Lipenski AGE: 7 years WEIGHT: small BREED: Dachshund AMBITION: to convince her daddies to install a tennis-ball-throwing machine and infinity lap pool IDEAL TREAT: baby carrots — sweet, crunchy goodness!
OWNER: Michelle Brown (account executive) AGE: 6 years WEIGHT: medium BREED: yellow Lab AMBITIONS: eat as much as possible every day; run in the woods; sleep on the couch IDEAL TREAT: chewy rawhide or dried sweet potato — the bigger, the better
OWNER: Cheryl Brownell (business manager) AGE: 3 years WEIGHT: 40 pounds BREED: Border collie mix AMBITION: I'd make a hell of a dowser, particularly if there's a niche for mud dowsers. IDEAL TREAT: Shelburne Farms Clothbound Cheddar
OWNER: Robyn Birgisson (account executive) AGE: 11 years WEIGHT: 99 pounds BREED: Maremma sheepdog AMBITION: to be with the family all day long IDEAL TREAT: homemade dehydrated chicken
OWNER: Aaron Shrewsbury (designer) AGE: 1 year WEIGHT: 60 pounds BREED: Bull terrier mix AMBITIONS: play keep-away with other dogs; sleep on the most comfortable cushion; swim in any large body of water IDEAL TREAT: kibble-size, soft, organic nutrient bones (made with humanely raised chicken)
OWNER: Julia Atherton (account executive) AGE: 7 years WEIGHT: big boned BREED: pug AMBITION: to sleep all day and party all night, aka to snore like a grandpa IDEAL TREAT: found objects
OWNER: John James (production manager) AGE: 8 years WEIGHT: 15 pounds BREED: West Highland terrier AMBITIONS: World peace; breaking the stigma of puppy/pillow love; belly rubs for everyone; helping puppies find good homes IDEAL TREAT: sweet-potato fries
OWNER: Ethan de Seife (staff writer) AGE: 4.5 years WEIGHT: 18 pounds BREED: probably a Chihuahua/Basenji mix AMBITIONS: achieving maximum belly-rub quotient; eating everything in the world, including lemon rinds, dust bunnies and cat poop IDEAL TREAT: a peanut-butter-infused watermelon
OWNER: Kaitlin Montgomery (Kids VT account executive) AGE: 14 years WEIGHT: 60 pounds BREED: mixed breed, super smart, almost human AMBITION: to be loyal to Kaitlin, who is her best friend IDEAL TREAT: bacon
OWNER: Kaitlin Montgomery AGE: 12 years WEIGHT: 60 pounds BREED: husky AMBITIONS: to explore the world IDEAL TREAT: It's a tie between ice cream and pizza.