Katie Jickling
Fiddleheads
On a recent Tuesday in April, Dan Cahill, land steward at Burlington's Parks, Recreation & Waterfront department, squatted in the woods of the city's Intervale, digging with a hand in the dead leaves.
Cahill was looking for the first signs of fiddleheads, the whorled shoots of the ostrich fern that mark the arrival of spring. "Not for another two weeks," he judged, nodding appraisingly at the patch.
In early May, the fiddleheads emerge from their dark crowns on the forest floor, pushing up unfurled heads in papery, copper-colored shells. And with them, Cahill knows, come the harvesters. He's seen an increasing number of foragers in the past couple of years, he said, running the gamut from casual locavores to commercial harvesters filling garbage bags to, recently, an influx of Bhutanese and Nepali immigrants.
Cahill is worried about the impact of all that harvesting on the area's fiddleheads. "Based on the popularity and the overharvesting we're seeing in surrounding areas, and what's happening nearby, we feel that the population of this park is under threat," he said.
And that's a threat not only to the local ecosystem, but also to the continued existence of one of the most popular wild edibles on Vermont chefs' spring menus.
The past few springs, said Cahill, 36, he's started spotting more park visitors — and fern crowns that have been picked bare. Conservationists have called him to express their concerns about the impact of foraging on the ecosystem.
Nick Warner, executive director of the Winooski Valley Park District, has received calls about harvesting, too. Last spring, he told Cahill, an employee of the U.S. Postal Service Office in Burlington alerted him that fiddleheads were being sent by mail.
Cahill has witnessed foragers making their way into the Intervale's McKenzie Park, the city's most remote and untouched land, and leaving with bulging garbage bags of fiddleheads. Once, he said, he saw foragers using a shoulder pole to carry hanging bags full of the wild edibles.
The City of Burlington manages 63 acres in the Intervale, Cahill said, of which about 30 are peppered with ostrich ferns. The ferns require specific conditions, but where they grow, they do so with fervor, abounding in the nutrient-rich floodplain between the Winooski River's meandering curves. In the silver maple wetland forest that covers McKenzie Park, fern spores germinate during the area's frequent flooding.
Overharvesting threatens the fiddlehead population because it prevents the plant from producing enough spores to reproduce, explained Remy Crettol. He works as an environmental educator and resource specialist for Winooski Valley Park District, which owns Ethan Allen Homestead and surrounding land to the north.
Winooski Valley employees say they have seen significant overharvesting, though they don't have data to back up that claim. According to Crettol, when a crown is harvested extensively for multiple years, the plant won't regrow. Excessive harvests can also increase erosion and allow infiltration by invasive species, he said.
"It's not a rare plant, but it's a significant species in this ecosystem," Cahill said of fiddleheads. In McKenzie Park, the Old North End resident sat on a fallen tree branch, sporting a ponytail, sunglasses and muck boots. Chickadees and red-winged blackbirds caroused in the trees, and the breeze carried the scent of loam and decomposition.
Currently, Cahill lacks official regulatory authority, given that the City of Burlington has no rules against picking fiddleheads. In New York, he said, ostrich ferns have been labeled "exploitably vulnerable." Foragers can be fined $250 per plant if they're caught harvesting fiddleheads.
Cahill is not in favor of an outright ban or legislative action by the city council — at least not without community conversation, he said. He'd like to get people talking about sustainable harvesting and the value of the city's forestland.
Meanwhile, Cahill has brainstormed solutions such as holding education classes on fiddleheads, posting signs or volunteers at popular foraging sites, and informing harvesters about sustainable practices.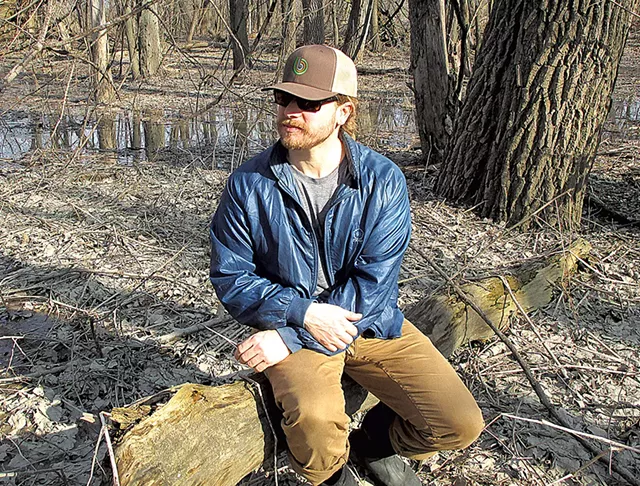 Katie Jickling
Dan Cahill
Up the river, Winooski Valley Park District forbids harvesting any plants or animals and posts signs to that effect. But, with three full-time employees, there's little opportunity to enforce the regulations, said Crettol.
Even when park staff do catch offenders, there's no fine or penalty beyond a "wag of the finger," Crettol said. "They're still managing to make off with $200 or $300 worth of fiddleheads," he added.
Of course, not all foragers have the same priorities. Some are hobbyists, Cahill said, who pick "because it's cool and trendy, and I can serve it to my friends for dinner." And some foragers — or wildcrafters — see themselves as conservationists, arguing for an approach to gathering wild edibles that promotes long-term sustainability of the land.
"What we teach is stewardship. That's got to be all of our focus," said Nova Kim, a wildcrafter and educator from Randolph. "[It] needs to be fair for the plants and to be fair for the collectors, and it needs to be fair for restaurants."
Others pick for commercial purposes — with plenty of monetary incentive to do so. The going rate for fiddleheads is between $3 and $5 a pound, higher early in the season, said Doug Paine, chef at Burlington's Juniper and Bleu Northeast Seafood.
Still other foragers have underlying cultural and social motivations, said Marla Emery, a research geographer for the U.S. Forest Service who studies foraging in urban environments.
Last year, Emery gave a presentation on fiddleheads to a gathering of 32 Nepali and Bhutanese elders at McClure Multigenerational Center in Burlington's Old North End. She got only as far as drawing a diagram of a fiddlehead on a flip chart before attendees jumped in with stories of their own.
The elders spent the next half hour, Emery recalled, discussing how to prepare and cook fiddleheads and elaborating on the value of finding fiddleheads so far from their homelands. "Their faces just lit up," she said. "There was such joy and animation in talking about this."
Harvesting fiddleheads is a common practice in Bhutan, said Rita Neopaney, community outreach counselor and program specialist with the Association of Africans Living in Vermont. Here, she said, Bhutanese Burlingtonians wait eagerly to get out in the woods in the beginning of May. They sauté the fiddleheads and prepare them with a traditional yogurt-based curry. "They grew up with the taste; they love the taste," Neopaney said.
Tradition runs deep. Nepali and Bhutanese families often invite their relatives from New York or Massachusetts to come up for the fiddlehead harvest, or mail the greens to family members and friends, Neopaney said. "It's very popular with the culture," she noted, adding that her warnings regarding overharvesting go largely ignored.
For local chefs, the prospect of unsustainable foraging creates dilemmas — and not just around serving fiddleheads. Some chefs, including Paine at Hotel Vermont, have said they wouldn't put wild ramps on the menu after Slow Food USA labeled them an "at-risk" species.
"I figured it's a good way to start a conversation," Paine said.
As for fiddleheads, Paine buys about 20 pounds a year, though he said his are sustainably sourced from areas outside Chittenden County.
George Lambertson, chef at ArtsRiot in Burlington, plans to keep buying small amounts of both ramps and fiddleheads for his restaurant, he said. He currently purchases about 10 pounds of fiddleheads a year for pickles and garnishes, steering clear of questionable sources.
For instance, Lambertson said, he generally does not buy from suppliers whom he believes to be drug users selling fiddleheads to sustain their habit. But, he said, "My goal is to make the best food I can; I'm not the moral police."
Emery cautioned that, before implementing any new policy regarding issues like foraging, "you want to understand what the social outcomes are likely to be." That requires information. Typically, she said, "there might be anecdotes about what might be happening, but often [land managers and policy makers] are not terribly well-informed."
Cahill acknowledged that the fear of overharvesting may be premature; the park officials still lack data to back up their assertions. But, he added, "We've just begun grappling with this issue, because we take our role in conservation seriously."
As the three-week fiddlehead season gets under way, Cahill is looking to gather more than just anecdotal evidence. Parks & Rec will start mapping fiddleheads, he said, and counting the fronds to set a baseline and determine whether the population is decreasing.
And Cahill will spend as much time as he can out in the woods, talking to foragers. "The scale of harvesting that I'm seeing with multiple trash bags is really concerning," he said. "At this rate, we [eventually] might not manage any parks with fiddleheads."