Molly Walsh
Cathy Hickory with a sample of lake water
Water conditions in St. Albans Bay have been strange this summer — strangely clean. On hot days in July and early August, dozens of people actually swam at the town beach, which in past years has been frequently closed on the dog days of summer due to stinky and potentially toxic outbreaks of blue-green algae caused by phosphorous pollution.
Now some say this summer's pattern suggests the lake could respond quickly to reductions in phosphorous runoff.
Granted, the slime on the surface of the water is finally arriving; last week it showed up in several places on the northerly bays of Lake Champlain. But many residents say this summer has been more like the old days when they didn't worry that algae would shut down swimming and boating for weeks at a time.
"This year has been golden. It's almost like nobody wants to talk about it; it's just, 'Hold your breath,'" said George Boomhower, who owns a camp on the Georgia shore. He has found the water clean enough for swimming almost every day.
But last Thursday afternoon, in the wake of heavy rain the prior weekend, he looked on glumly as his neighbor Cathy Hickory held up a jar of lake water she had just collected off their shared beach near Melville Landing. It was speckled with green particles from an algae bloom.
Hickory, like many others who live on the bay, was intrigued by the blooms' timing. "We're a month behind last year," said Hickory, a retired postmaster who volunteers as a water observer for the Lake Champlain Committee, which works to restore, study and protect Lake Champlain.
Another volunteer, retired plumbing and heating technician Brad Gooding of St. Albans, is accustomed to seeing blooms by early August — but hasn't this year. "I have a boat, so I go out all the time — three or four times a week," he said. "This year has been fantastic." His question: "What the hell's going on?"
Scientists and environmentalists are watching carefully and trading theories. One of them is that the unusually light snowpack last winter and relatively light spring runoff carried lower-than-normal loads of algae-triggering phosphorous into the lake.
This theory could provide new impetus to the push for stricter controls on key phosphorous sources: manure and fertilizer that wash into the watershed from farms, and stormwater that flows over lawns, parking lots and roofs in developed areas.
"This summer's observations might suggest that we can see changes quicker than we expected if we can really reduce the nutrients," said Angela Shambaugh, aquatic biologist at the Vermont Department of Environmental Conservation. "It certainly has caught my eye and a lot of people's eyes, and we will be looking at the data more closely."
Others agree.
"I think this gives us some hope," said Rebekah Weber, the Conservation Law Foundation's expert on Lake Champlain.
She and others note that St. Albans and Missisquoi bays are especially interesting labs for the debate about controlling runoff because both have high concentrations of "legacy phosphorous" built up over decades in the sediments on the bottom and onshore. Under certain conditions the sediments release that phosphorus back into the water. For this reason, some scientists believe the two bays pose an especially difficult cleanup challenge, or are lost causes.
"It's an interesting question," Weber said. "Because we've been told time and time again that there's so much legacy phosphorous in the soil that it doesn't really matter what the stormwater is contributing for that season, and that we're going to have blooms for generations to come."
This summer's situation suggests that the relationship between legacy phosphorous and algae blooms is more complex, Weber said: "It warrants further questioning and further observing."
High-alert readings in St. Albans Bay and Missisquoi Bay from May 1 to August 15 ran well below last year's. However, since August 15, blooms have been reported in both bays. Until the summer is over, the data is considered preliminary.
Skeptics say this summer's trends are inconclusive and maintain that it will be difficult, if not impossible, to clean up the bays.
Among the pessimists, or realists: Mike Winslow, the staff scientist at the Lake Champlain Committee. "I don't see a ton of evidence that we can turn around a situation that's already existing in St. Albans Bay and Missisquoi," he said.
He supports controls on runoff and believes that they can help prevent pollution problems from worsening in other parts of the lake. But the level of phosphorous that has accumulated in the sediment and soils around St. Albans and Missisquoi bays makes the problem hard to "undo," Winslow said.
Most of Lake Champlain is safe for swimming and recreation, and more than 145,000 people get treated public drinking water from the lake. But pollutants mar water quality despite millions of dollars spent on cleanup. The relatively sheltered St. Albans and Missisquoi bays are among the most compromised sections of the lake.
Just ask Larry and Marty Lessard of Georgia. They sold their boat recently, frustrated with the blooms near their summer camp on St. Albans Bay. While this summer has been better than normal, they've pretty much given up swimming off the dock. "It really is sad, but you know what? We still have beautiful sunsets," Marty Lessard said. "I say, 'Don't look down, look out.'"
She made that remark over what she joked was a "$100 hot dog" — referring to her donation to attend the barbecue at the St. Albans Area Watershed Association annual meeting last Thursday.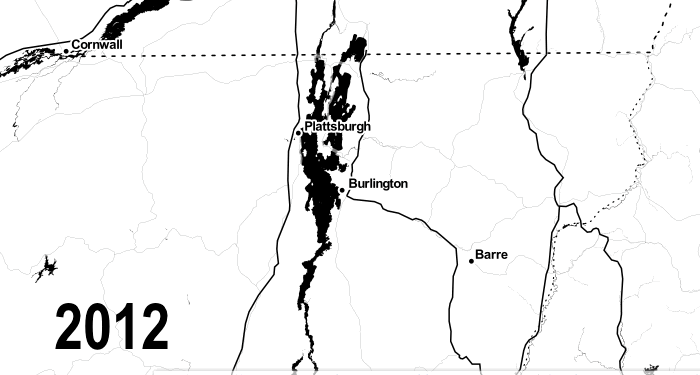 Data: Vermont Department of Health
Analysis: Andrea Suozzo
Summer algae blooms reported on Lake Champlain between 2012 and 2015
She and her husband, like many association members, are frustrated that despite cleanup efforts and research, the algae still blooms. "The state and feds, they aren't doing anything for us," Larry Lessard said. "Missisquoi, I guess, is almost condemned. It's just about over."
Eager to do something, the group bought two weed harvesters; an overabundance of aquatic plants is another by-product of all the nutrients in St. Albans Bay. Volunteers regularly pilot the machines back and forth on the water. The harvesters don't have any bearing on the algae, and they aren't doing much about the weeds in the long term, in Lessard's opinion. "Basically, they are mowing the lawn," he said. "They need to address the phosphorous."
The federal government is making another push to address the problem. In June, the Environmental Protection Agency set stricter standards on water quality and phosphorous loads allowed into Lake Champlain.
The latest guidelines, updated in a formula known as the total maximum daily load, will require farms overall to reduce runoff of phosphorous into the lake basin by 53.6 percent to meet safe water standards, and by as much as 82.8 percent in some places, such as the troubled waters of Missisquoi Bay.
Some farmers are ahead of the curve and trying innovative approaches. In Sheldon, for example, Machia & Sons Dairy is piloting a project that spins manure in a centrifuge to remove phosphorous.
But in the past, the EPA's goals haven't been met, and some say it's time to put more teeth in the rules. In July, Weber and CLF staff attorney Elena Mihaly coauthored a letter to Vermont Agriculture Secretary Chuck Ross underscoring the need for aggressive action in the face of the new standards.
"It is our understanding that such tremendous reduction requirements are unprecedented nationwide, and will demand a drastic plan of implementation," the letter reads.
It criticizes the Vermont Agency of Agriculture, Food and Markets' latest draft of required agricultural practices, which are intended to help bring the state into compliance, as too weak. The letter also notes the lack of enforcement of previous requirements.
CLF is urging the department to push for stricter rules. Currently farmers can allow livestock in streams under certain circumstances; CLF called for a broader "livestock exclusion" because trampling on the banks causes erosion. The state should also ban the use of fertilizer in buffer zones near waterways, CLF says.
The environmental group is also calling for more use of cover crops such as winter rye to reduce soil erosion; and reductions in the amount of manure applied to fields.
The state responds that the latest proposals are stricter than the current ones — with expanded buffer zones and some broadening of the livestock exclusion. Jim Leland, director of agriculture resource management at the ag department, said he believes enforcement has been "robust" and predicts the new rules will "make a difference."
In St. Albans, many shoreline residents believe that more aggressive farm regulations are overdue. "If you want to have a clean lake, you have to address ag runoff," said Steve Cushing, a former dairy farmer who has a home on St. Albans Bay. For a long time, politicians refused to acknowledge farm runoff, he said. "It's political, and no politician was going to risk the sacred cow of Vermont, agriculture ... It was very hard for public officials to actually speak out about it."
Regulations on farms are moving in the right direction, but not fast enough, according to Cushing, who recently stepped down after a stint as president of the St. Albans Area Watershed Association.
He's convinced that St. Albans Bay can be cleaned up and, like some of his neighbors, supports the theory that this summer's low runoff, low-bloom scenario could indicate that aggressive curbs on phosphorous are the way to make it happen quickly.
"You would see a rapid change in the water quality,'' Cushing said. "That's my belief."
Seeing Green?
Blue-green algae can produce toxins that are harmful to humans and animals — hazards that gained attention in Vermont in 1999 after two dogs died following exposure to cyanobacteria. The algae can cause skin rashes and stomachaches; long-term exposure has been linked to liver damage and central nervous system problems.
It can be tricky to tell cyanobacteria from run-of-the-mill pond scum. Some experts say to use common sense and avoid green water. For bloom reports, go online to healthvermont.gov. And report blooms to the Vermont Health Department by calling 863-7220, or send an email to ahs.vdhbluegreenalgae@vermont.gov.