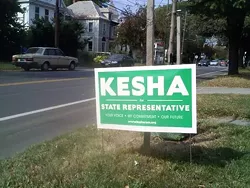 If lawn signs are an indication of anything, the race for representing Chittenden 3-4 in Montpelier is not boding well for my friend Kesha Ram.
It was April of this when I first found out that then-Student Government Association President Ram was going to run for the statehouse in the fall. "Interesting," I thought, "that would shake things up." After all, Kesha, the highly effective first African-American woman to head the SGA prez, is no stranger to shaking things up.
But then I thought, "Is the Burlington public really going to put their faith in someone who has spent an entire six months out of college come November?"
Well, it looks like off-campus front-lawns have the answer to that question. I took a walk today. From my house on Hyde Street, down North Willard, up Henry, to North Prospect and then to class on Main — only one lonely lime-green Kesha sign in a sea of red Chris Pearson and David Zuckerman signs.
It doesn't help that incumbents Pearson and Zuckerman have the backing of VT pol heavyweights like Senator Bernie Sanders...
---
Random BTW: For the politically inclined who just can't get enough Sarah Palin humor...
Ed. Note: Max mistakenly referred to Kesha as African-American. But if he had read the bio on her fancy campaign website, he would have seen that she has a father who came here from India and a Jewish mother. D'oh! Max and What's Good apologize for this boneheaded error. -- Cathy Resmer, Online Editor