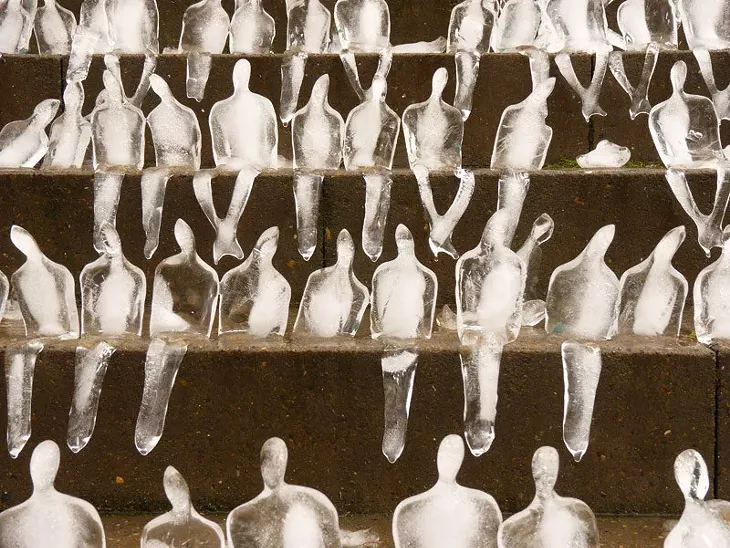 14 slides
It was a hot, dry summer in Vermont. According to the National Weather Service in Burlington, July was the hottest month ever recorded in the Queen City. The average temperature was 76 degrees, and the heat index — a measure of the combined effects of heat and humidity — regularly topped 100 degrees.
To cope, Vermonters watered gardens and irrigated fields. They swam in streams, downed cold drinks, and stayed inside with fans and air conditioners. But what kinds of creative local and regional solutions to the warming climate might they find going forward?
This question will be addressed at the Feverish World Symposium, a free series of arts, humanities, science and technology events taking place Saturday through Monday, October 20 through 22. At various locations in downtown Burlington and at the University of Vermont, guest and local artists will present interactive exhibits and performances, scholars will give presentations, and attendees will engage in discussions.
"The format is quite unusual," said Adrian Ivakhiv, the symposium's lead organizer and the Steven Rubenstein professor for environmental and natural resources at UVM. "They're not standard academic talks. It's a mix of artistic and informational events focused on involving ... participants in multiple ways."
Ivakhiv is coordinator of EcoCulture Lab, a research and practice collaboratory, or center without geographic walls, based at UVM. The lab is "devoted to new forms of collaboration between artists, humanists, scientists, designers and engaged practitioners of many kinds," according to its website. It aims to solve current ecological and social challenges — particularly those related to climate change — through "imagination, creativity, deep questioning and radical resourcefulness."
Feverish World is the lab's first community-based large-scale project, conceived and designed by its steering committee, which includes local artists and activists, as well as faculty from UVM and Champlain and Saint Michael's colleges.
Inspiration for the symposium arose from the impacts of a warming planet, including "hurricanes, wild fires and droughts that we know contribute to social disruption," said Ivakhiv. Additional drivers were "the political situation of this country since the last presidential election" and increased social instability worldwide.
"All of that contributes to the sense that the world is getting a little bit out of hand, getting more and more feverish," said Ivakhiv. "How prepared are we if, in fact, it's going to continue that way?"
The Intergovernmental Panel on Climate Change just published a report "that's really as alarmist as they get," he added. "If we don't turn things around in the next dozen years, we may be doomed as a civilization."
Though thousands of scientists worldwide agree on climate change's trajectory, Ivakhiv said, they aren't able to create the political, cultural and economic change needed to solve the problem. "That's where the arts and the sciences need each other — to work on these things better together," he continued.
Ivakhiv believes that Burlington, as a small urban area in "a small but vibrant and nimble state," can provide such leadership. Feverish World is designed to help people "think about how we might do things in new collaborative ways, locally and regionally," he said. In a press release, Ivakhiv stated, "Feverish World draws on the creative imagination of the arts, the know-how and know-what of science and technology, and the wisdom and critical insight of the humanities."
Rebecca Schwarz, a Feverish World publicist and local artist and educator, has collaborated with scientists and technology experts in the past. "It's not just that the artists need the tech people," she said. "The tech people are interested in the arts, too."
Cami Davis, a UVM professor of art and member of the EcoCulture Lab steering committee, offered an example of such synergy. Art department alumna Lisa Shaw now works for the Scottish firm Biomatrix Water, whose "floating islands of plants have had huge success in cleaning large polluted bodies of water," Davis wrote in an email.
"Imagine a major feature on Burlington's waterfront," she went on, "that would be both an internationally significant work of art and functional water-remediation park as part of a suite of initiatives to clean Lake Champlain."
Feverish World will begin with community-engaged pieces downtown on Saturday and gradually shift to an academic approach by Monday, said Schwarz. On Saturday morning, local artist Pauline Jennings will lead "a community-building, riddle-solving urban wilderness walk" that takes "participants through various site-specific performances and interactive interventions in downtown Burlington," explains the website.
In the afternoon, Canadian musician and composer Anne Bourne will offer a deep listening workshop, Brazilian artist Néle Azevedo will create an ice sculpture installation on the steps of Burlington City Hall, and UVM faculty David Neiweem and Paula Higa will lead a music and dance parade through Burlington.
A sunset gathering and ceremony will feature members of the Abenaki Nation of Missisquoi, and a concert by local and guest musicians will include New Jersey-based clarinetist and interspecies musician David Rothenberg.
On Sunday and Monday, attendees can visit the Feverish World Tent City on the UVM campus, where artists will share new works and engage the public. "They're sort of like respite: little places to go where there will be creative interventions," said Schwarz.
Sunday's panel topics include the cultural, historical and emotional contexts of our warming world; ethics and worldviews that can inform new partnerships; and possible answers to the question "How might more eco-centric futures be dreamed into existence through the arts?"
Sunday will conclude with climate-driven music by New Orleans-based Weather Warlock and a performance called "Truth Tango" by New York City eco-artist/engineer Natalie Jeremijenko.
Roundtable discussions on Monday will explore ways of addressing climate change in Burlington and beyond, and two keynote addresses will conclude the symposium. The best-known speaker is philosopher, anthropologist and sociologist Bruno Latour, author of more than 20 books and the current Andrew D. White professor-at-large at Cornell University. He'll present "The Politics of Gaia."
Community members can attend as many sessions as they wish; a few require online preregistration, and some invite volunteer participation before the symposium begins.
Ivakhiv will hold public post-symposium events to review ideas generated and consider next steps.
When asked how Feverish World might help Vermonters cope with emotional responses to climate change, Davis replied, "There is a relief in the truth telling. There is something compelling about the solidarity of naming our collective anxiety while also noting the extraordinary capacities we have as humans when we creatively address a challenge."