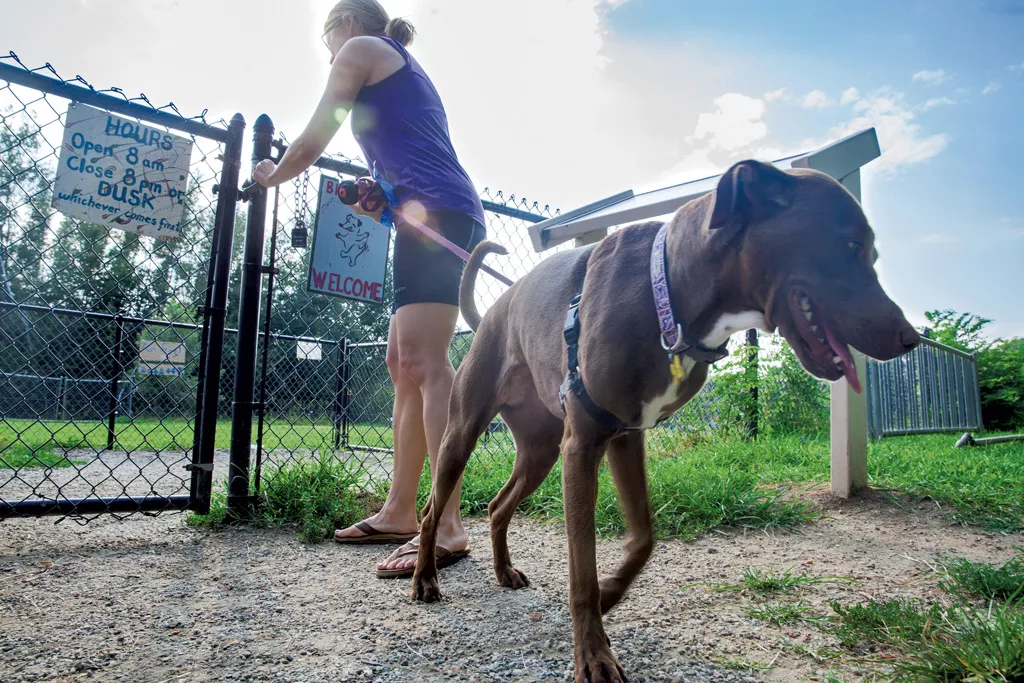 James BUCK
The entrance to Starr Farm Dog Park
Labs, spaniels and mutts trotted about freely last Thursday evening at Burlington's Starr Farm Dog Park as their owners chatted amiably and admired the sunset over Lake Champlain.
The canine crowd was in dog heaven. But not everyone views this place as paradise. The off-leash dog park in the New North End, now 15 years old and a regular recipient of good reviews on Yelp, has gotten too popular, according to some neighbors.
"People go over there, and they hang 'round in the middle of the park and chitchat while their dogs run rampant," said Lee Brown, who lives across from the park on Curtis Avenue. "It's a free-for-all."
Barking resonates from early morning until dark, and at busy times, the small lot next to the park fills up and visitors park in the neighborhood, according to Brown.
The problem is not just dogs, he added: "It's a hangout at night, late at night. There's cars parked in there at 10:30, 11 o'clock. Who knows what they are doing?"
Critics want to shrink the two-acre space and limit its hours, which now run officially from 8 a.m. to 8 p.m. or dusk, whichever comes first.
They also want people who don't live in Burlington to pay a fee to use the fenced-in space, which is next to the Burlington Bike Path, near suburban-style streets and historic summer camps on the old Flynn estate.
It's not that he dislikes man's best friend, Brown insisted: "I have two dogs. It's the noise and the traffic, and it's free and it shouldn't be free."
Regulars who use the park and appreciate it — including people who, like Brown, live on Curtis Avenue — disagree sharply with his version of what goes down at the canine gathering place. They were dismayed to learn from a reporter that proposed changes to the park are on the Burlington Parks Commission agenda.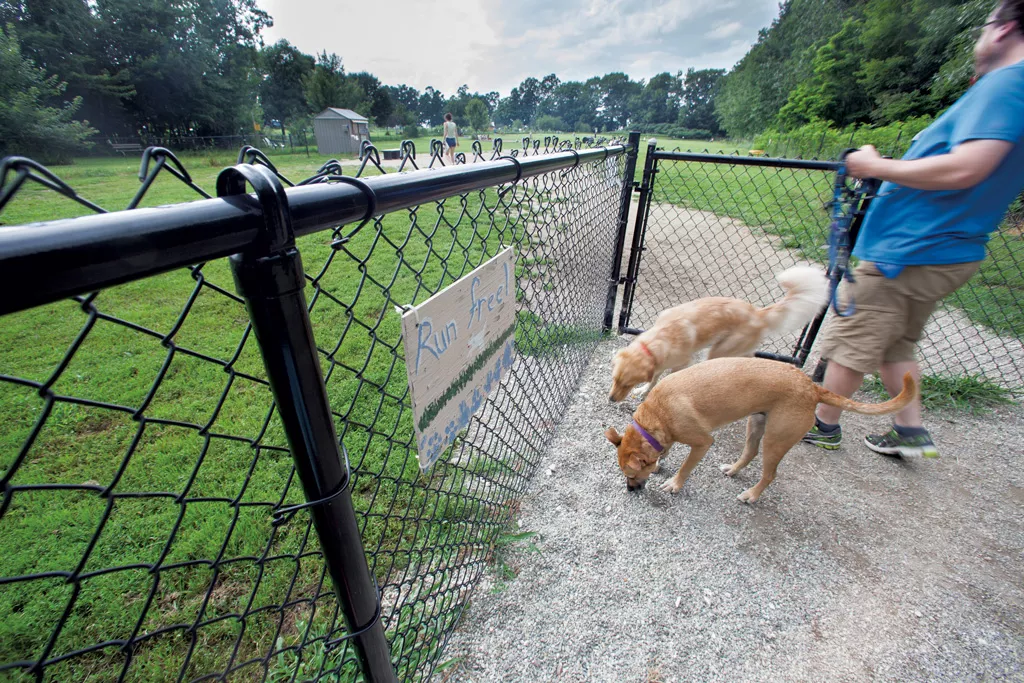 James BUCK
A sign in the park reads "Run Free"
The proposals are preliminary, and nothing will be decided at the group's next meeting on August 4. Still, dog-park enthusiasts, including Curtis Avenue residents Carolyn Gipson and Debra Kaigle, were alarmed to hear that one of their favorite amenities could be downsized. "I think the space is great," said Kaigle, as her mixed-breed dog Caesar — heritage unknown — played with Gipson's silky black lab mix, Cody. "Dogs need room to run," Kaigle said.
Sometimes the dogs bark in the park, but dogs bark in backyards, too, and that's generally accepted, Kaigle added. "That's OK ... But here in the park — then it's a problem?" she asked rhetorically.
Similarly, she reasoned, if people talk at the park, that's a good thing — social connections are important. "You just meet people you might not meet otherwise," she said.
Much like parents who bond at a playground, dog people bond at the park. They share doggie biscuits and swap training strategies for rambunctious puppies just learning to sit, come and stay. They cluck in gentle disapproval when their pups ignore commands and rein in Rover when he gets too rough.
Just as parents expect other parents to remove tantrum-throwing children from the playground, dog park regulars expect owners to take difficult dogs away.
Most people get it. Even so, Gipson acknowledged occasional problems. A few years back, a German shepherd bit her on the elbow without warning. "I went, 'Aren't you a pretty dog?' and he attacked me," she said. Gipson's winter jacket helped protect her, and while painful, the bite was not serious. "It was an isolated incident," Gipson said.
As the two neighbors spoke, about 20 dogs romped in the park. Some wrestled and rolled, but none fought and few yapped. The birds in the trees around the park were making more noise than the dogs. The grassy grounds of the spacious park were clean — no visible piles to avoid — and all of the dog owners appeared to be cleaning up after their animals as required.
Volunteers, including Kaigle, lock the fence gates at night and open them in the morning, she said. They also help provide amenities — the wading pools pups splash in next to the hose, water bowls and hand-painted signs declaring: "A Tired Dog Is A Good Dog" and "Run Free."
Many dog owners say their pets are happier and less neurotic when they have the freedom to exercise without a leash attached. Apartment dwellers with no yards and people who want to socialize their dogs also advocated for an off-leash park. When it opened in 2000, Starr Farm was one of the first in Chittenden County.
Today, Burlington is a dog-friendly place. Numerous hotels allow canines to accompany their owners. Office workers come off elevators coddling tiny dogs like infants. It's not uncommon to see dogs with people in line at the bank or licking their own cones at a creemee stand. In response to demand, more dog parks have opened.
South Burlington has a park on Kirby Road, and Shelburne dogs congregate off Harbor Road. Burlington has a second dog park on the waterfront.
Winooski residents started a Facebook page to successfully petition for the city's first dog park. It's tentatively scheduled to open on West Allen Street in September.
A third dog park could open in Burlington soon, at Oakledge Park in the city's South End. Jesse Bridges, Burlington parks and recreation director, said a study is under way to see if there might be a suitable space there.
The parks don't cause a lot of problems, according to officials, aside from occasional reports of aggressive dog behavior. Hours tend to be similar to Starr Farm's. In Shelburne, $1 from each cat or dog license helps maintain the dog park, and volunteers raise additional funds by producing a calendar with glossy photos of local dogs.
Winooski has budgeted up to $35,000 to create its new dog park. After one homeowner worried about noise, the city agreed to move it farther from the home and to put in a landscaping buffer, according to Winooski community services director Ray Coffey. Otherwise, the response to the park has been overwhelmingly positive, Coffey added.
In Burlington, only a few have complained about noise at the Urban Reserve Off Leash Dog Park, which, at the northern end of the downtown waterfront, doesn't directly impact residents.
Starr Farm Park, in contrast, is surrounded by homes, and some of the occupants are fed up, according to Burlington City Councilor Dave Hartnett. The North District independent has been lobbying the Weinberger administration to address the situation. "The park's not going anywhere; it's very popular," Hartnett said. "I don't see it being moved; I don't see it closing. But that being said, we certainly have to make some changes if it is going to stay."
Making it smaller would mean less maintenance and perhaps fewer dogs and reduced noise, he suggested. Hartnett is also interested in a fee system. While he and Bridges agree that it would be financially impractical to pay an attendant to monitor the park, they're considering a tag system that would tie in to the city's dog-licensing program. Bridges suggested that Burlington residents might get the park tag for free with a dog license, while nonresidents would have to pay a fee for a park tag. Enforcement could boost licensing among the many scofflaw dogs in Burlington.
Plenty of canine lovers from Colchester are also using Starr Farm. Hartnett said he'd like to see Vermont's fourth most populous municipality "step up" and establish its own off-leash dog park.
Colchester leaders say they would welcome a dog park — if volunteers materialize to help organize and maintain it. "What I'd like to have is a unified group of folks that would move it forward," said Glen Cuttitta, Colchester parks and recreation director.
Cuttitta pointed out, however, that under municipal rules, dogs are already allowed to run off-leash in Colchester parks, as long as they're under the owner's verbal control.
And Colchester residents who are regulars at Starr Farm Dog Park would not necessarily change their habits. Marlene Williamson comes to Starr Farm several times a week with her Australian shepherd, Willow, and knows many of the other dog owners. "That's our little corner over there with all the chairs," she explained, pointing to a circle of lawn furniture next to a tree in a shady spot.
Williamson has made many friends at the park, and they like to sit and chat as they throw tennis balls to their dogs. Jen Popovitch, also a Colchester resident, owns a Brittany spaniel, Tegan, who streaked across the grass to fetch a ball again and again. Trim and graceful, with a clean white and caramel coat, the 8-month-old dog looked happy to stretch his legs. "This is so great, and it's so close to home," said Popovitch.
She and Williamson said they would happily pay to use Starr Farm.
But Popovitch said the park does get crowded. She avoids coming between 3:30 p.m. and 5:30 p.m. when "it's just too busy," with "bigger, hyper dogs." Limiting the hours and reducing the size of the park could make it like that all the time, she speculated.
Bridges aims to balance the needs of supporters and critics of the park, noting that no changes would be implemented until 2016 at the earliest. The city's canine constituents — who don't vote — can only hope they get it right.