Courtesy Of Cate Great
Cate Great
After hanging upside down in a full split, Nicole Dagesse shimmies up the aerial fabric to "stand" 12 feet off the ground. With the cloth strategically wrapped around hips and thighs, she leans sideways in a whole-body arc and then tumbles forward in a dramatic somersault to stop, still wrapped, inches above the floor.
Dagesse is a contemporary dancer, yoga expert, instructor and aerialist who performs with Natalie Cronin in Burlington's annual Festival of Fools, which takes place this Friday through Sunday, August 3 through 5. The daring duo from Chittenden County are aerial dancers among a roster of more than 20 curated, world-class street performers, comedians and musicians from near and far.
"We're celebrating 11 years. It's the longest-running festival of its kind devoted to busking and street theater in the U.S.," says founder and artistic director Woody Keppel.
Presented by Burlington City Arts, the festival begins Friday at noon. Just for Kicks performs a high-energy swing-dance show at City Hall Park while buskers set up shop on Church Street for feats of daring and silliness. Toward evening, music begins at Red Square, and the Kick Off Parade and a Mayoral Proclamation usher in "a fools' weekend."
Outdoor events are free, but a few evening events are ticketed, including the Fools After Party at Club Metronome and New York City-based comedian Chris Gethard's antics at Vermont Comedy Club.
The revelry begins all over again on Saturday morning and continues through Sunday with Kids Rock the Park in the afternoon and the Last Laugh Variety Show in the evening, both in City Hall Park.
The 2018 festival particularly celebrates local talent, music, next-generation performers and women.
"This year, it's focused on women as much as possible," says Keppel, to reflect "the ascension of women in circus arts, aerial dance, comedy and variety."
Two of them are Dagesse and Cronin. They describe aerial dance as combining the strength and endurance of rock climbing with the grace and flexibility of dancing. The two will perform duets and solos in 20-minute sets designed both to entertain viewers and to generate questions about aerial dance. For instance, why is their outdoor rig load rated for 1,800 pounds?
"A small woman can exert up to 800 pounds for that split second at the bottom of the drop," explains Cronin.
One of Dagesse's solos, titled "Skeleton Woman," is based on an Inuit tale in which a woman, left for dead in the sea, is caught by a fisherman and brought back to the world of the living. As Dagesse dances, viewers can watch for the rattling, jangly motions of bones contrasted with the smooth, rhythmic waves of the ocean. She and Cronin hope to inspire people of all ages to give aerial dance a try at their Burlington classes.
Festival favorite Cate Great returns from Boston to engage audiences in her 45-minute juggling and acrobatic solo show, filled with feats of balance, bravery and bravado.
"I love doing really difficult circus shows, but I also really love interacting with people," says Cate Great. "So it's been my goal to bring legitimate circus skill to the street."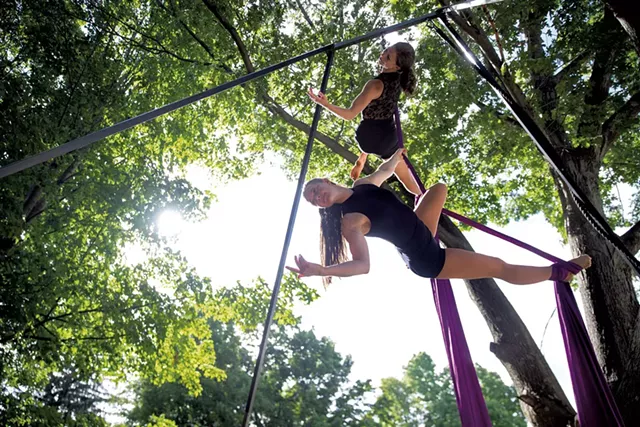 James Buck
Aerial dancers Nicole Dagesse (top) and Natalie Cronin
Among her many achievements are a one-handed handstand, five-ball juggling and fire juggling. She's also a master at engaging viewers of all ages. "I want people not to feel like they're watching the show," says Cate Great. "I want them to feel like they're part of the show."
How does the veteran performer keep the show fresh and engaging after 12 years?
"It's always different because the people are always different," she responds. "You bring a kid up to throw [a juggling ball], and sometimes they throw great, and sometimes they can't throw at all. And you have to teach a child how to throw in the middle of a show with a couple hundred people watching! You never know what's going to happen."
Back by popular demand is another all-woman act: Identical twins the Kif-Kif Sisters, from Québec City, cavort with vegetables, flying bunnies and giant rubber balls in earnest tenderness and synchronized silliness.
Hailing from closer by, acrobats from Flip École de Cirque in Ste-Adèle, Québec, take trampoline tricks to tantalizing heights. Co-owners Dominique Major and Martin Varallo perform with their two teenage daughters.
"Their oldest daughter is one of the best trampoline artists in the world," says Keppel. "I mean, they're just fantastic. Martin is a clown, and Dominique is a brilliant trampoline artist herself. She's a scout for Cirque du Soleil."
The Flip folks will be stationed at the top block of Church Street, so expect to see them flying high above the crowd.
Central to the list of women performers are 2017 Latin Grammy Award winners Mariachi Flor de Toloache. The female band from New York City blends established and modern sounds for a new take on traditional Mexican music, informed by the members' diverse cultural backgrounds. They come from Mexico, Puerto Rico, the Dominican Republic, Cuba, Colombia, Germany, Italy and the U.S.
"It was always the intention that music would become more of a mainstay in our festival lineup," says Keppel. Instrumental in reaching that goal, he notes, has been collaborating with Signal Kitchen's local music production team.
On Saturday, acclaimed New York City-based pianist Marco Benevento gives a free solo acoustic performance — a festival first. He blends dance-rock energy with smart, earthy songwriting to create what the Los Angeles Times calls an "inventive sonic palette."
And there's more! Brooklyn-based Spirit Family Reunion offer a unique blend of country, folk and gospel; Burlington-based Mal Maïz fire up the block with Afro-Latin tunes; locals the Hokum Bros. play the fool in musical and stage antics; and the Foolish Parade culminates with the 20-piece brass band What Cheer? Brigade from Providence, R.I.
"We're recognized internationally as one of the premier busking festivals, not because of the size of the festival but because of our reputation," says Keppel. "Performers love coming here."
Cate Great agrees. "Woody is a legendary, well-known performer in our circuit, and he really knows how to treat the performers well," she says.
"We work really hard to get people to Burlington," says Andrew Krebbs, communications director at Burlington City Arts. The festival covers artists' travel costs and lodging while they're in town.
"We pay their expenses, give them a nice green room and give them great food ... And of course they feel good, and their performances naturally fall into place," Keppel says.
The festival's strong reputation allows it to attract a wide range of artists.
"We have a few performers who come back either every year or every other year, but we're constantly adding new talent," says Krebbs.
Some of those up-and-comers are learning the ropes right here in Vermont. For the second year, the festival is running the School of Foolery at the BCA Center, Wednesday through Friday, August 1 through 3. In the sold-out camp, kids ages 8 to 14 explore circus artistry and physical comedy through play — and performance.
"I like to think that circus moms are the new soccer moms, because circus has gotten so popular with kids," says Keppel. "And we live just an hour and a half from the largest circus community in the world: Montréal and the Québec City area."
Festival performers average four shows per day; the hourly schedule is posted on the festival website and will be updated daily. Festival organizers encourage audience members to show appreciation for the professional artists by dropping donations in their hats and the like.
The revelry ends with a bang when all performers participate in the Last Laugh Variety Show at City Hall Park on Sunday evening. An improvised blend of skill, buffoonery and fun, the show allows viewers to see all of the weekend's talent in one jam-packed hour, says Krebbs. And, like all the other outdoor festival activities, it's free.
"You're not too wealthy or too poor to come out and have a good time at a street show," says Cate Great. "That's my favorite thing about it."