Jeb wallace-brodeur
Alison Pariseau, snowboard instructor
Ask female snowboarders in Vermont what they think of Burton Snowboards these days, and you won't always feel the love.

And, no, women's beefs with Burton aren't necessarily about its Love board. That 2008 creation, which featured vintage Playboy centerfolds from the 1960s and '70s, sparked widespread community outrage. Recent boards with similar designs have revived those complaints.
In the wake of those renewed protests, Seven Days spoke with a range of avid female snowboarders. Most seem less concerned about particular racy images than about how Burton and similar companies depict the women who use their products. Nearly all describe Burton as an industry leader, innovator and a major supporter of female athletes. At the same time, some wonder if Burton's emphasis on the hipster "snowboard lifestyle" undercuts its claims about supporting female empowerment.
Alison Pariseau, a 28-year-old snowboard instructor who's been teaching at Sugarbush Resort in Warren for six years, says she thinks a lot about how companies portray women athletes. Pariseau, who's also a teacher at Mount Mansfield Union High School, an athletic trainer and a volunteer with Burton's nonprofit Chill program — which helps disadvantaged youth get into the sport — says she's not "super into" Burton's marketing. She has a niece and often rides with girls and young women.
"I try really hard, when we ride together, to be like, 'You're not a prissy little girl. You can do anything the boys can do,'" Pariseau says.
Over its 38-year run, Burton has often tried to sell that message, too. The company has a well-publicized history of advancing women internally through its Women's Leadership Initiative. Today, it boasts a senior management team dominated by women, including its CEO, senior vice president of operations, chief marketing officer, both vice presidents of sales and a significant portion of its directors.*
Burton also sponsors a world-class women's team that features some of the sport's top athletes, including Chloe Kim, Kelly Clark and Kimmy Fasani. Earlier this month, at the 34th annual Burton U.S. Open Snowboarding Championships, in Vail, Colo., Kim and Clark placed first and third, respectively, in the half-pipe competition.
Yet, Pariseau points out, Burton named the online platform of their formidable women's team the Burton Girls.* And the team's website, in her view, often presents them as "models doing model things, not athletes doing athletic things."
Madison Fish, a 19-year-old snowboard instructor also at Sugarbush, expresses a similar sentiment. Though Fish rides a Burton board, she says she doesn't feel any particular loyalty to the Vermont company. In fact, she says, it sometimes seems to her as though Burton is more focused on how women look than how they ride.
"Most of the pictures that Burton posts of women snowboarding, they're all just sitting there posing with their friends," she says. "There are no action shots, no girls ripping up the halfpipe."
In many respects, women such as Fish and Pariseau represent the demographic that Burton most needs to reach: millennials who are on the slopes often and in a position to influence the tastes and buying habits of young riders, especially girls and young women. Though females still represent only a third of all snowboarders, their numbers, unlike those of men, are growing.
That makes them vital to an industry that has "tumbled to Earth recently," as a March 6 New York Times story described it. According to data from Kelly Davis, director of research at the industry trade group, Snowsports Industries America, male snowboarding participants in all age groups declined from 5.4 million riders in the 2010-11 winter season to 4.7 million in 2014-15. During that same period, the number of female snowboarding participants rose from 2.7 million to 2.9 million. In the last season alone, Davis notes, women's involvement in the sport jumped 10 percent over the previous season.
As women become critical to the survival of companies such as Burton, questions about how those companies speak to and portray women become more pressing.
The complaint that women athletes aren't always taken seriously by the industry or the media is not new — or unique to Burton or snowboarding. A quick Google search of "women athletes and snowboarding" reveals the uphill slope that female athletes face in getting equal respect and coverage as their male counterparts. While the first search result shows nominations for the 2015-16 U.S. snowboard team, the second bears the title "The 20 Hottest Female Professional Snowboarders." Of the 20 photos, none shows a woman actually riding a snowboard. Most are model-like glam shots of female snowboarders either taking off their clothes or sprawled out in bikinis.
A similar impression emerges from a review of the Burton Girls website, which includes photos of the "girls" on a shopping spree in New York City and features stories such as "Three Easy DIY Hairstyles." Of the 22 photos of the team, only five depict the women actually snowboarding.
Such apparent contradictions aren't lost on Vermont's female riders. "Scarlet," a marketing professional who asked not to be identified owing to her ongoing work in the industry, says she worked with Burton in the 1990s. She's been snowboarding for almost 20 years and rides every weekend she can. The 43-year-old, who lives in Chittenden County and rides with her two young daughters, says she'd love to support Burton, but she doesn't think the company is trying to reach serious female athletes like her.
"To be honest, I don't think they care about us. We're not their target market," she says. "I think they're trying to penetrate the youthful market all the time. But we're the ones who have the disposable income to buy their $500 boards and $300 jackets."
Scarlet adds that she was "embarrassed" by the latest Playboy design.
"I was like, That's the best you can do? You're the leader in this industry," she says. "Shame on you for thinking that sex is the only way you can sell your product."
When the Love board appeared in 2008, it inspired protests at the company's Burlington headquarters, calls for boycotts of Burton products and bans at more than two dozen ski resorts around the country. This year, Burton released its Burton x Playboy Process, which is essentially a new name for the same concept — busty bunnies showing ample skin. Though the resulting protestations have been more muted, the designs generated a buzz on social media and Front Porch Forum and sparked full-page advertisements in local publications, including Seven Days and Kids VT. The ads condemned Burton for promoting "gender inequality, sexual objectification and desensitization of soft-porn culture."
Burton founder Jake Burton Carpenter and his wife and company president, Donna Carpenter, responded to the first wave of criticism by essentially telling critics of the controversial boards to shut up and mind their own business. In a November 2008 interview with Seven Days, Donna Carpenter said that, while she wouldn't give the Love board to her then-12-year-old son, "I think young women look at that Love image and go, 'It's beautiful, it's kitschy, it's vintage, it's tongue-in-cheek.'"
Jake added, "It's not our style ... to listen to people who don't snowboard or who are from another snowboarding demographic."
But what about female snowboarders who object to how Burton serves its own demographic — for instance, through its Burton Girls branding?
Anne-Marie Dacyshyn, Burton's chief marketing officer, explains via email that Burton created Burton Girls in 2012 as an online forum to "amplify the best of snowboarding and the incredible lifestyle that surrounds it, such as travel, fitness, health, beauty, music and food."
She says the team collectively chose the name Burton Girls, thinking it was "a cool and empowering term about our crew. There will always be an ongoing discussion about the word 'girls' versus 'women,'" Dacyshyn adds. "But no matter your age, it's all about context, and, for us, our 'girls' are badass, positive, talented and inclusive."
Some women on Vermont's slopes seem to agree — and not all are giving Burton the cold shoulder. Meridith McFarland, 41, is the adult program supervisor for the Sugarbush Ski & Ride School and a longtime snowboard instructor. The Buels Gore native has been riding since 1989 and says it was years before she saw another woman on a snowboard. Unlike some of her younger colleagues, who express a "love/hate relationship" with Burton, McFarland calls hers a "love/love relationship."
"In my mind, Burton has definitely helped develop snowboarding to the female riders," she says. She points out that it was Burton that created the LTR, or learn to ride, progression board, which is easier to ride, doesn't catch an edge as easily and has bindings that an instructor can adjust right on the hill.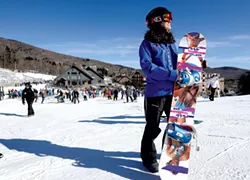 Jeb wallace-brodeur
Alison pictured with the Gnu Pickle Stallion
About 12 years ago, McFarland recalls, Burton sponsored an all-women's ride at Sugarbush. Among the participants was Donna Carpenter, who sought feedback from all the riders on what they thought of Burton's equipment and the industry at large.
"I thought that was great," McFarland says. "I really respected Burton for that."
Britt Horowitz, an amateur rider with the Sugarbush snowboarding team, as well as with an all-female crew called Outta' the Kitchen, says she thinks much of the criticism of Burton is narrow-minded and unfair. While some companies put more emphasis on lifestyle than athletics, she says, "You're not going to see that with Burton and the top riders."
"Sometimes I think social media is ruining snowboarding," Horowitz adds with a laugh — but she doesn't blame Burton for that.
Notwithstanding Scarlet's comment, very few of the women interviewed for this article described Burton's Playboy design as a big deal. While some called it "distasteful," "obnoxious," "unoriginal" and "not something I'd ride personally," it didn't appear to dramatically alter their views of a Vermont-based company they'd like to see thrive.
Pariseau has her own response to the Playboy board: She rides a Gnu board called the Pickle Stallion, which features the image of a muscular, half-naked man. As she puts it, "I love it. It's super fun to ride!"
*Correction, March 16, 2016: An earlier version of this story noted that a significant portion of Burton's board of directors are women. In fact, a significant portion of the company's directors are women. Additionally, the women's team Burton sponsors is not called "Burton Girls," but the team's online platform is.