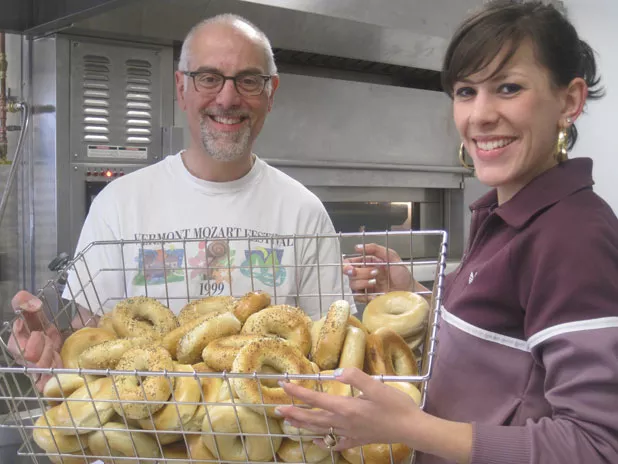 "It's extremely exciting to see the dough rising again. It's not exactly like riding a bicycle, but making a bagel — you still remember," said Roy Feldman last Friday.
He had just taken his first batch of bagels in 20 years from the ovens at Feldman's Bagels, the new store he's opening this Wednesday at 660 Pine Street in Burlington with daughter Maddy Feldman.
"They're sort of in my blood. I grew up around bagels," said the younger Feldman, who decided just last December to go into business with her father.
Roy Feldman said he's striving to bring back much of what customers loved about his two original Burlington Bagel Bakery locations. He introduced his bagels to the Queen City in 1979 and sold both stores nine years later.
Hot from the oven, Feldman's everything bagel was dosed with caraway and coriander for an extra shot of flavor. He spread it with scallion cream cheese he'd mixed himself, using Green Mountain Farms cream cheese made in Enosburg Falls. The store's cream-cheese options will also include lower-fat Greek varieties and quirky flavors incorporating ramps or house-pickled jalapeños.
The bagels and bialys themselves are strictly New York style, with 10 classic flavors made from basic ingredients. But the fillings for bagel sandwiches will be a cut above. Blake Hoberman of Narwhal Pickles is making cucumber pickles for Feldman's, as well as sauerkraut and kimchi. Hummus will be homemade, while most of the meats, excluding an out-of-town kosher-beef salami, come from McKenzie of Vermont.
Feldman, a former director of the South End Arts and Business Association, said he's making an effort to connect with other local businesses. Coffee at Feldman's comes from Speeder & Earl's Coffee; its floor was redone by New England Floor Covering. King Arthur Flour supplies the flour for bagels, while cheese comes from Cabot Creamery.
Besides sandwiches, the menu includes matzoh-ball soup made according to Feldman's mother's recipe, with Misty Knoll Farms chicken and homemade kneidlach. A different vegetarian soup will join it daily, along with salad and sandwich specials.
With Maddy Feldman and recent Bluebird Tavern employee Jake Ziemlak running front-of-house, the family aspires to make Feldman's more than just a bakery and café. "It really would touch my heart if we can be a place for the Jewish community, but also the community as a whole," Roy Feldman said. "We're hoping that we can find that this Feldman's Bagels can capture what Burlington Bagel Bakery was — a functional community space" — and, he recalled, a hot spot for political rallies and other gatherings.
Soon customers of the new business will get some culture with their kosher. Christy Mitchell, who was SEABA's associate director under Feldman, will open the space behind the bakery as artists' studios this summer. She'll also curate art for Feldman's walls.