Courtesy Of Dylan Boissey
Tofu skin roll
A server placed a wide, low bowl on the table. We plunged in our chopsticks, dodging the blanched bean sprouts and pea leaves scattered on top, and homed in on the handmade noodles tucked beneath the clutter.
The first bite opened with aromas of anise and cinnamon. Then, sanguine soy and a touch of vinegar. Chile pepper heat crept in, clinging to bits of fatty pork and scallion. Along with the watery crunch of the sprouts, each bite was a symphony of flavor and textures carried through the chewy, hand-rolled pasta. This, I thought, is what noodles were made for.
I felt like I'd left Vermont and landed somewhere deep in the narrow, meandering streets of New York City's Chinatown. Not so: It was a Tuesday night in Montpelier, and my friend and I sat in the gentle glow of the drop-crystal chandeliers at Kismet, midway through a Chinese pop-up dinner called Double King. The cooks in the kitchen were white, the ends of our server's mustache waxed to a perfect 180-degree curl. And yet, chef Dusty Berard — French Canadian by family tree, Vermonter by birth, Kismet cook by day — presented traditional Chinese plates with the nuance and fluency one might expect from someone who grew up along the Yangtze.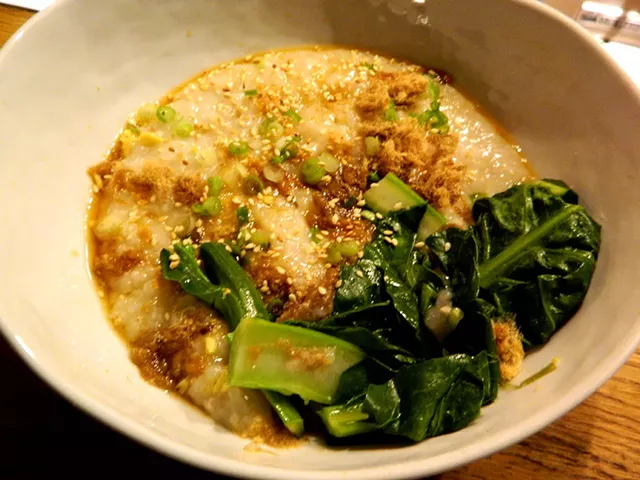 Courtesy Of Dylan Boissey
Congee
The dan dan noodles burned with a low heat that radiated from the back of the mouth forward — hot, but more of a blue flame than a yellow one. These came only after three rounds of dumplings, stuffed with smoky garlic chicken or gingery pork. Diners could order each dish à la carte, but for $30, it was worth it to taste most of the menu over eight or nine courses. It's a lot of food, but not so much that we were uncomfortably stuffed at the end.
Berard began cooking professionally at age 16, fresh out of the high school culinary program at Randolph Technical Career Center. "They set you up with internships," he recalled, speaking via phone last week. "So I just picked what I thought was the best [restaurant] in the area."
At the time, that restaurant was A Single Pebble, in its original location on Route 302 in Berlin. There, Steve Bogart was serving high-end Chinese eats in a market where most diners expected things like beef and broccoli or General Tso's chicken.
As the internship concluded, Bogart offered Berard a job. When A Single Pebble opened a second location in Burlington, the young cook was on the opening team. He continued to work for Bogart, whom he regards as a mentor, on and off for most of a decade.
Between stints at A Single Pebble, Berard cooked at fine-dining places in Boston and Nantucket. He worked for chef Ming Tsai at the acclaimed Blue Ginger in Wellesley, Mass., and helped Tsai open Blue Dragon in Boston. When Bogart's son, Chris Bogart, opened brewery and Chinese restaurant BTU Brasserie in Portland, Ore., Berard went west and helped with that, too.
"I'm super lucky," he said. "I've always been involved with the right people at the right time."
Hannah Palmer Egan
Chicken dumplings
That good fortune continues in the present. Not long after Berard started at Kismet, chef-owner Crystal Madeira received word that Himitsu Sushi, which held Tuesday-night dinners at Kismet for years, would serve its final supper on December 19. Madeira offered Berard the spot, and Double King served its first meal in early January.
The menu evolves from week to week, but visitors can expect from-scratch dumplings and noodles, as well as local meats braised in soy, ginger and wine and then sprinkled with sharply flavored alliums and oil infused with Sichuan peppercorns and Asian chiles.
Though Berard's cooking resembles the food in Chongqing or Chengdu, he's wary of calling it "authentic"; in the current culinary climate, issues of cultural appropriation often stir controversy.
"People sometimes look down on it when people cook food that [their family hasn't] been cooking forever, or that they didn't grow up on," Berard said. "But some people do it and work really hard to get it right."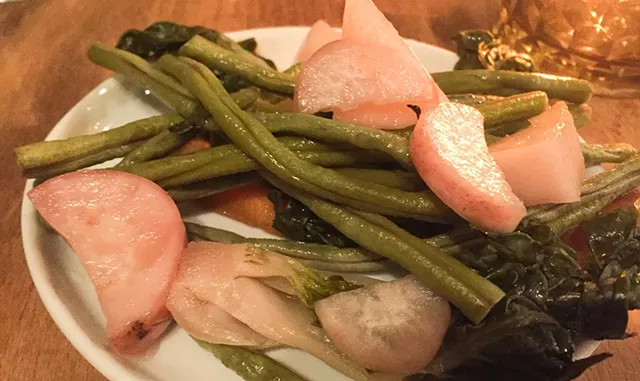 Hannah Palmer Egan
Pickled vegetables
Still, he added, "For better or worse, I've cooked Asian food for most of my career. It's the food I'm most comfortable with. I'm willing to call [Double King] Chinese food."
One month into his Tuesday-night residency, Berard is still figuring out how he wants to do things. Eventually, he'd like to do away with à la carte service and have everyone sit for the full menu, reservations required.
"If you know how many people are coming and what they're all going to eat," he said, "then you can really shoot the moon."
Then again, that kind of predictability is the dream of any chef. Right now, Berard said, "The idea is just to really make people happy."
On February 13, the dining room was full but hushed, as guests spooned their way through warming bowls of congee — the mild, creamy rice porridge typically eaten for breakfast throughout China. At the table next to ours, a couple stared at a plate of Chengdu chicken. "My mouth is burning," one woman said, reaching for her drink, "but it's so good."
For our part, my friend and I delighted in the dish, with its bits of local poultry coated in searing-hot chile powder and fried to a crisp. But we were grateful for slivers of celery and juicy cucumber that seemed to carry just the faintest scent of smoke. Smoked cucumber, we wondered, aghast. Is that a thing? Yes, in fact. Berard smoked the cukes for about 30 seconds, just long enough to tag them with a smoky aroma.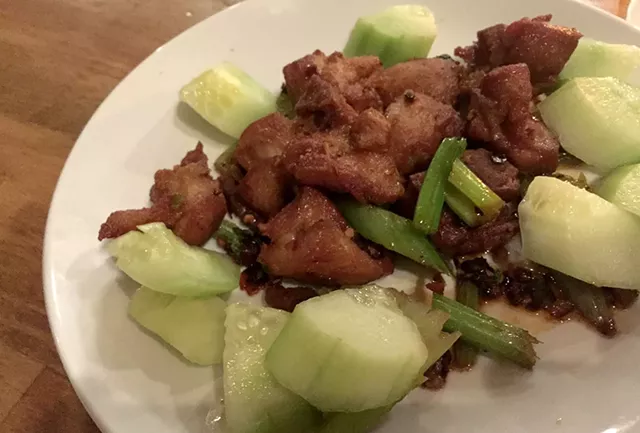 Hannah Palmer Egan
Chengdu chicken
After that came plates of Cantonese ho fun — wide-cut, chewy tapioca noodles flash-seared with sesame, tofu and peppers. Like Berard, I've never been to China, so I can't say whether they're authentically Chinese or not. But to me, that plate in particular smelled of Chinatown. Not the caustic, fishy smell of the seafood counters, but the toasty, sesame-laced scent that can stop you in your tracks as you pass a street-facing kitchen vent.
As my friend and I savored the fatty renderings of cumin and pepper in a plate of richly rubbed, crunchy-spicy pig's feet, the sticky collagen squished between our teeth, bursting with flavor. We didn't care who was cooking or what his background was; when the plates were cleared and our cocktails finished, we stepped out into the cold, moonless night with mouths tingling. We were warm, full and happy.