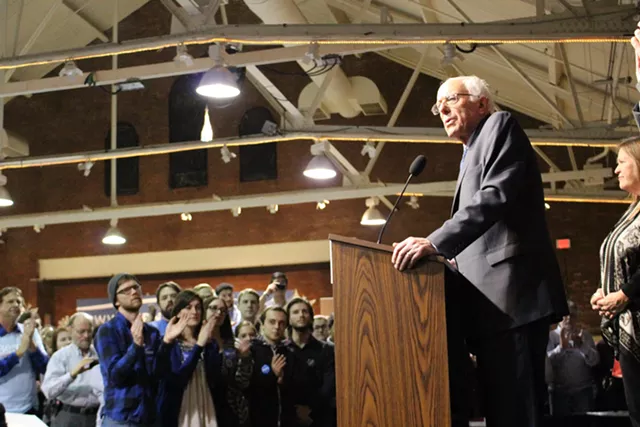 Paul Heintz
Sen. Bernie Sanders addresses supporters Saturday in Manchester, N.H.
When South Burlington High School let out last Friday, 15-year-old Catie Michael headed to Sen. Bernie Sanders' (I-Vt.) Church Street headquarters to call New Hampshire voters.
"Usually it's a really positive place, and we have a lot of fun," she said Saturday.
But when Michael showed up, she learned that the Democratic National Committee had blocked Sanders' presidential campaign from accessing its lists of voters, supporters and donors — making Michael's volunteer work all but impossible.
"We were essentially calling from the Manchester phonebook and got a lot of wrong numbers and a lot of Republicans," she said. "It felt kind of like defeat. It was just, like, heavy."
The 48-hour suspension from the DNC's voter file came after the party caught several Sanders staffers snooping around rival Hillary Clinton's lists last Wednesday. Normally, the competing Democratic campaigns are kept from viewing each other's data in the central system, but a software glitch briefly opened it up to prying eyes. (One Sanders staffer was immediately fired, and two others were later suspended.)
The altercation that ensued was, by far, the most serious to date in what, at least on the surface, had been a relatively polite and substantive competition between Clinton, Sanders and Martin O'Malley. Nobody on the Democratic side, it's worth noting, had been calling people "dumb," "embarrassing," "pathetic" or a "total loser."
But the day after the Washington Post broke the suspension story, Sanders campaign manager Jeff Weaver let loose Friday at a Washington, D.C., press conference and accused the DNC of trying to "sabotage" Sanders on Clinton's behalf. During a conference call with reporters that night, Clinton campaign manager Robby Mook said his team's data had been "stolen" and that the intrusion was "totally unacceptable and may have been a violation of the law."
After the Sanders campaign sued the DNC in federal court late Friday, the party relented and restored access to its lists.
Whether or not you care about something as arcane as proprietary voter data, it's easy to understand why both sides were so eager to engage. For the Clintonites, it was an opportunity to hack away at Sanders' sterling reputation as honest and trustworthy. After months of defending her use of a private email server as secretary of state, suddenly they could point to someone else's digital chicanery.
And for the Sanderistas, it reinforced the notion that, as Weaver said Saturday afternoon, "There are establishment forces out there that are very, very concerned about the success of this campaign."
Weaver made the remark at Saint Anselm College in Goffstown, N.H., where his boss was preparing for the final debate of the year — scheduled by the DNC, it should be noted, for the weekend before Christmas. (Only 7.85 million people watched it, according to Nielsen ratings, compared to the 18 to 25 million who watched the Republicans' weeknight slugfests.)
Across the Merrimack River, at Manchester's Radisson hotel, Sanders' loyal supporters trickled into its Armory Ballroom late Saturday afternoon for a debate-watching party. David Vogt, a German photographer who lives in Milford, N.H., showed up in a homemade red Christmas sweatshirt featuring a felt fireplace, snowflakes and the words, "FEEL THE BERN."
"I was honestly shocked," Vogt said of the party's handling of Team Sanders' transgression.
"I've been suspecting for a while that the DNC is basically, for lack of a better term, in bed with the Hillary campaign," he said. "And yesterday it kind of just solidified that belief."
Vogt wasn't the only one feelin' Berned.
Citing an unnamed Team Sanders source, the Washington Post reported that the campaign raised more than $1 million — on Friday alone. As the candidates debated Saturday night, Sanders surpassed President Barack Obama's 2011 record of most donations at an equivalent point in their respective campaigns. By Tuesday, Clinton supporters were telling the media that Sanders might raise more money than their candidate in the fourth quarter — a transparent attempt to lower expectations.
The Vermonter's campaign may have made the most of an unfortunate situation, but Sanders himself couldn't have been pleased. In the tit-for-tat between Weaver and the DNC, party chair Debbie Wasserman Schultz revealed that it was she — not Sanders' own staff — who alerted him to the data breach and suspension.
"He was very troubled by that," Wasserman Schultz said Saturday at Saint Anselm, twisting the knife.
Furthermore, Sanders had to spend valuable time at the start of the debate explaining the behavior of irresponsible staffers and apologizing to a rival. No doubt he'd rather have been talking about how, you know, the rich keep getting richer and the poor keep getting poorer.
Sanders landed a few good hits on Clinton that night — about her love affair with "regime change" and her coziness with Wall Street — but most of the headlines coming out of the debate featured the words "Sanders" and "Apologizes."
Let's be real: Nobody wants that — least of all, the guy who's built a campaign around hourlong policy speeches.
While occasional skirmishes with the Clinton campaign and the DNC might gin up Sanders' base and bring a flood of donations, a true knife fight with Clinton probably wouldn't end well.
"If we launch a vicious, personal, negative campaign against Hillary Clinton, I'll make one guarantee: We're going to lose," senior adviser Tad Devine told reporters in the spin room after the debate. "OK? That's not a winning campaign."
After appearing in the spin room himself that night, Sanders hopped into a motorcade and raced across town to thank the hundreds of supporters who had gathered at the Radisson to watch the debate.
Sharing the stage with his wife, Jane o'meara Sanders, their adult children and the philosopher Cornel West, Sanders thanked his volunteers and sounded an optimistic note. In several recent polls, he said to cheers, he had outperformed Clinton in hypothetical matchups against Republican Donald Trump.
"I think we're gonna win here, and we've come a long way in Iowa, where we're within single digits of Secretary Clinton," Sanders said. "Brothers and sisters, we are on the verge — on the verge — of pulling off one of the biggest political upsets in the modern history of the United States."
'Dotting the I's'
First it was expected in August. After that, by Thanksgiving. Then before Christmas. Now, a long-anticipated report on allegations against Attorney General Bill Sorrell is due out early next year, according to Department of State's Attorneys and Sheriffs executive director David Cahill.
"Sometimes when you're dotting the i's and crossing the t's, which is exactly what we were doing on this report, you find an item that needs some follow-up," says Cahill, who is managing the investigation. "That's what happened here, and that's why we're pushing our anticipated release date into January."
Cahill, who is working with independent counsel Tom Little and a committee of eight state's attorneys on the probe, declined to comment on what "item" requires the follow-up. But according to two sources close to the situation, the holdup relates to new information the committee obtained indicating that Sorrell's own office has been conducting a parallel inquiry into a group that helped finance their boss' 2012 reelection.
The internal investigation appears to stem from a June complaint filed by Vermont Right to Life Committee treasurer Sharon Toborg. In it, the Barre resident alleged that the Democratic Attorneys General Association failed to disclose the source of $6,000 it donated to Sorrell's hotly contested 2012 campaign against Chittenden County State's Attorney T.J. Donovan.
It's unclear whether the scope of the in-house inquiry is any wider than that.
Separately, Charlotte attorney Brady Toensing has accused DAGA of exceeding contribution limits in the 2012 race, because it donated the $6,000 directly to Sorrell and then financed $200,000 worth of pro-Sorrell ads through an affiliated super PAC called the Committee for Justice and Fairness. Toensing, who is vice chair of the Vermont Republican Party, argues that the direct donation triggered more stringent contribution limits for DAGA, making the $200,000 super PAC buy illegal.
Though Sorrell's staff is conducting the investigation into DAGA's actions, the AG himself says he's not involved.
"A few months ago I was told by staff there is a complaint against DAGA in the office, not involving me," Sorrell told Seven Days by email. "I was advised the office will handle the matter, but according to protocol, I am walled off from any decisions relating to the complaint."
Griffin and his staff did not respond to requests for comment, nor did DAGA or CJF.
Little, tapped last May by Gov. Peter Shumlin to lead the external investigation, is responsible for probing all six of Toensing's allegations, which range from minor to major. The state's attorneys, who are the top elected prosecutors in each county, must approve Little's report.
Seven Days spoke with half a dozen people involved with the investigation, none of whom would discuss its progress for attribution. Several indicated that the report isn't likely to recommend action on Toensing's "minor" complaints, such as an allegation that Sorrell failed to disclose how he spent campaign money. Another complaint, involving an alleged conflict of interest pertaining to Sorrell's lawyer, may be referred to the Vermont Bar Association, they said.
But the group is considering whether to refer at least one allegation to federal authorities, according to three of the sources. At issue is whether Sorrell agreed to file suit against 29 oil and gas companies in exchange for campaign contributions from two law firms — and then hired the firms to represent the state and share in any winnings.
The state's attorneys have reached out to the Federal Bureau of Investigation to determine whether its public corruption unit is interested in pursuing the matter — and they have met with FBI officials in Vermont.
Sources caution that the FBI has not indicated whether it will pursue the case. And even if the committee refers it to the feds, there's no guarantee they'll be interested. Another option would be to keep it in state: Vermont State Police detectives are already involved, and one of the state's attorneys could be tasked with prosecuting, should it come to that.
"In our jobs, with prosecutions we are always working with and talking with law-enforcement agencies," Cahill says elliptically. "In this process, we have not departed from our standard practice."
Federal and state law enforcement declined to comment.
For his part, Sorrell says he always "assumed there would be communication with federal law enforcement," because some of Toensing's allegations were "clearly outside the jurisdiction of state prosecutors."
"I look forward to the completion of the investigation," he says.