22 slides
In the
July 6 all-cartoon issue
of
Seven Days
, we presented our first-ever adult coloring contest, modeled after the coloring contest that appears each month in
Kids VT
, our parenting magazine. For the drawing we called upon the fabulously talented local artist
Marc Nadel
, our go-to guy for caricatures. And you can see why: His picture of Sen. Bernie Sanders, along with some flora and fauna, a swirly headline, a rainbow and a crowd of sign-carrying followers, perfectly mimics the cartoonish complexity of adult coloring books.
We knew that adult coloring was a hugely popular phenomenon, but, even so, we were surprised and pleased to receive several dozen entries from readers. Most of the participants called the activity "super fun" and thanked us for the opportunity to get out the crayons. As far as we can tell, this is also called "reverting to childhood."
Not surprisingly, the results varied wildly, from elegant pages colored within the lines to some that went way the heck beyond them. Our top three — selected by Seven Days staffers — represent this range quite nicely.
Winner: Stephanie Brown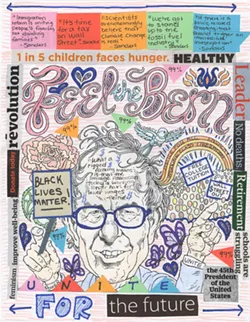 Stephanie Brown, 24, grew up in Williston and is now an adjunct professor at Holyoke Community College in Amherst, Mass. A fervent Sanders fan, she augmented her "Feel the Bern" page with what she called her "favorite quotes from the former presidential candidate." One sample: "It's time for a tax on Wall Street."
Brown also drew in slogans such as "Black Lives Matter!" and "Justice for All." Her border of ransom-note-type buzzwords turned a capitalist coloring exercise into an activist broadside. Wrote one judge: "A+ for added messaging and collage effect."
It's small consolation for Bernie, who has had to concede that Hillary Clinton won the Democratic nomination. Brown, however, is still true blue: "I'm probably gonna write his name in [the ballot] no matter what happens with Hillary," she said. "My hopes are that people look outside what they're being told to do and vote for who they think should be in office."
We'll be sending Brown more than $100 worth of restaurant gift certificates, luring her back to Vermont to use them. "I'll take my mom out to dinner!" she promised.
First Runner-Up: Tom Abernathy
Whether or not one agrees with the message, there's no denying that Tom Abernathy appropriated our coloring page in a very clever way. With brown and red marker, the 42-year-old Burlington resident nearly obscured the subject, Bernie Sanders, and in yellow and turquoise managed to graphically impose the name of the Republican presumptive nominee, Trump, along with the year, '16. Underneath, the face and every other finger of Sanders are rendered in silver — the other fingers are red, as are his glass frames. Frankly, he looks pretty creepy.
"That was a result of my being at work with a limited color palette of markers," Abernathy said modestly, declining to reveal his workplace. Asked why he entered the contest, he said, "I'm a Trump supporter, so I thought I'd give a different perspective — I thought maybe nobody else would." He got that almost right; another entry was ambiguously grim.
"Subversive yet easy to digest," wrote one judge, who gave Abernathy high marks. "While I disagree with the sentiment, this was a creative take on the assignment!" praised another.
We congratulate Abernathy's artistic vision and unorthodox use of office highlighter.
Second Runner-Up: Lynn Lantz
Burlington resident Lynn Lantz, 49, handles communications for NorthCountry Federal Credit Union. She's also a graphic designer and artist, so it's no wonder that her coloring page is gorgeous and expertly shaded. "The colors are beautiful," noted more than one judge.
She's also had practice: Lantz noted that she's a fan of Johanna Basford's Enchanted Forest coloring book.
But she's a bigger fan of Sen. Bernie Sanders, whom she gave blue hair — reflecting our blue state — and a lovely green background, because Green Mountains. Lantz rendered the text, "Feel the Bern," in modulated rainbow hues, and subtly promoted diversity by coloring the heads in the crowd like so many jellybeans.
"It looks like a 'real' Seven Days cover," opined another judge. A new art career in the making?