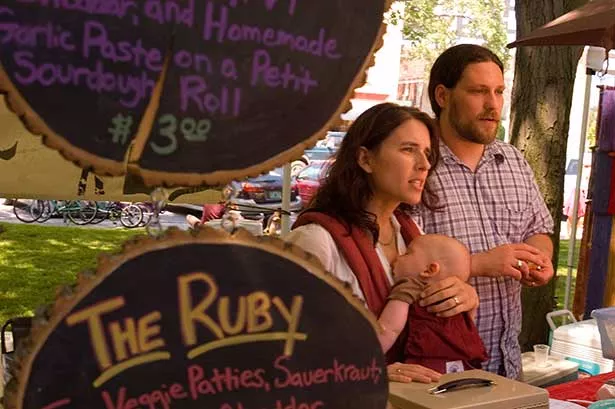 Matthew Thorsen
FolkFoods at Farmer's Market
You don't have to convince Jason Frishman that food brings families together. The 34-year-old family therapist holds a PsyD from the Massachusetts School of Professional Psychology. He also co-owns a company called FolkFoods with his wife Shana Witkin, 33, that has become an integral part of the Burlington Farmers' Market. On a recent Saturday in City Hall Park, slender, porcelain-skinned Witkin is stocking samples and tracking sandwich purchases in a notebook, her sunglasses perched atop her dark-brown hair. Frishman, a burly, genial-looking man with a trim beard, bounces their tranquil 4-month-old son, Micah Baer, in a baby carrier while he chats up passersby.
Neither Frishman nor Witkin planned to own a food business. It all began when Frishman, a "conscious omnivore," started to use creative cooking to get closer to his future wife. Witkin, a vegetarian, required meat substitutes: "We both love breakfast, and we used to buy those fake sausages, which were expensive, not so tasty and very processed," she recalls. So sausage-loving Frishman applied himself to the task of inventing treats to satisfy both their palates. Every weekend he'd try something different, and "I'd give him feedback," Witkin recalls. After considerable trial and error, they settled on a version they both enjoyed. The result: hearty, flavorful and filling "veggie patties."
In 2007, with help from family and friends who saw market potential in the product, the couple began churning out batches of the perfected pucks, along with a similar "crumble" ideal for chili or stew. While they could be considered meat replacements, neither product looks or tastes anything like flesh; but both are savory and delicious. "I like to say they're 'carnivore approved,'" Frishman quips. The pair also bottles a complex condiment, Master Sauce, that can be used as a dip, spread and marinade.
This winter, they hope to offer the trio of products at local grocery stores. For now, they set up their table with its festive red-striped cloth at the Saturday market in Burlington, where both excel at building relationships with customers. Last year, Frishman recalls, one man showed up at 10 a.m. each Saturday to buy two of their vegetarian Reuben sandwiches, called "Rubys." The "Ruby guy" was seldom even a few minutes late, but his habit remained mysterious - until this summer, when he began stopping by with his wife and infant. Turns out that, while his wife was pregnant, she'd sent him out to satisfy her weekly craving for FolkFoods' sandwiches. "We've become friendly now," says Witkin, gesturing at her own sleeping child.
Frishman scans the milling crowd. "If someone walks by with a samosa from the Samosaman," he says, "I always ask if they'd like to try it with our Master Sauce. It's not because I'm trying to make a sale. It's because they go so well together." He acknowledges, though, that many who try the combo do walk away with a jar.
Frishman hesitates to refer to his sweet 'n' spicy creation - which includes habañero, maple syrup, tamarind and cumin - as a "hot sauce": "It's more versatile than a hot sauce," he explains. "It can be used in anything." In fact, that's how the dark-brown condiment came by its dominating name: Not because it makes you its bitch - although some heavy users reportedly feel that way - but because it's multi-purpose. It's a robust, musky answer to the basic sauces used in French cuisine, which are referred to as the "mother sauces."
The slow-smoldering stuff is an ingredient in FolkFoods' veggie patties, and it adorns their selection of hot sandwiches. The options are advertised on a dangling menu-mobile made of four log slices coated in chalkboard paint.
There's "Baer's Bite," garlic-paste-smeared sourdough topped with a veggie patty and cheddar; The Benny, with a patty, cheddar and egg on a Montréal-style bagel; The Ruby, with a pair of patties, sauerkraut, sour apple and cheddar on wheat; and a breakfast burrito with fried egg, black beans, taco-seasoned veggie crumble, cheese and salsa, swathed in a warm flour tortilla. Compact but filling, the wrap is a hearty way to fuel an expedition around the ever-expanding market.
"I come here every Saturday and get one of the burritos. You can't go wrong with a breakfast burrito, especially if it's local," enthuses customer Nate Bosshard.
******
You don't need psychoanalysis to figure out how Frishman and Witkin came to their shared avocation. "Food and family are really linked for me," Witkin muses. "We had family meals together in the evening. And when my Jewish grandmother would come to visit, she was in the kitchen for the whole trip."
For the Frishman clan, holidays brought out the frying pans. "There was always a spread," he recalls. "Mom would spend hours doing latkes. Dad and I would spend an entire weekend perfecting a chili." But it wasn't until he visited Israel that Frishman really became a cook in his own right. "I was living with someone who said, 'I don't know how to cook; I don't know how to clean; you do one and I'll do the other.'" He picked cooking.
To help him along, Frishman picked up a tome called Adventures in Bubby Irma's Kitchen and made every recipe between its covers. "It was a combo of Israeli food, stereotypical Jewish food and European food," says the entrepreneur, who was so inspired by author Irma Charles that he eventually went on a pilgrimage to find her. He proudly shows visitors his copy of the cookbook, along with a picture of him with his arm around "Bubby Irma."
After college, Frishman settled in Boston, where he worked under Didi Emmons, vegetarian chef extraordinaire, at Boston's acclaimed Veggie Planet. Emmons' cookbook, Entertaining for a Veggie Planet, features Frishman's recipe for carrot, rosemary and ginger minestrone. It's just one of Frishman's many "gourmet peasant food," creations - a term he coined to describe his cuisine.
When Witkin joined him in Bean Town, they made a point of cooking at home no matter how hectic things got. "We were busy - we were both in school; we were kind of crazy, but we made time to make community," she says. "Being around somebody who loves to cook is kind of contagious. For him it's not a chore; it's relaxing."
"There are so many ways that food can be healing," Frishman proposes.
Along those lines, Frishman plans to add a food-related element to his counseling practice. "When families spend time together in some sort of mutually beneficial activity, they have a chance to relate, to create the sparkling moments that . . . mold families and help them grow," he posits. The workshops he's envisioning will teach parents how to work with their kids in the kitchen and encourage positive communication at mealtimes. It's something he and Witkin practice at home. Even though Micah Baer isn't old enough for solid food, he's always at the table when they dine.
Another one of their outreach efforts will center on crafting fermented foods such as pickles, vinegar, sauerkraut and kimchi. "In fall, I want to have a fermentation fest," says Frishman. "People can bring whatever's leftover from the garden or CSA and a Mason jar . . . and leave with the jar full." The goal is to help educate community members about preserving local produce for the off-season.
Right now, Frishman's deep in the midst of his own frugal "rot projects," as Witkin affectionately calls them. Their fridge contains homemade yogurt, pineapple vinegar and pickled garlic scapes, plus an extra-pungent kimchi. In one corner of the apartment, a vat of maple peach wine is aging. "We're cash poor and maple rich," Frishman jests. Later, he plans to try making wine out of beets. "I'm fanatical about having some fermented foods every day," he confesses, citing both their health benefits and their complex flavors.
The number of "regular" eaters who return to the FolkFoods stand each week suggest Frishman and Witkin are on to something. So is the fact that the pair recently got a call from the Food Network about the possibility of appearing on a show. Unfortunately, Frishman says, the host decided to "take the program in another direction."
Fame isn't foremost in Frishman and Witkin's minds, anyway, though a little fortune wouldn't hurt. Whatever they cook up, it'll likely combine their favorite ingredients: community and good food.