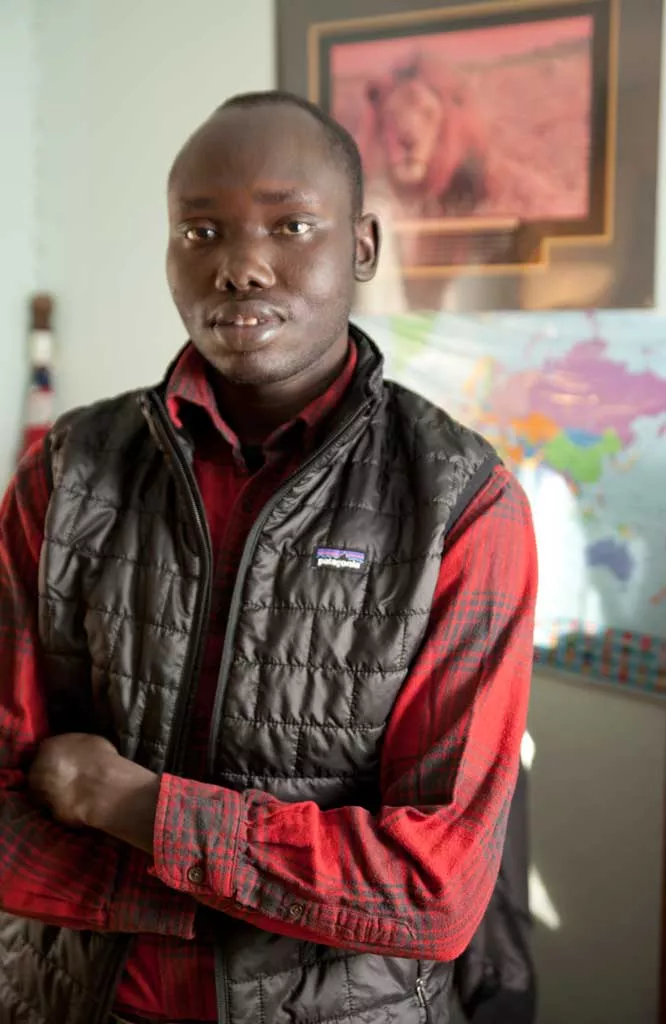 File: Matthew Thorsen
Peter Deng
It can be argued that Vermont's most life-altering financial transactions aren't happening in its banks and credit unions but over the counters of Rite Aids, Price Choppers, Kinney Drugs and Hannafords across the state.
New Americans who may be earning the minimum wage here collectively transfer thousands of dollars each week to Africa, Asia and Central America. Thirty-nine money transmitters are licensed in the state of Vermont, according to Sue Clark, director of regulatory and consumer affairs at the Vermont Department of Financial Regulation. And that includes Amazon, Google and PayPal.
But most New Americans use MoneyGram and Western Union to wire funds to family members in their impoverished homelands, many of whom live far from anything that remotely resembles a bank. Known as remittances, the money helps to buy food, secure housing and pay the school fees required in countries that don't provide free public education. Western Union, which is still ubiquitous, provides this service at 181 retail locations throughout Vermont.
"It's a very common practice," says Thato Ratsebe, assistant director of the Association of Africans Living in Vermont (AALV). Her group, based in Burlington's Old North End, aids Africans and immigrants from other continents. "People here send money for basics and also to help a relative get out of a refugee camp by paying for immigration forms and buying a plane ticket." And they pay Western Union up to 10 cents on the dollar to do so.
What seems like a modest sum of money to a middle-class U.S. citizen may represent a veritable bounty to someone subsisting in a refugee camp. "One hundred dollars is enough to live on there for a month," says Htun Sein, a Burmese Vermonter who uses MoneyGram to wire funds to his three sisters and their families inside Burma, as well as to a niece in a refugee camp in Thailand. He said it's cheaper than using a bank — which may charge a flat fee for the service, regardless of the sum — and none of his relatives has access to a traditional financial institution.
"Conditions are very difficult for them," notes Sein, a case manager at the Vermont Refugee Resettlement Program. "Costs for basic things are very high." Sein estimates that the remittances he sends amount to about 40 percent of his salary.
Peter Deng, a caseworker at the refugee program in Colchester, says he ships half his earnings to a foundation he established in his native South Sudan that cares for a dozen orphans. Orphaned himself at age 5 as a result of a civil war that took an estimated two million lives, Deng has personal knowledge of the suffering experienced by young children who have lost their parents. His associates in South Sudan locate orphans in especially dire circumstances. "We find them through village elders or we see them on the street looking like walking skeletons," Deng says.
He also sends money to a sister who was recently forced to flee South Sudan, where there's renewed conflict, for a camp in Uganda.
Like many other Vermont refugees who managed to escape cruel treatment and abject deprivation, Deng says the decision to help those left behind is almost automatic. "If you have something here, you'd feel shame at not sending it."
"I know what it's like," adds Durga Khadka, a Bhutanese refugee who moved to Vermont in 2010 after spending 20 years in a camp in Nepal. "There's little to eat, the housing is very bad. When it rains, water comes through the roof."
Ahmed Qorwa, a Somali who lived for many years at a refugee camp in Kenya, says through a translator at the AALV that whenever he's able, he transfers funds to his mother, who's still in that camp. Qorwa makes doughnuts at Koffee Kup Bakery in Burlington. It's not easy to provide for his own family in Vermont and also send help halfway around the world, Qorwa says. "But no matter what, she's my mother."
Family obligation is a powerful motivator in societies constructed around extended households, notes Judy Scott, former director of the resettlement program. Sharing with relatives is seen as "an essential part of having human relationships" in many of the countries from which refugees come, Scott says. American culture, she notes, "focuses much more on the good of the individual."
"In my culture, we have to look after our parents," says Khadka, who works in the housekeeping unit at Fletcher Allen Health Care. He says he sends money to his mother, father, two sisters and their families three or four times a year — sometimes less. He and his wife, who works at Vermont Teddy Bear, rent a home near the Burlington International Airport. His relatives in the camp in Nepal sometimes beg him to provide remittances, Khadka says. "They call again and again — sometimes they're crying — asking for money," recounts the father of two.
It's a similar struggle for Ndabagiriye Renovat, a refugee from Burundi in central Africa who washes dishes at a spa in Essex. He says it can be difficult to scratch together $100 to send to relatives in a country that may be on the verge of renewing ethnic conflict that claimed hundreds of thousands of victims in the 1990s. But, Renovat says, he does what he can.
"They need my help," he says. "They're very poor."
Some recent immigrants are fearful of the imagined consequences of sending money home, notes Ratsebe at the AALV. Clients who are initially dependent on public assistance sometimes worry that it will be taken away if they send even a few dollars to the families they left behind, she explains. "There's misconceptions of what the government can and cannot do," Ratsebe says.
A majority of the approximately 1,200 Mexicans and Central Americans working on Vermont dairy farms regularly send money to their families back home — and few of them have bank accounts here or there. "I don't know of any who don't make remittances," says Brendan O'Neill, an organizer for the Burlington-based Migrant Justice program.
It may actually be somewhat easier for the farmworkers to make relatively sizable money transfers — the equivalent of half of their earnings or more, according to O'Neill. Although most make $10 an hour or less, they often work up to 80 hours a week. O'Neill speculates, "Their housing expenses are covered and they seldom leave the farms, so what else are they going to spend it on?"
A portion of their remittances goes to Western Union in the form of fees that O'Neill says have increased substantially in the past few years. "It's a racket," he says. "Western Union is making piles of money off the fees they charge."
Paula Barifouse, Western Union's corporate communications chief for Latin America and the Caribbean, writes in an email that it costs $5 to wire up to $50 to Mexico from a U.S. location. The fee is a flat $8 for sums between $50 and $1,000.
The company has "a multi-tier fee structure," Barifouse adds, with the rates charged to customers varying in accordance with "where a money transfer is sent from, where it is sent to, how quickly the funds need to arrive (in minutes, next-day), the channel selected (e.g., agent location, wu.com or telephone) and a variety of other factors."
Clark says her division of the Vermont Department of Financial Regulation has no record of consumer complaints against Western Union or MoneyGram.
For some poor countries, the World Bank reports, remittances from immigrants can be vital not only to particular households but to economies as a whole. In the case of Nepal, for example, remittances from nationals living abroad amount to about 25 percent of its gross domestic product.
Remittances to countries in the developing world totaled $414 billion in 2012, the Washington-based global financial institution estimates. And the bank predicts that the sum will surpass half a trillion dollars by 2016.
In a report updated this month, the World Bank enumerates the many benefits of the funds transferred from comparatively wealthy locales, such as Vermont, to some of the poorest places on earth.
Remittances, the bank says, result in "greater health and education expenditures; better access to information and communication technologies; improved access to formal financial sector services; enhanced small business investment; more entrepreneurship; better preparedness for adverse shocks such as droughts, earthquakes and cyclones; and reduced child labor."
O'Neill, from Migrant Justice, says he's seen some of those gains firsthand during visits to the home villages of Mexicans working on Vermont farms. "In Chiapas, where many of them come from, the local farming economy has been collapsing," O'Neill relates. "There's malnutrition and other forms of extreme poverty there. And I've seen homes built and children sent to school in Chiapas with remittances sent from Vermont."
Refugee Program's New Director Has Been There, Lived That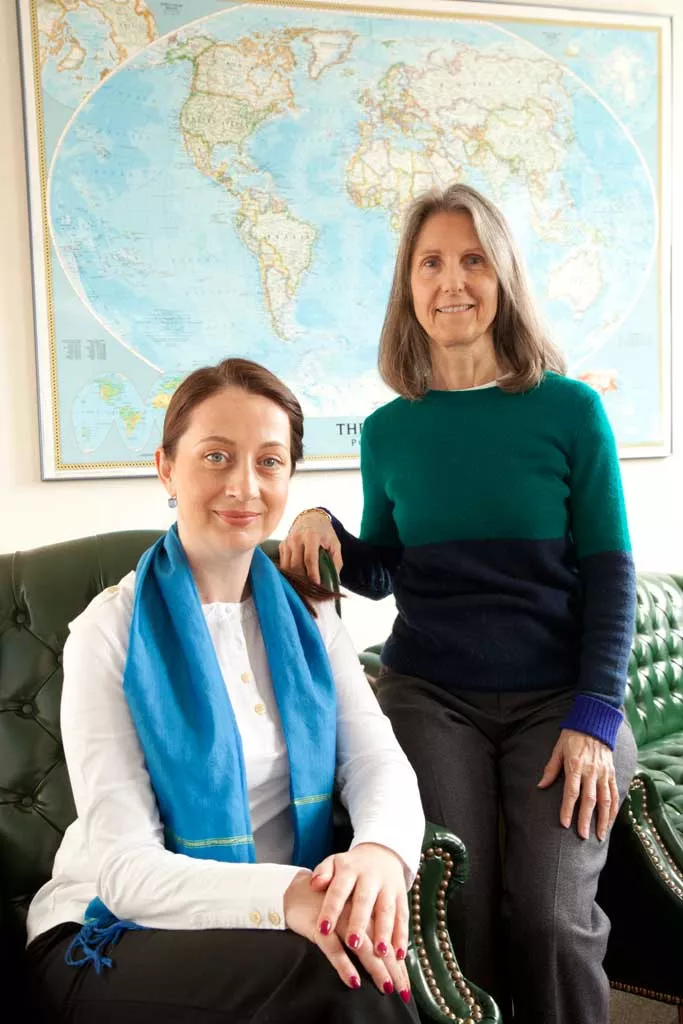 Matthew Thorsen
Amila Merdzanovic and Judy Scott
Thousands of people displaced from their homelands by war or repression have found peace and freedom in the Burlington area with help from the Vermont Refugee Resettlement Program. For the first time, one of those refugees has become the director of the 34-year-old organization.
Amila Merdzanovic started in her new job last week — 19 years after seeking refuge in Vermont from a conflict in Bosnia that claimed one of her best friends. Merdzanovic, 42, had to flee her home in Sarajevo, Bosnia's capital, due to a years-long siege that left her family dependent on humanitarian aid.
"Amila has the life experience that makes her such a good choice" for the job, says Judy Scott, who retired on April 1 after six years as the program's chief.
Merdzanovic also has impressive academic credentials. She earned an undergraduate degree in international relations from Mount Holyoke College and a master's from the Fletcher School of diplomacy at Tufts University.
Looking comfortable in the director's chair at the program's office in Fort Ethan Allen, Merdzanovic has clearly come a long way from a one-bedroom apartment on Pine Street in Burlington and a counter job at the now-closed Lilydale Bakery — a position she found nearly two decades ago with help from the agency she now runs. Three years later, in 1998, the Vermont Refugee Resettlement Program hired her to be a case manager for her fellow Bosnian refugees.
Merdzanovic also spent several years studying and working in Massachusetts. She says she enjoyed living there, but "Vermont was my home away from home."
Having closed a circle of her own, Merdzanovic wants to encourage other former refugees to do the same. Recruiting them to return to the program as volunteers is her prime goal in the director's post, she says.
Scott, 65, says the most satisfying aspect of her own time as director was witnessing "the extraordinary achievements of our clients. People who came here with nothing have bought their own homes two or three years after arriving."
Scott's biggest challenge? "The difficulty of communication," she replies, referring not only to language barriers but to cultural differences that she initially struggled to bridge.
Scott offers the example of visiting a Somali family of six in their Burlington apartment soon after she started volunteering at the refugee program 10 years ago. "They were sitting on the floor in a circle eating dinner from a plate in the middle," she recalls. "I thought to myself, This isn't clean, this isn't how you should eat dinner." But as she watched older children place choice pieces of chicken in the mouths of their younger siblings, it occurred to Scott, she says now, that "this is bonding, this is creating a closeness that will be with them always."
Merdzanovic adds that refugees coming to Vermont today can expect to receive the same "outpouring of compassion and support" she experienced in 1995. "There's no place like Vermont," she declares.
She returns to Sarajevo every year to visit her brother, a musician. Asked if she wants to live there again some day, Merdzanovic admits, "I have one foot in Bosnia and one foot here." But, she adds, "There's better opportunities here for my daughter" — a 12-year-old who, her mother says, has become thoroughly American.