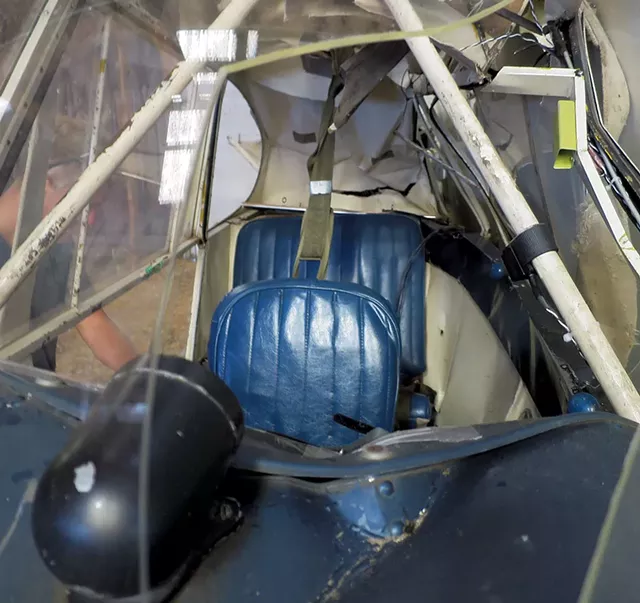 File: Matthew Thorsen
The crashed plane in a barn on Savage Island
The "wheels of justice turn slowly," as the old maxim goes. Less well known is how long the federal government can take to fulfill a public records request.
Almost three years ago, in December 2016, Seven Days asked the federal Air National Guard for emails from Vermont Air National Guard officials about Lt. Col. John Rahill, a fighter jet pilot who crashed a small plane on a Lake Champlain island that September. Neither he nor his lone passenger was seriously hurt, and Rahill later said in an email to the Federal Aviation Administration that he'd been practicing emergency landings at the time of the wreck. He was later ordered to retake his civilian pilot's exam to keep his license.
By November of that year, the National Transportation Safety Board had released its preliminary report on the crash. And by January 2017, the FAA gave Seven Days various emails and other documents as part of a different public records request.
But it wasn't until July 23 — of this year — that the National Guard Bureau's Office of Information and Privacy turned over 12 emails printed on six pages.
"This concludes our office's processing of your request," Jennifer Nikolaisen, chief of the office, wrote in a letter accompanying the emails. She did not explain why it took so long to comply with the request.
In one email dated September 20, 2016 — one day after the crash — a lieutenant colonel in the 158th Fighter Wing of the state Air National Guard wrote a summary of what had happened. The government redacted the sender's name.
"They are lucky to be alive," the person wrote of Rahill and his passenger. "...Another great wake-up call about how close we all are to being 6' under!"
Among the emails is one from this reporter and another from someone who warned an unidentified recipient on the day of the incident that the crash "has picked up some media interest."
Three years later, we're still interested.