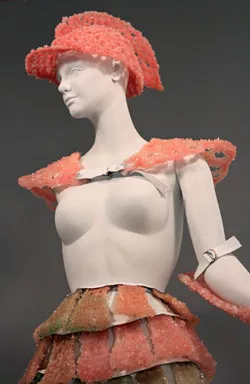 Melissa S. Armstrong's rock-candy armor
Though April 8, when visitors enter Johnson's Vermont Studio Center, they'll be in for a sweet treat. The current exhibition, "Science Is Fiction," is composed of pieces made almost entirely out of sugar.
Melissa S. Armstrong, staff artist at the Studio Center says she has long been preoccupied with the theme of ephemera. "It's the Eastern philosophy that things are more beautiful because you know they're going to die," she says. "Life is more beautiful because you know at some point it's going to end, and it enhances the present moment." In the past, she has illustrated the concept through shows featuring a fragile, hand-cut paper jungle — which viewers were encouraged to tear up and take home — and hanging porcelain.
More recently, sugar has been Armstrong's medium of choice. The degradation of hard candy, especially in summer, can be so fast that viewers who spend even an hour at the gallery, Armstrong says, see a transformation in the art. To aid her point, "Science Is Fiction" features time-lapse video from her July 2010 installation "Sweet Senescence," which followed the decay of hard candy on Plexiglas and wood panels as it melted into basins below.
Now, rock candy, the main focus of this exhibit, has captured Armstrong's interest. Despite nearly identical ingredients, it doesn't decay on display like hard candy, but instead proliferates into jagged crystals. An array of small pieces made of sugar-dipped wool composes Armstrong's "Sessilia" series. A suit of rock-candy armor adorns a mannequin. Armstrong fitted the helmet, shoulder and arm pads, and paneled skirt to her own measurements, but she admits she has yet to wear the work.
Armstrong will leave Vermont next month for a residency at the Virginia Center for the Creative Arts, where she says she'll work more on merging hard and rock candies, with their opposing paths. And, yes, Armstrong says her art will soon explore the essential truth that candy tastes good. "I haven't yet gotten to the edible aspect of it," she says. "Degradation through the fact that it's made to eat is something that I'll definitely explore."