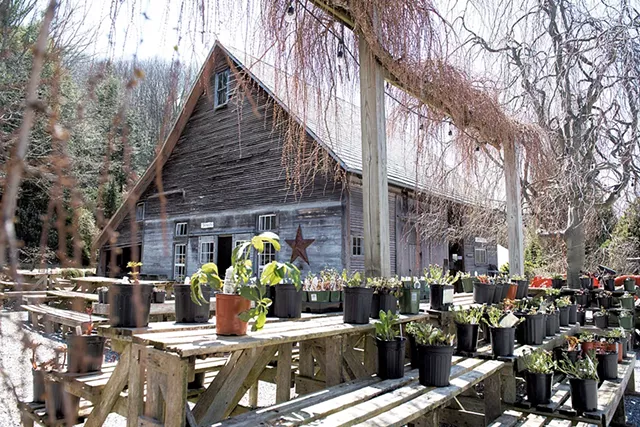 Caleb Kenna
Rocky Dale Gardens
Delicate white snowdrops and purple dwarf irises bloom in the April sunshine. The scent of green things pushing out of the warming earth fills the air. The first whiff of spring is intoxicating on a recent visit to Rocky Dale Gardens, a display garden and plant nursery in Bristol. The 1856 farmstead property tucked against the granite ledges of South Mountain is known for its unusual range of plants and trees. The botanical specimens invite gardeners to take risks — and so does nursery owner Ed Burke.
Turning off Route 116 just east of downtown Bristol, visitors enter the nursery through wrought-iron gates. One of the first things to draw the eye is not a plant but the long, handsome front porch of the 19th-century clapboard farmhouse. This was the homestead of the small-scale farming family who originally settled the property and kept oxen in the large, slate-roofed barn nearby.
Burke and his husband, architect David Flaschenriem, are gradually restoring the Italianate house. They've painted the porch's slim double columns a clean white to match the cornices and contrast with black mullions on the two-over-two windows. The clapboards are now a mellow green.
In the summer, Burke sets pots of various salvias on the porch and starts his day there. "I sit on the front porch in a rocking chair and watch the humming birds," he says by telephone from Minneapolis, where he also owns a landscape design/build firm called Phillips Garden.
Burke bought Rocky Dale in 2004 from original nursery owners Holly Weir and Bill Pollard, and he has also been restoring the gardens, over which longtime manager Amy Rose-White presides. The morning of Seven Days' visit, a truck full of new stock has just arrived. Burke's dog Coco trots around the lawn.
Caleb Kenna
Amy Rose-White, left, and Claire Trombley
In the greenhouse, succulents and herbs grow in containers. Scented geraniums, gardenias, a lemon tree and other permanent plant residents of Rocky Dale are returning to full strength after a winter in the basement under grow lights. (That method is cheaper than heating the greenhouse but still not so good for the electric bill, Burke jokes.)
The nursery, which is open and gearing up for the season, offers a wide range of annuals, perennials, trees and shrubs. Among them are staples such as hydrangeas, ferns, peonies, herbs and primroses — but also many unexpected items, such as the Abies lasiocarpa, a North American fir; and the Glaucidium palmatum, or Japanese wood poppy.
"We have unusual things, and we have some things that aren't as unusual," notes Burke, who describes Rocky Dale's primary aim as simply to sell "things that we think are really good plants."
He urges customers to let their imaginations run wild when designing a garden, and to give it room — not just figuratively.
"Most gardens suffer from being too small, not having enough room to actually grow," Burke says. "We don't want to marginalize gardens to clutter, little doodads ... People should be a little fearless. They should experiment."
And don't, he adds, be afraid to let a garden take over the lawn.
Rocky Dale's gardens occupy about four of the property's 10 acres. Previous owners Weir and Pollard came from California and established the nursery in 1981, then grew the gardens over several decades. They found the property had unusually deep, rich topsoil and microclimates that included warm spots — warm for Vermont, that is.
Accordingly, Weir and Pollard put in plants that don't typically thrive in Vermont and "kind of blew everyone's mind with their plant palette," says Rose-White.
Caleb Kenna
Magnolia
On a walk through the gardens, she points to a Merrill magnolia, easily 30 feet tall. It will soon produce star-shaped flowers, demonstrating that the beloved southern specimen can be more than a scrawny shrub in Vermont. A dwarf Norway spruce likewise stretches to an unusual height and size, as do other conifers in a range of colors — mossy, dusky, sea green, gray green.
The distinctive mottled bark of a Stewartia tree catches the eye. So do an Alaskan cedar, various beeches and an impressive old hemlock that volunteered in the location years ago.
When Burke bought Rocky Dale, the grounds were becoming overgrown, says Rose-White, who has worked at the operation since the late 1980s.
"So Ed basically has been dealing with what to save, what not to save," she goes on.
Burke has created a central lawn by removing a row of old hazelnut trees that once formed an east-west spine. A wooden pergola on one end of the property — dubbed "Woodhenge" by garden staff — has also gone, but an adjacent beech hedge remains. Burke is still ripping out an invasive bamboo — a major task. And trees and shrubs near sections of the ledges have been cleared to showcase the dramatic gray rock. Burke and Flaschenriem staged their wedding last summer with the ledge as backdrop.
Burke has added new features, too, including a stone terrace, a pond (still in progress), and borders and sections of lawn. Also planned: renovation of the big barn on the property, with the assistance of a recently awarded state grant.
Burke grew up in a row house in Queens, he recalls. His mother filled their postage-stamp-size backyard with forsythia, daffodils, azaleas, roses and marigolds; his grandfather showed dahlias at fairs.
"I would say my mother and my grandfather were the greatest influencers," he says of his love for plants and gardens. "They just passed the gene right on to me."
When Burke was 16, his dad, a New York City firefighter, retired and moved the family to Newport, Vt., not far from their summer place at Lake Willoughby. It was a dramatic change for urban-born Burke, but ultimately a good one, he says. After graduating from North Country Union High School in 1974, he found his way to the University of Vermont, where he enrolled in the environmental studies program and majored in sustainable agriculture.
In 1980, Burke moved to Minneapolis and founded Phillips Garden in a former gas station. Today the company has 35 employees, who largely run the operation. "I participate in certain designs and projects when it's required," Burke explains, "but they don't really need a lot of me."
Now he spends most of his time in Vermont, at Rocky Dale, where he continues to urge customers to bring their visions and personalities to gardening. Burke also enjoins gardeners to look up from their labors and acknowledge how gardens "make us feel emotionally, how they can be therapeutic."
While Burke is deeply interested in botany, soil and the scientific aspects of growing plants, his advice to other green thumbs indicates that he's also motivated by something more abstract — an overarching belief in the aesthetic value of gardening. "Creating beauty is one of my goals," he says.