Courtesy Of Wink
The Quarantine Chef: Tastes to Comfort
Wink, a Vermont company that designs and sells household goods, stationery and giftware, has published a cookbook called The Quarantine Chef: Tastes to Comfort to support national hunger-relief efforts.
Beth Bingham of Fayston and her business partner, Cynthia Meyers of Boston, sourced, tested and compiled 65 recipes from friends and family around the country. The book reflects what Bingham described as a "communal need for recipe sharing" at this challenging time.
The collection includes recipes from chefs and other food professionals, as well as home cooks. Sheryl Julian, former food editor of the Boston Globe, contributed a French yogurt cake. New York Times best-selling cookbook author Jamie Purviance offered up a granola recipe. Bohemian Bakery of Montpelier shared the recipe for its heirloom tomato tart.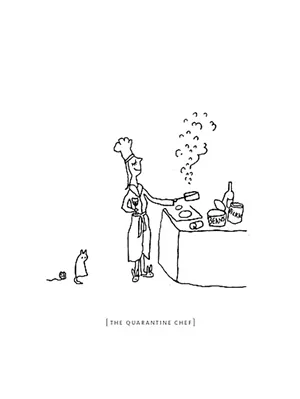 Image Courtesy Of Wink
Drawing from the Quarantine Chef
Comfort food classics and family favorites include a great-aunt's cheesecake submitted by Melodie LaPorte of Montpelier and a Southwestern zucchini casserole from Carolyn Casner of Plainfield.
The book features charming black-and-white line drawings by Meyers and was designed by Rose DiSanto of DiSanto Design in Philadelphia. Everyone involved donated their time. All proceeds beyond printing costs will benefit Feeding America, the nation's largest hunger-relief organization, which supports a network of 200 food banks including the Vermont Foodbank.
Bingham said she was motivated to create the cookbook early in the lockdown period of the pandemic when the news was filled with stories of people's cooking challenges and sharp increases in food insecurity.
"I thought, What can we do to help?" she said.
The cookbook can be purchased for $25 at awinkdesign.com and some local stores, including Bear Pond Books in Montpelier, Mysa in Shelburne and Thirty-odd in Burlington.