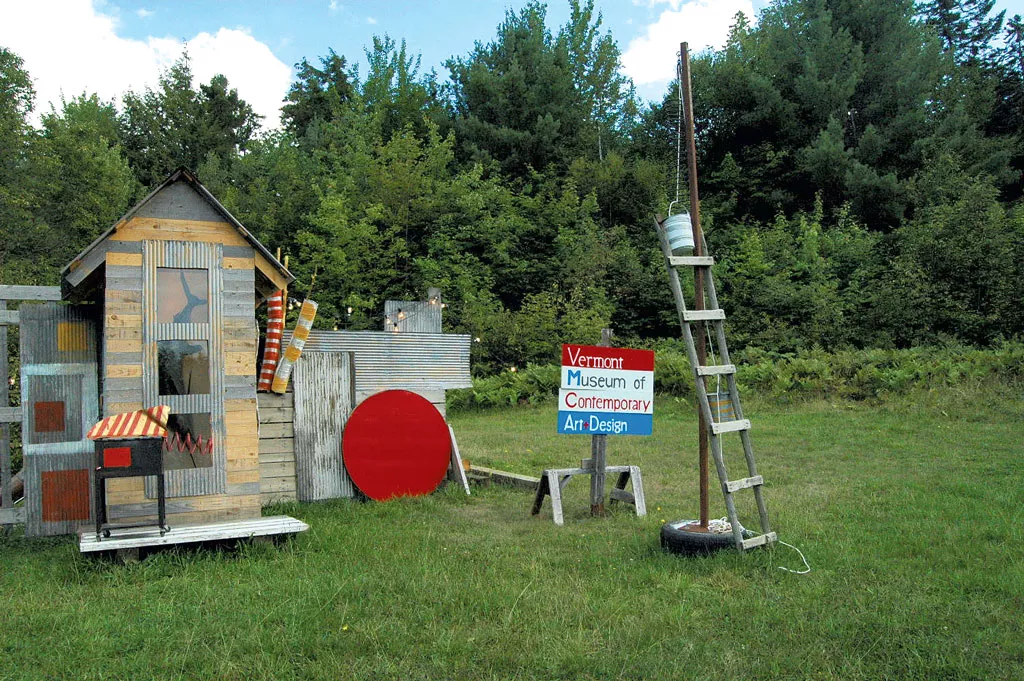 The Vermont Museum of Contemporary Art + Design, which is sort of an actual museum, is grandly named on purpose. "The 'plus design' is intended to be just pretentious enough to get people to say, 'Really?'" explained founder Matt Neckers. "In the art world, there's so much falseness anyway."
At roughly 3-by-3-by-7 feet, the tiny new VTMOCA+D, located in Eden, looks from the outside like a shabby-chic outhouse made from reclaimed materials, with windows and an aesthetically pleasing design. Inside, its white walls enclose just enough space for one person, along with a few pieces of art or one medium-size sculpture.
Eden, a blip of a town perhaps best known for its closed asbestos mine, hasn't historically been recognized as a nexus for contemporary art. But at VTMOCA+D's opening night in late August, about 20 adults and children gathered on a quiet mountainside for art, wine and cheese. In less than two hours, eight people mounted solo exhibits in the same space. The artists put up their drawings, fiber works or mixed-media art, took pictures, allowed attendees briefly to admire their creations, and then took the work down so other artists could do the same.
Why? With a conspiratorial grin, Neckers noted a dollhouse door on the museum floor and explained that, given basic camera skills, one can photograph an art piece beside it so that the work appears to be hanging in a conventional gallery.
Neckers, 44, came off as part Yes Men, part avant-garde and all northern-Vermont-DIY quirky. He said he sees the quasi-museum as part of "the tradition of artists being provocateurs," but he was careful to express appreciation for Vermont's art venues.
Even so, Neckers insisted that the state lacks "a space for truly avant-garde contemporary art." He seeks to change that.
Meanwhile, with VTMOCA+D, he invites a little subversiveness. On the ground beside the museum lie interchangeable wooden signs handpainted with the words "Iconography," "Conceptual" and "Institute," which can be switched out on the signpost to alter the museum's name. For instance, an artist could put up a show, snap a few photos, change the sign to read "Vermont Conceptual Art Institute," and then update his or her CV to reflect two solo shows at different museums.
"I like that more than I like the idea of honesty," Neckers said. "Even though this is about untruth, there is a lot that's genuine."
Neckers grew up in Michigan, attended Evergreen State College in Washington and spent time in New York City "mostly working in the corporate end of art," he said. He is now the creative media art and design instructor at Green Mountain Technology and Career Center, a tech high school in Hyde Park.
Also a sculptor who has curated for Helen Day Art Center in Stowe, Neckers said he cooked up the idea of VTMOCA+D last winter in snowy Eden while daydreaming of summer. With encouragement from area artists, he worked on the branding and promotions, designing a logo and a tongue-in-cheek website, and began posting on Facebook. "It's amazing how many people will friend you because your title says 'director' of VTMOCA+D," Neckers observed. "It's addictive."
He may be the director online, but last month his museum name tag and business card declared him the "docent in training." His 8-year-old daughter, Ellie, was the assistant director. Her 5-year-old brother, Jack, was head of acquisitions. Neckers is willing to give a title to just about anyone who asks, he said amiably.
Similarly, artists need only ask to get a show at VTMOCA+D. The museum dispenses with the usual formalities, such as inquiring where, or whether, they got an MFA and what connections they have to important people in the art world. Neckers does not publish the exact location of the museum, but he said artists can email him to request a show.
The extended inside joke of VTMOCA+D does have its downside — the gallery's relative inaccessibility limits the number of art viewers. But for anyone seeking to put an exhibit on a résumé, it sounds impressive. All the artists who displayed their work last month appeared to be tickled to be part of the act.
An artist who goes by the name of Oona said that the museum is "an interesting approach to challenge the elite gallery system. It allows for a broader range of people to show."
Her work would give more staid galleries pause. Oona's first exhibit of the night included "BabyFace," a photo of her face and chest covered with cut-up rubber fetal models that she ordered from an anti-abortion website. Hanging below it was "Babyballs," consisting of a mason jar filled with more rubber fetal models that she sutured together with fishing line. A three-page, handwritten note detailed an unsettling dream she had about accidentally killing a bottled fetus.
Oona, 29, said the pieces reflect "overwhelming anxieties about choosing to be a maternal being or not." She added that her work is "about women's bodies ... and not about being a victim."
After taking down her display, Oona left one of the "babyballs" for the museum's permanent collection, which Neckers is compiling. He said he'd like the price of admission to be a very small contribution — even a scrap of paper or a pebble from the walk up the hill would suffice. "Everyone has the opportunity to participate," Neckers said. "I'm interested to see what happens."