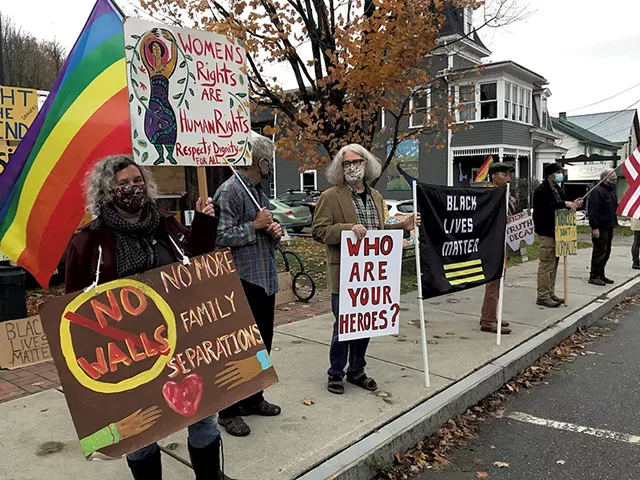 Chelsea Edgar ©️ Seven Days
Be-Longing for Justice protesters out in Johnson on a recent Tuesday
Every Tuesday afternoon since Donald Trump was elected president in 2016, a group of protesters has kept vigil on the sidewalk in front of the Johnson village green. On October 20, the second-to-last Tuesday before Election Day, they stood on Main Street for the 204th consecutive week, holding handmade signs that read "Save Our Democracy: Vote Blue!!" and "Mobilize Don't Normalize."
That afternoon, Jasmine Yuris, the coordinator of the Johnson Community Wood-Fired Oven, which holds weekly free pizza nights in the summer, was there with her 5-year-old daughter, Mable, and 3-year-old son, Winnie. Mable, dressed in snow pants and a sweater adorned with farm animals, held a sign that read, in chaotic kid penmanship: "I love this town, I love everyone!" Around 5 p.m., a passing Green Mountain Electric Supply truck honked benevolently. Jackie Stanton, one of the protest organizers, chuckled as it drove by. "He's beeped at us every Tuesday for four years, and we have no clue who he is," she said.
Stanton, a parent educator at the Lamoille Family Center, and her husband, Cal, a shop teacher at the Laraway School, have lived in Johnson for more than three decades. In the wake of Trump's 2016 victory, Jackie said, they felt unmoored: "We didn't know what to do, but we knew we just needed to get out there and act, even if that meant acting imperfectly."
She and Cal decided to stand on the village green on the Tuesday following Election Day, holding signs denouncing fascism and bigotry. Several of their friends joined them. Their demonstrations stretched into the winter; on some frigid nights, the Stantons were the only ones on the sidewalk.
"Early on, when there were fewer of us out here, we were a little more on edge," said Cal. Pickup trucks would blow diesel exhaust at them; sometimes, people would lean out of their car windows and shout "Fuck refugees!" or "Fuck you, fucking bitches!"
"This kind of stuff was being yelled at grandmothers," Jackie said.
Those incidents discouraged some people from coming out, but a dedicated cadre of five or so locals, including the Stantons, kept showing up. Their grassroots movement gradually coalesced into a group, Be-Longing for Justice. Its core membership hovers around 40; on a typical Tuesday, somewhere between three and three dozen of them stand on the sidewalk for an hour, rain, shine or snow. By Jackie's estimate, some 500 people have stood with them at one time or another. For the 200th demonstration, in late September, Lt. Gov. David Zuckerman made an appearance, his third since the protests began. The occasion was fêted with a picnic at Legion Field, featuring galettes from the Johnson Community Wood-Fired Oven.
Be-Longing for Justice has become a vocal presence in Johnson politics, steering the public dialogue toward social justice issues that, before the Trump era, rarely surfaced in town meetings. Now, against the backdrop of a deeply divisive election, a national reckoning with racism and a resurging pandemic, the stakes, even in Johnson, population 3,655, have begun to feel existential. "We refuse to normalize what's happening right now," said Cal.
That moral urgency, and the Trumpism-fueled erosion of a sense of shared reality, has created a sharp feeling of dissonance beyond the political. "Before this year, this was the kind of rural Vermont community that I've always known," said town administrator Brian Story, who moved to Johnson from Bellows Falls in 2016. "There are a lot of progressives here, but there are also a lot of conservative folks, a lot of farmers who have been here for generations. It's a diverse place, but there was a pretty strong sense of unity, until 2020. I'd say that things have gotten a lot more heated."
Selectboard meetings, once permit-and-gravel affairs, have become forums on the town's duty to condemn racism. Kyle Nuse, a selectboard member since 2015, said that, when she started, social justice issues were almost never on the agenda. "Be-Longing for Justice has been instrumental in bringing these topics in front of the board, and that's been pushing up against preconceived notions of what a selectboard is supposed to do," she said. "There are certain members who think our only job is to talk about roads and municipal infrastructure. This group is basically saying, 'Hey, you're a governing board — you also need to take care of your people in this way.'"
Nuse, 41, regularly stands with the protesters on Tuesday afternoons. She and her husband, Michael Mahnke, run a fine art supply store and gallery in a slate-gray Victorian next to the village green; when the protests began, she offered up their garage as storage for the demonstrators' signs. Nuse grew up in Johnson with three adopted siblings from China and South Korea — "the only diversity in town," as she put it. On the school bus each morning, she said, some kids wouldn't budge to share their seats; others would taunt them with racial slurs. In the classroom, teachers were often condescending. "I saw firsthand the effect of racism on them, and that really shaped me and steered me to where I am today," she said.
In late 2018, members of Be-Longing for Justice drafted an inclusivity statement for the town, which included the sentence: "We reject racism, bigotry, discrimination, violence and hatred in all its forms." The selectboard voted to adopt the language; in response, 125 Johnson residents signed a petition to remove that line.
According to Story, the town administrator, the petitioners objected, specifically, to the phrase "We reject." "They found it too harsh and exclusive-sounding for an inclusivity statement," he said.
The following March, on Town Meeting Day, the sentence became the subject of a 90-minute discussion. Nuse said she listened, flabbergasted, as some of the same teachers and school administrators who failed to stand up for her siblings objected to the idea that racism, bigotry and discrimination had to be rejected by a formal declaration. "They were getting up there and saying, 'There's no racism in this community! We're a friendly place!'" Nuse said. "There's this deep denial and exceptionalism here." In the end, the town voted to preserve the line.
In mid-June, as calls for racial justice resounded across the country, Be-Longing for Justice proposed that the town fly a Black Lives Matter flag in front of the Johnson municipal building, next door to the firehouse. When the fire department got wind of the proposal, chief Arjay West emailed Johnson's Village Board of Trustees, which has jurisdiction over the building's grounds. Village manager Meredith Dolan read West's email to the trustees at the board's July meeting. West himself did not attend.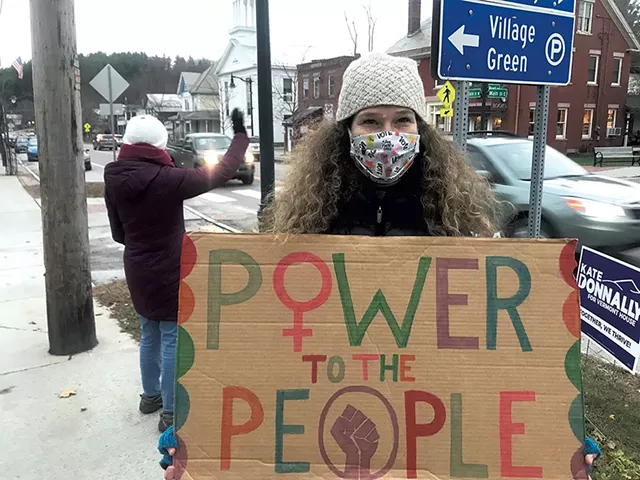 Chelsea Edgar ©️ Seven Days
Johnson Selectboard member Kyle Nuse
"Display of any political symbols outside the firehouse must not happen," West wrote. "That would immediately result in an unsafe environment for our firefighters by exposing them to criticism, anger, or aggression from citizens with opposite beliefs." The mere prospect had already sown discord within the department, he added, insinuating that some members would walk if the flag went up.
An intensely granular discussion ensued. By some quirk of surveying, Dolan said, the flagpoles in front of the municipal building turned out to be on the fire department's parcel, which seemed to resolve the question of whether the fire department should get a say in the proposal. After some deliberation, the trustees landed on replacing every third American flag on Main Street with a Black Lives Matter flag.
The town's attorney subsequently advised them that the flags would run afoul of state billboard regulations, so at the next meeting, in August, the trustees voted again to fly the flag at the municipal building. The motion passed by a 3-2 vote.
The day after that meeting, Will Jennison, a member of the fire department, made an unannounced visit to the home of Jena Gould-Hopkins, one of the trustees who had voted in favor of the flag motion. Gould-Hopkins, who declined to be interviewed for this story, described the incident in a letter to the trustees. "This individual told me that staff will leave 'as soon as that flag goes up,'" she wrote. "He ... told me that I disrespected the fire department, and that I needed to think about that. He also said there could always be a special meeting called to 'fix' this." She did not name Jennison in the letter.
At the next trustee meeting, in September, Gould-Hopkins resigned. Almost in tears, she said that it had been made "abundantly clear to her" that "there are people in this town who do not believe equity should be applied to everyone, and everyone should have the same privileges."
In October, Jennison, who had previously served as a trustee, was appointed to her seat; in that same meeting, he acknowledged that he had gone to Gould-Hopkins' house. During another meeting the following week, Rick Aupperlee, an organizer with Be-Longing for Justice, asked if the trustees had read Gould-Hopkins' letter before appointing Jennison; the trustees acknowledged that they had.
"Will is a man of 250 pounds, and Jena is a petite woman," Aupperlee said. "It's a 'power over' dynamic when he shows up at her house." Jennison promptly moved to adjourn.
"My intention was never to make her quit," Jennison told Seven Days. "I've known Jena for a couple of decades. She rented from me for a number of years, and her kids and my kids play soccer together. I wanted to advise her, as a former trustee and a friend. I felt that she didn't have all the facts in place before she voted."
He added that he viewed the debate around the Black Lives Matter flag as a needless proxy battle: "I don't think we're trying to resolve an issue that actually exists here," he said. "It's a national stage, a political stage. Nobody I know wouldn't rally behind someone who was being targeted because of race, or gender, or anything like that."
Jackie and Cal have struggled to understand Jennison's behavior toward Gould-Hopkins. "Will is a beloved member of the town," said Jackie. "Our kids grew up together, and he's really dedicated to the fire department. I have a lot of respect for him."
Being in conflict with people she's known for decades, even when she believes that she's fighting for something good, has been emotionally exhausting. "I love this town," Jackie said. "I keep telling myself that, because I need to remind myself that this is an amazing community, and it's worth fighting for. We can do this together. We can have difficult conversations and come out stronger for it."
Her husband agreed. "People like to talk about Johnson as a family," said Cal, "but there's nothing wrong with exposing dysfunction in a family."
On the final Tuesday before Election Day, a crew poured the concrete base for a new flagpole on the village green, paid for with funds from the canceled Johnson Jubilee Christmas pageant. The trustees had deemed this placement more cost-effective and politically agreeable, though it didn't exactly satisfy the spirit of Be-Longing for Justice's original request for a bold municipal statement. "The trustees told us one day, 'Every other flag pole up and down Main Street,' and all of a sudden, we're getting this," said Aupperlee, exasperated.
That afternoon, several dozen protesters congregated on the sidewalk, peaceably displaying their banners; Nuse was there, too, holding a cardboard sign that read "Power to the People."
Next door to Nuse's art supply store, with its Black Lives Matter sign in the front bay window, is the office of a property management company, whose owners, Richard and Nicole Whittemore, are Trump supporters. A handwritten sign on their porch, new since the previous Tuesday, read "Welcome to Portland."
In the months leading up to the election, the Whittemores organized pro-Trump rallies on the village green on Mondays. Nuse said these were usually attended by 15 to 20 people — unmasked, she clarified, in contrast with the Be-Longing for Justice demonstrators — who waved Trump-Pence 2020 signs and American flags. Mike Dunham, one of Nuse's fellow selectboard members, often stood with them.
"It was pretty friendly for a while," Nuse said. "They'd wave at us when they walked by our protest, and we'd wave at them if we passed theirs." But recently, the vibe changed. The groups no longer exchange pleasantries; at one point, Nuse said, a pro-Trump demonstrator walked down the row of Be-Longing for Justice protesters, silently filming them on his phone.
According to Richard Whittemore, who drives a vintage convertible plastered with Trump and pro-Second Amendment decals, the relations have chilled because college students from nearby Northern Vermont University-Johnson keep stealing his lawn signs. His Trump-Pence campaign sign and a pro-law enforcement "thin blue line" flag have disappeared from his front lawn. Recently, an All Lives Matter sign vanished, then reappeared, decorated with rainbows.
"I'm no psychologist, ma'am, I'm just a plumber," — in fact, Whittemore has done plumbing for the Stantons — "and I can't understand why anyone would do these kinds of things," he said. "I put up that 'Welcome to Portland' sign because things have changed so much around here. It's gonna get worse after this election. Normal people are going to be killing each other over little shit. I think you need law and order and that if you do something wrong, there should be consequences.
"I'm just a good old American that has worked seven days a week all his life. This town is torn apart." He said he and Nicole plan to move to South Carolina as soon as possible.
"This feels so personal for some people," said Nuse. "People keep saying we're being divisive, and it's the systemic racism that's divisive, not the conversations about it.
"They view Be-Longing for Justice as pushing us apart, and they counter with, 'We need to be nice.' It's like they're more upset about the calling out of the thing than the actual thing," Nuse continued. "We're still a community. We're still going to see each other in the grocery store. But this is really hard."