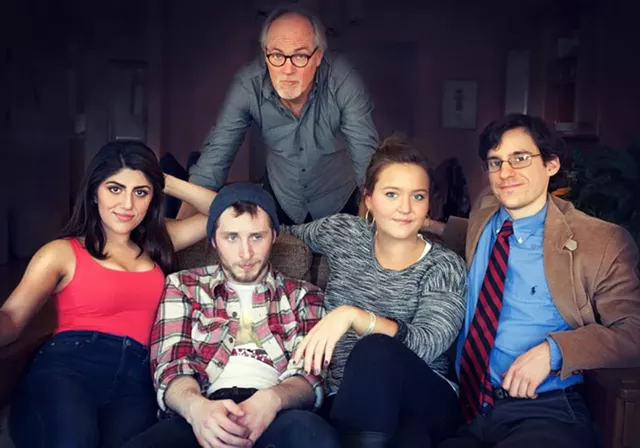 Standing: Roy Cutler; seated, from left: Aryana Sedarati, Sam Cutler, Lida Benson, Jack DesBois
The first time Sam Cutler performed onstage with his father, Roy Cutler, was in a production of Footloose during his sophomore year of high school. Sam played Willard, and Roy played Reverend Shaw Moore; they shared the stage for two minutes and didn't speak a word of dialogue to each other. Now, more than seven years later, Sam and Roy Cutler will tread the same stage again.
The opportunity came in the form of Seminar, an intimately cast comedy-drama written by Pulitzer Prize nominee Theresa Rebeck and directed by Melissa Lourie, artistic director of Middlebury Actors Workshop. The play, which had a Broadway run in 2011 to 2012, will be performed April 21 to 23 at Town Hall Theater in Middlebury. The Cutlers have two of the five roles.
In December, Lourie invited Roy Cutler to audition for the part of Leonard, a writer as ruthless as he is famous (the late Alan Rickman originated the role). The play follows Leonard as he conducts a prestigious 10-week seminar in New York City, offering his often-cutthroat advice to four young aspiring writers.
Cutler, who lives in South Burlington, is an experienced actor and sings and plays guitar in local bands such as the Stone Cold Roosters, the Real Deal, Loose Association and a family-centric group called the Wrecks, where Sam sometimes makes an appearance on the guitar, bass, trumpet or ukulele. Soon after speaking with Lourie, Roy agreed to read for the part and bought a copy of the play to study. Sam, 22, home on a short visit for Christmas, found the play on the coffee table and began flipping through the pages.
"I was on page four when I began laughing out loud," says Sam over a pre-rehearsal snack with his father at the Middlebury Natural Foods Co-op.
Since graduating last year from New York University with a BFA in acting, Sam has been living in Brooklyn and working as an actor in the area. He wasn't looking for his next job during his visit home, but he was immediately hooked by the play he found in his parents' living room.
"At that time, I had a job lined up that filmed in January and wrapped in February," Sam says, "but I knew I'd be looking for another project soon after. After talking to my dad, I emailed Melissa and said, 'Hey, I'm Roy's son. I heard you were doing Seminar, and I would love to audition.'"
Sam tried out for the role of Martin, one of the students in Leonard's intense — and at times brutal — writing class. The Cutlers heard the news two weeks later: Both had made the cast. (The other actors are University of Vermont graduate Lida Benson, Middlebury College grad Jack DesBois and New Yorker Aryana Sedarati.)
In mid-March, Sam returned to Vermont for a four-week rehearsal period; it was the longest he'd spent at home since college-vacation days. Not only does Sam appreciate the change of scenery — "Home is way prettier and better smelling than NYC," he says — but he and his father have enjoyed the chance to work together as a thespian team.
"What's fun for me is that Sam has way more training as an actor," says Roy. "I get to be the student this time. I learned things about approaches to scripts and how you hook certain sentences together in your head to give it the seamless qualities that actual dialogue has. I'm an intuitive actor, and it's worked well enough for the things that I've done, but it's great to have some sort of theory behind it, to have another voice."
For his part, Sam acknowledges that he's grown as an actor alongside his father. "What's great about working with my dad is that he quite literally knows me better than anybody on Earth," he says. "He sees walls in my head before I hit them. He has a great way of posing questions to me about the character; it gives me a catalyst to connect thoughts about Martin that I didn't have before. I mean, he's seen me play every character I've ever played," Sam continues. "He knows the easy choices I can make and knows how to push me in directions I wouldn't have gone in otherwise."
This deeply personal relationship — not just among actors, but between father and son — helps magnify the parallel dynamic that drives Seminar's climax.
"Leonard has this great monologue directed at Martin at the end of the play," Roy says. "It's clear that there's a very strong connection between these two characters. It's very paternal. It's this moment of advice that's been gaining in power and significance throughout the play, but there's also this surrogate father-son relationship that's been building to this scene, as well. Melissa must have seen that when she cast Sam and I for the part. That's pretty wild."
In these moments of intense drama, one might wonder if the Cutlers have a hard time disassociating themselves from Leonard and Martin — leaving their characters onstage before driving back home.
"Those moments of drama are the easiest to leave behind," says Sam. "All of these tensions, especially in a well-constructed play like this, are met with moments of release. You let it pour out all over the stage, and then you leave it."
"We leave rehearsal at rehearsal," agrees Roy. "We get in the car, turn on the music, and it doesn't bother us."