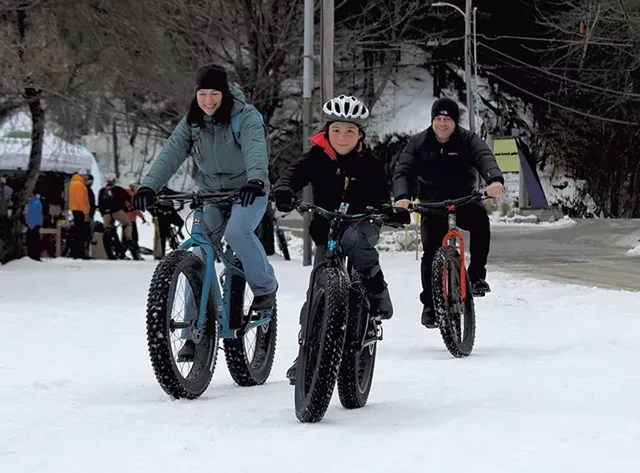 Tristan Von Duntz
The Garbach family tries out fat bikes at the Überwintern festival in Stowe
Vermonters no longer have to give up their two-wheeled fun in the winter. They simply need to get fat — a fat bike, that is.
The bikes are named for their tires, which range from three to five inches wide. The extra width allows for extremely low tire pressure, which lends riders better grip and flotation in the snow. The frame and fork are built to accommodate wider wheel rims and tires, but otherwise fat bikes are just like the regular ones. They've exploded in popularity recently, resulting in a wealth of opportunities for some family fun in the snow.
The bikes come in a range of adult sizes. Youth-specific models come with both 20- and 24-inch wheels. They're set up so that younger kids can easily stand over the bike frame and reach the handlebars. Youth fat bikes run $200 to $1,200 new, while adult fat bikes range from $800 to $2,700. You can also rent them at trail centers throughout the state.
Maple Offensend, 9, has been trying out her new fat bike this winter. It's a Trek Farley 24, with four-inch-wide tires and wheels that are 24 inches in diameter to suit her small frame. Maple and her family have attended several fat-bike festivals that offered a range of activities, from family-friendly trails and demos to food and bonfires. They've been to Global Fat Bike Day at Catamount Outdoor Family Center in Williston, Resolve to Revolve at Kingdom Trails in East Burke and Überwintern in Stowe.
Maple's parents are both avid mountain bikers and have been biking with Maple and her older brother, Finn, 13, for years. Her father, James Offensend, says his son can hang with the adults on most rides. But he's careful not to put Maple in tough situations like long hills that can be mentally challenging or group rides where there's pressure to keep moving. Which is not to say that Maple isn't hardy: In summer, she goes on 14-, 15- and 17-mile rides.
She says she likes how capable her new bike is on the trails. But James admits that the family is still in a fat-bike "experimental phase."
Through trial and error, they've learned that good nutrition on the trail is critical. James recommends frequent snack breaks and a filling lunch during longer rides.
And in a pinch, gel shots and shot blocks — sugary electrolyte snacks designed for cyclists — will do the trick. So far, the family is consistently out for 1- to 1.5-hour fat-bike rides.
As for gear, James has a few tips to keep kids happy. One is to carry toe warmers. "Get the kind that stick to your socks," he says. "That way, there are no cold-toe complaints." Good gloves are essential — they should be warm and wind- and waterproof but still allow for clear access to the brake levers. A special fat-biking glove, called a bar mitt, can be used, but it is expensive and may not fit smaller hands well.
A thin skiing hat — like the ones made by Vermont company Skida — should be worn under a bike helmet. Hats should be sized specifically for kids so they don't slip down over their eyes. James says a ski helmet, with its warm padding, and ski goggles can work well, too.
James also offers this guidance to parents: There will be good times and bad times when fat biking with kids. "You can't base whether it was a success on just one time out," he says. "Stick with it and keep trying."
All advice aside — "It's still just biking," James says. "If your kid can ride a bike and conditions are good, anyone can have fun."
Where to Ride
Kingdom Trails, East Burke
This premiere mountain biking destination includes a network of winter trails for fat biking. It's a great — and affordable — place for families to try their first fat-biking adventure. Buy a trail pass and get a map in the yurt (Welcome Center) on Darling Hill Road, and make sure to ask about kid-friendly trails. Passes are $15 for adults, $7 for kids 8-15 and free for kids 7 and under. Bike rentals are available from nearby East Burke Sports or Village Bike Shop in Derby.
Catamount Outdoor Family Center, Williston
This 500-plus acre mixed forest and field property features about 20 miles of trails and is great place for families to try fat biking for the first time. Day passes are $15 for all ages. Bike rentals are available, but call ahead because selection is limited. Pick up a map at the registration office and ask for suggestions for a kid-friendly loop.
Millstone Hill Touring Center, Websterville
This groomed network is free for winter use but includes some challenging terrain. Navigation can be tricky at times, so print out a map from the website. The spectacular scenery, including massive granite rock piles and old quarries, makes the challenge worth it. Parking is available at the town forest entrance at 44 Brook Street, and riding is free, though membership in the Millstone Trails Association is encouraged.
Rikert Nordic Center, Ripton
This Nordic ski center welcomes fat bikes on all of its trails. Passes are $22 for adults, $15 for youth and $5 for children under 5. There are rental fat bikes for adults, and it is possible to arrange for children's rentals, but call several days ahead. The terrain is varied, so ask about kid-friendly loops with mellower terrain.
This year's Winterbike fat-bike festival is scheduled for March 5 at Kingdom Trails in East Burke. Enjoy bike demos, miles of varied terrain, food, drinks, a bonfire and plenty of two-wheeled fun.
Where to Rent/Demo Fat Bikes
Outdoor Gear Exchange, Burlington, 860-0190
SkiRack, Burlington, 800-882-4530
East Burke Sports, East Burke, 626-3215
Village Sport Shop - Lydonville, East Burke, 626-8444
Onion River Sports, Montpelier, 229-9409
The Bike Center, Middlebury, 388-6666

Green Mountain Bikes, Rochester, 767-4464