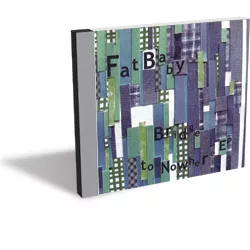 (Self-released, CD)
Self-described "funk" bands are as pervasive an epidemic as childhood obesity nowadays. And to combat either, certain common-sense precautions should be taken. For example, if the primary ingredient is corn syrup, don't consider it fruit juice. Likewise, if an up-tempo rock band incorporates a few jazz chords, keyboards and a saxophone, don't call it funk. The genre catchall is often misused as a low-cal substitute for jam on many bands' sonic menus. That's especially true in Vermont, thanks to a traditional musical cuisine defined by, well, "seaphood." However, while Bridge to Nowhere, the debut EP from Middlebury's Fat Baby, might not offer much nutritional substance in the way of true "funk," it's still tasty.
Snug rock instrumentation is Fat Baby's musical foundation. Blues-rock, pop-rock, contemporary rock; the band bears shades of each. But calling this baby a funk outfit — as the quintet does on its MySpace page — would necessitate a diaper change. The players exchange solos and charismatic, pop-enthused lead vocal duties throughout the EP. But the only thing funky here is how difficult it can be to decipher just what this crying baby is trying to tell us.
The ode to "Laura," the EP's introductory track, seemingly has something to do with a woman, but lead vocals yield almost immediately to an enveloping whirl of theatrical rock orchestration. It is vaguely reminiscent of Billy Joel's 1981 live album Songs in the Attic, or, to return to the culinary theme, early Meatloaf.
Similarly muddled vocals give way to rousing saxophone and electric-guitar solos on the EP's second and title track, compliments of Taylor Smith (sax) and Aaron Krivitzky (guitar). The instrumental play is so impressive that, like an overstimulated infant, one quickly forgets the task at hand — in this case, deciphering the first verse. Inventive instrumental stanzas, coupled with the percussive stylings of drummer Matt Vaughn, make this Bridge's highest point.
Fat Baby is nonetheless guilty of that mortal jam-band sin: playing with their food. Or, rather, becoming engrossed in showcasing their instrumental gifts at the expense of substantive narrative composition. The band chews through tracks such as "Am I Gettin' Through Yeah" and "On My Way" as if they are simply clearing their plates in anticipation of dessert — i.e., killer solos. That strategy can light up a room, but it comes across as harried in the confines of an EP.
All told, Bridge to Nowhere is a nice appetizer from a quintet with the chops to supplement any musical diet. And if they learn to eat their veggies, Fat Baby could eventually grow up to build a bridge that leads, well, somewhere. They play this Saturday at The Monkey House in Winooski.