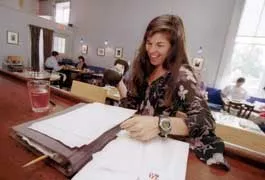 Jordan Silverman
CAST IRONWOMAN Smokeshacks owner and athlete Leslie Myers
Corporate executives are feeling the heat this summer as a result of a string of highly publicized financial scandals. But in Lake Placid, 19 head honchos are sweating for all the right reasons. Next weekend, a select group of business owners will swim, run and bike in an Ironman triathalon that gives new meaning to the term "multi-tasking."
For the second year in a row, organizers of the 12-hour race have separated CEOs out from the rest of the contestants — in all, 1800 athletes from 29 countries are expected to complete a 2.4-mile swim, 12-mile bike ride and marathon run in record time. The separate division was inspired by the fact that an inordinate number of Ironman contenders own or run companies. They pay 12 times as much as an ordinary Iron Joe — $4500 — for special handling that includes five nights at the Mirror Lake Inn Resort & Spa.
Among the elite group of entrepreneurs is the running restaurateur who owns Smoke-jacks in Burlington. Thirty-four-year-old Leslie Myers has been training for more than a year — quite literally between meals — to realize her goal. "I want to be competitive in my age group," she says, sounding like a "Survivor" contestant. "That means I'd like to finish in the top five in a field of maybe 70 or 80 women. That would probably make me eligible for Hawaii." That original Ironman race, initiated by Pacific-stationed Navy SEALS, remains the most exclusive.
Although she doesn't exactly fit the typical Ironman profile — male, mid-to-late thirties, with an average annual household income of more than $100,000 — 115-pound Myers certainly demonstrates that drive has multiple applications. She is the fire behind 5-year-old Smokejacks, a high-end restaurant that's got the recipe just right in downtown Burlington. After the first two years, she had bought out her partner and paid off all the loans associated with the start-up.
She didn't have time to exercise during the first year in business. "I smoked cigarettes in the alley," she confesses. "I was stressed." But as she found time for workouts, Myers discovered they made her more effective. "The running started with needing some time to myself," she explains. "When you're answering to customers, and you're answering to vendors, and just dealing with the day-to-day business… I'd go out and run. I'd come back with a really fresh head. A lot of people have Palm Pilots and things like that. I organize my thoughts when I am exercising."
"On any given day you can always tell if Leslie has had her workout," confirms manager Allison Gurley, noting her boss is "not so up" if she can't get out to the pool or on the road. But training for the Ironman ends up consuming a large portion of the day. "She shows up at 7 a.m. with goggle marks. An hour later, she's off to Bikram yoga, and then it's time for her afternoon run," Gurley says. "As hard as she's worked on her business, now she's working on being a triathlete."
The marathon mentality has also trickled down to Myers' staff. About half of them — 15 — participated in the Vermont City Marathon last May, including Chef Maura O'Sullivan. After running casually for years, Gurley is training for a 26-mile run in October — a fitness goal she attributes to Myers' influence. "In other places I've worked, the staff can be pretty unhealthy. We're kind of an exception," she says, noting that the stairs to the basement kitchen offer wait staff an ongoing aerobic challenge.
Myers encourages athletic endeavors by offering her staff discounted health-club memberships at the YMCA. She also pays for entrance fees whenever an employee feels inclined to enter any sort of race. The restaurant is designing and sponsoring a 10-kilometer run on the Church Street Marketplace in early August to benefit the Chittenden County Humane Society.
"I just think people who are training are more self-disciplined, happier people in general," Myers says. "When they accomplish a goal, they feel really good about themselves."
That's how it was for her, anyway, growing up in a conservative Navy family that moved to a different seaport every two years. Myers spent her formative years in California and started swimming competitively at a young age. "The story in my family — and I'm sure it's been greatly exaggerated — is that I almost drowned when I was 3. So mother put us right in swim classes." She attended twice-daily practices all through middle school, specializing in butterfly and "individual medley."
Four hours a day in the pool also allowed for a lot of eating. Although there are no other restaurateurs in the family, Myers notes, "I was always cooking things, growing up. My mother would come home from work and the kitchen would be trashed. I was known for that — even in high school." Otherwise, she says, "we ate a lot of things that people on a budget ate in the '60s and '70s. We had creamed tuna fish, chipped beef on toast." Not exactly the "bold American food" Smokejacks serves.
Ten months after graduating from James Madison University in Virginia, Myers enrolled at the prestigious Culinary Institute of America. It prepared her for a pastry chef position at a restaurant in Napa Valley, where she ran a wedding cake business on the side. Later she worked in a "place like the Cheese Outlet" that sold deli and prepared foods.
Myers was teaching at the New England Culinary Institute when she met fellow instructor Don Kolp, with whom she partnered to start Smokejacks in 1997. Their work relationship lasted a year. The biggest conflict was over work style. "I never thought I was a workaholic, but he definitely was. It's all that he did," she says. "If I had to take a day and do something personal — like a wedding or something — that didn't sit well with him."
After she bought out Kolp, Myers started delegating — and exercising. Running proved to be the easiest way out — unlike swimming or biking, there's not a lot of gear involved. Although it was a relatively new sport for Myers, she excelled at it quickly, going from recreational to long-distance running in just a couple of years. Her brother-in-law first suggested she run a marathon in Montgomery County, Maryland, and she did, in 2000. She ran the same race last year and qualified for Boston.
Myers didn't sweat the big one. She went out to dinner the night before and even had a glass of wine. Her philosophy is, "Don't change what you do on pre-race right. Do what you've done in training."
Myers does put a tremendous amount of faith in nutrition, though. She contends that an athlete who is properly fed and hydrated can beat one in superior physical condition. Knowing a lot about food goes a long way. "I can eat a 70-20-10 ratio of carbs, protein and fat without even thinking, without having to get out a little book and count calories."
She has to down 2500 of them — and lots of water — during the course of the Ironman race, which falls on her birthday. But none of the nourishment is likely to come from the Smoke-jacks kitchen. Myers is partial to "Combos," a high-calorie, cheese-filled pretzel that did the trick in a training triathalon a few weeks ago in Tupper Lake. "She's been eating a lot of cottage cheese with cold spaghetti sauce over it," O'Sullivan reports. "It looks disgusting."
It's a small price to pay for the glory of going the distance. Myers is motivated by a combination of personal drive and perfect profit-and-loss statements. For observers, though, it might be more satisfying to watch a few less-than-savory types take on the CEO challenge. In the three-strikes spirit, we'd like to propose the tragic triumverate of Adelphia's John Rigas, John Sidgmore of WorldCom and Enron's Ken Lay.