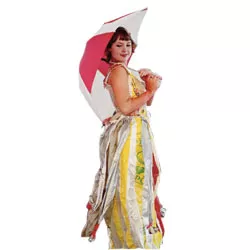 Meg Hammond's trash dress
Montpelier may seem like a crunchy hippie town, but the place cleans up real nice. Case in point: the sassy styles on display at the Montpelier Fashion Show and Festival. The city will close off State Street for the seventh-annual event this Saturday, June 4. Street vendors and live performances will add to the fun at what has become a beloved community tradition.
Skeptical about capital couture? Picture these creations from years past: a sexy single-strap, Tarzan's-girlfriend-Jane-esque gown made of live flowers and reeds woven together and painted gold, courtesy of a local flower shop; a dress crafted of beautifully flowing trash by Meg Hammond, co-owner of the recently closed Langdon Street Café, a breezy paper frock designed by Capitol Stationers.
This year, designer Liz Pieroni created a 10-pound vegetable dress from red cabbage, kale and chard, its dainty straps bobbled with Brussels sprouts. Unfortunately, this one was just for the promotional materials and won't appear on the runway. "It's rotten now," says fashion-show planner Anne-Marie Keppel. "We composted it."
No matter. She promises much more to come this weekend. This year's theme? "Working toward a more Earth-friendly, heart-conscious, fashionable planet," Keppel says. The event's partner is the Central Vermont Humane Society, so expect at least a couple of dogs on the runway. Impresario Ben T. Matchstick, late of Langdon Street Café, will host the proceedings.
Eco-conscious clothing has long been an interest of Keppel's, but she was inspired to make it the focus of this year's event following a trip to Southern California. She visited Beverly Hills' Rodeo Drive, just to see what was going on with Earth-friendly high fashion. Turns out, not much. "They all but laughed at me in each place I went into," Keppel says.
She's hoping the fashion show will inspire Montpelier businesses to think about where they get their clothing and what effect it has on the environment. "There is a fantastic trend right now to be wary of what you are eating … but, thus far, not so many are conscious of what they are wearing," Keppel laments.
In addition to local businesses showing their styles on the runway, seven Vermont designers will present models clad in their creations, including Sutton-based Tara Lynn, who made a hemp wedding dress for "American Idol" runner-up Crystal Bowersox and an evening gown worn by Miss Vermont during the 2009 Miss America pageant.
When the runway isn't occupied, check out performances by the b-boys, a Montpelier-based break-dancing crew; performers from Circus Smirkus; and DJ Don P, a 9-year-old vinyl spinner from Plainfield who has opened at Higher Ground and spun at the Cabot festival The Manifestivus.
"All of this is about supporting the downtown businesses," says Keppel. Given the recent closings of Langdon Street Café, Black Sheep Books and the Peach Tree, this is a downtown that could use a little support.