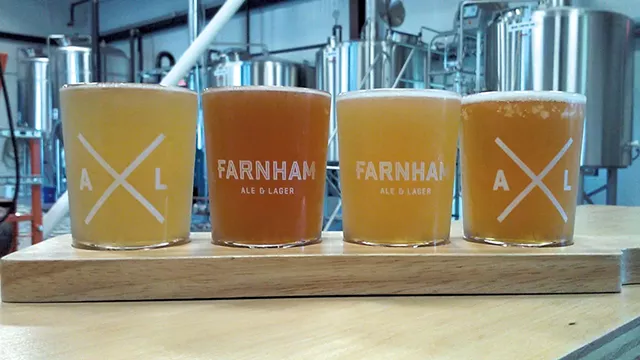 In 2015, when Farnham Ale & Lager moved into the South Burlington warehouse where Infinity Brewing once stood, the plan wasn't to stay small. The owners of Québec-based Farnham intended to use the defunct brewery's compact space — and licensing, which was part of the sale — as a temporary, ready-made way to enter the American market.
Along with Infinity's small brewery at 80 Ethan Allen Drive in South Burlington, Farnham signed for a three-bay space next door, into which its predecessor had hoped to expand. And now Farnham is bringing its own expansion plans to fruition there.
As they settled into the original, small Infinity space, Farnham's on-site staff immediately began seeking permits and building out the larger space, says general manager Ben Gostanian. "I polyurethaned more things than I ever wanted to in my whole life," he says. "We've had this built basically since the beginning of 2016." But building outpaced permit approval, and the new space was ready long before it could open.
In August, Farnham secured its final permits for the new brewery. Two weeks ago, head brewer Kendall Krebs started brewing there, and Gostanian soft-opened the new taproom with pints and flights of summer brews, including hefeweizen, ESB, IPA and session IPA. They'll be poured from cans until Krebs' fresh brews are ready for the draft lines.
Gostanian is still working out kinks in the food program. "It's been tough to get food trucks in here because everyone's tied up with the summer season," he tells Seven Days. For now, he's making do with simple fare such as nachos, poutine and pies from Half Baked Pizza VT, which cooks up from-scratch frozen pizzas on the other side of the industrial park.
Soon Gostanian hopes to install outdoor seating and patio games. Inside the brew-house, meanwhile, Krebs is developing recipes for new beers after a year of working exclusively with recipes developed at Farnham's home base in Québec. A hop-forward, Vermont-style IPA is in the works, as is a canning line.
Thanks to Farnham's new relationship with Colchester's Craft Beer Guild Distributing, those cans will be available statewide once production hits its stride. In the meantime, the brewery will host a grand opening party later this fall.