Jordon Barry
Hudak Farm's curbside pickup and main stand
Vermont's quintessential roadside farmstands, stocked with produce, eggs and maple syrup, are busier than ever during the COVID-19 pandemic. With restaurants forced to close and guidelines for farmers markets up in the air, many farmers have doubled down on self-sufficiency; they've shifted to direct-to-consumer sales and reinvented their farmstands.
Alissa Matthews, agriculture development specialist for the Vermont Agency of Agriculture, Food and Markets, has noticed an increase in individual farms and farm collectives thinking creatively about direct sales.
"I'm so impressed, but I'm not surprised," she said. "Farmers are such innovative, caring beings. They're making decisions about how to collectively help each other feed their communities."
That collaboration among farms includes everything from aggregating products in food hub and delivery models to stocking neighbors' products in farmstands so that customers have a greater variety from which to choose.
"This community-level food-system work has always been there, and farmers have really led the charge," Matthews said. "But now everybody is putting an ear to it and figuring out how the pieces fit together."
In a Zoom meeting of the state Senate Committee on Agriculture last Friday, Hannah Sessions of Blue Ledge Farm in Salisbury shared that, while a trend toward direct-to-consumer sales had been growing, the pandemic sped things up.
"This crisis is an opportunity ... It's opened our eyes to what may be a better and more sustainable way for us to do business," Sessions told the committee. Blue Ledge has added a tiny stand to its farm — one that resembles a Little Free Library — and she said it's been moving an "astonishing amount of cheese."
"People are looking for the opportunity to buy local," Sessions noted. "Direct-from-farmer sales are going to be the future for farms of our size ... Shortening the food chain is where we're going to find resilience."
In the same committee meeting, Northeast Organic Farming Association of Vermont policy director Maddie Kempner told senators that farmers are "pivoting as a service to their community members." She explained that, while increasing direct sales is working well for those who can do it, infrastructure and staffing can be barriers for farms that have relied largely on wholesale in the past.
One of the uses of NOFA-VT's newly created COVID Response Fund will be to support farmers as they expand to new markets and learn how to operate with online and direct-to-consumer models.
Farms big and small, old and new are taking matters into their own stands. More of their operations are online than in the past — web orders and curbside pickup have replaced self-serve cash boxes — but the stories of farmer ingenuity and adaptability are straight out of the folklore. Here are five of them.
Berry Creek Farm
1342 Route 100, Westfield, 744-2406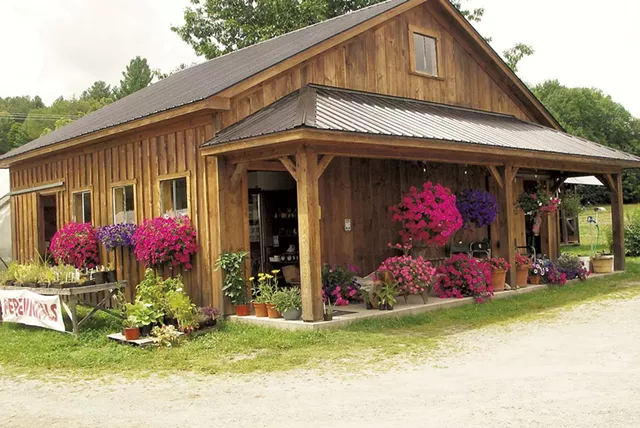 Courtesy Of Berry Creek Farm
Berry Creek Farm
The farmstand at Berry Creek Farm opened on May 1, as it does every year. But opening day looked a little different this season at the 158-acre organic diversified vegetable and berry farm in the Northeast Kingdom.
Rosemary Croizet and her husband, Gerard, sell the majority of their farm's products through a CSA model; the farmstand is a social hub where customers spontaneously purchase items for dinner or find inspiration in something new. During the pandemic, those purchases will have to be premeditated — and ordered through the farm's new web store.
"About a month ago, we decided that the only way we were going to navigate this safely was to do some sort of online platform," Croizet said. "It's kind of a cookie-cutter thing, but we're trying to make the best out of a crummy situation."
On opening day, the website listed 475 items, including bags of greenhouse spinach, strawberry-maple jam, plant starts, dairy products from Butterworks Farm and compost from Vermont Compost Company. Some were available for pickup the next day, others to preorder for later in the season.
Rather than ring up customers at the cash register, Croizet will fill orders and leave them on the stand's porch. "It's a totally different mindset, and with that comes a fair amount of anxiety on our part," she said. "Will it work? I don't know."
One reassuring sign, though, is the number of calls Croizet has gotten already this season. Berry Creek's CSA has grown, and customers were asking to buy plants while there was still snow on the ground.
"People are definitely focused on food, and on local food," she said. "I've heard from my CSA members that they don't want to go to the grocery store anymore."
Small adaptations — standardizing the size of pieces of cheese the stand sells from local cheesemakers, or figuring out how to sell eggplants of different weights — will be sorted out as they arise throughout the season, Croizet predicted.
"We're figuring it out as we go," she said. "Humor is good, and I just hope everybody has a lot of patience. Farmers are very adaptive, but if we get sick, we don't get sick days."
Black Dirt Farm
393 Stannard Mountain Rd., Greensboro Bend, 533-7033
Courtesy Of Black Dirt Farm
The farmstand at Black Dirt Farm
Black Dirt Farm affectionately calls their on-farm retail operation "the littlest farmstand ever." It's a minor part of the business plan for the diversified farm, which produces garden compost, worm castings, pasture-raised eggs, meat birds, and seasonal greenhouse and field crops.
"I don't know that it's a particular bellwether one way or another, but we're definitely seeing a brisk business in the stand right now," said owner Tom Gilbert. The self-serve farmstand is "so small you have to already feel rather intimate with somebody to be standing in it with them," Gilbert explained. Its out-of-the-way location on Stannard Mountain has historically made the stand an inconvenient food option for many people.
Yet so far this spring, the microgreens are flying out of the fridge. Preordering for curbside pickup at the local grocery stores has to be done in advance, so the stand has become a go-to place for emergency bags of salad mix.
These customers aren't necessarily new for Black Dirt, but their shopping habits are — and not just the sanitization measures the stand's signs encourage. "We're starting to see folks who already ate our products shifting where they're buying those, and they're showing up on the farm more," Gilbert said.
The increase in on-farm business is reassuring, he said, especially while the farm's retail and restaurant accounts are up in the air. The farm team has revisited this season's crop plan four times in the last four weeks. They'll diversify a bit more this year, adding to the handful of cash crops — salad greens, baby greens, tomatoes — that they've grown in the past for local chefs.
Black Dirt is also adding to the list of products it carries from other producers: pea shoots and spinach from an employee's market garden, sourdough doughnuts, and even free masks made locally.
For Gilbert, who worked for southern Vermont farmstand institution Dutton's Berry Farm early in his career, the increased on-farm business is welcome. "I've always wanted to have a more robust farmstand operation," he said. "It's heartening to see the people who are going to eat what you grow walk away with their bag of greens."
Farmer Sue Farm
343 Lawyer Rd., East Fairfield
Matthew Roy
Sue Wells
Farmer Sue's chicken, duck and goose eggs are farmers market staples. To keep her dedicated customers in omelettes during the pandemic, Sue Wells is trying several new things, including deliveries to Burlington and Stowe, a website, and a farmstand.
"The times are very, very hard and stressful," Wells said. "I've never done any of these things before, but I'm really enjoying it."
Her on-farm focus is fixing up the farmstand building and getting it ready to open. "I don't have a whole lot to put in there at this point [in the season]," Wells said. "But we're slowly getting it started up."
She isn't sure how many people will make the trek to Farmer Sue Farm, which she warned is "way out in the country." But Wells is hopeful that her advertising efforts — including the farm's new website, sharing information on Facebook, new business cards and eventually signs for the main road — will draw shoppers to the stand, when it will be stocked with eggs, seasonal vegetables, and sauces, pickles and jellies made from her produce.
Meanwhile, Wells is thankful to be driving around and making deliveries. Most of the orders are from longtime customers who are familiar with her products, she explained. Maintaining these relationships will be more important than ever to the farm's bottom line; the current state guidance won't allow sampling of products at farmers markets, which is how Wells has garnered new customers in the past.
To fulfill delivery orders, she sets up a temporary farmstand of sorts in the Staples parking lot in Burlington. Wells said she's happy to see people and maintain the connections she fostered at the markets.
"I'm hoping to help feed people around my area and give people who know my products in the surrounding areas a place to get them," Wells continued. "I don't expect to make much money off of the farmstand, but I wish I would."
New Leaf Organics
4818 Bristol Rd., Bristol, 349-7369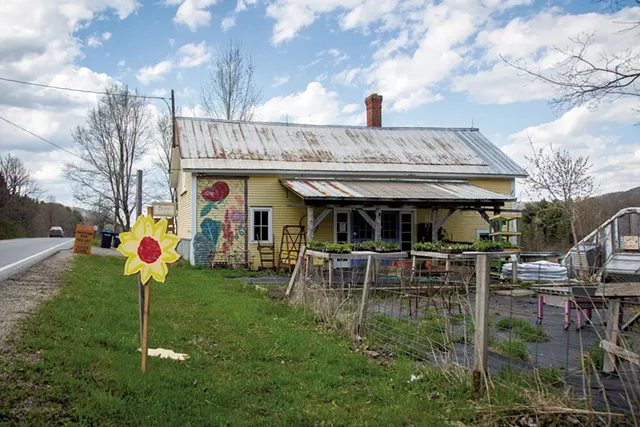 Jordan Barry
New Leaf Organics' farmstand
Reopening the farmstand was always part of the plan for this season at New Leaf Organics. Hosting weddings has usually comprised about half of the Addison County farm's business; rather than sell at the farmers market this year, the farm aimed to focus on its CSA and bringing people to the farm for events.
"We quickly realized the events were not going to fly," owner Jill Kopel said. "Our weddings started dropping like flies, but it became clear that there was increased demand for veggies and plants."
To stock the stand as quickly as possible, Kopel decided to buy staples from other farms — items such as eggs and remaining storage crops — while waiting for New Leaf's own fields to yield the needed quantities of produce. The farm also added an online version of the farmstand and is offering local delivery.
"The farmstand seemed like an asset we had been underutilizing the past five or six years," Kopel said. "A lot of customers called and emailed to find out how to access our stuff, so hopefully this will keep a few more people out of the supermarkets."
Customers looking for prepared food to go will find vegetarian meals from Tessa Holmes' Blossom Whole Food Kitchen and Catering in the farmstand, too. Holmes shares the farm's renovated barn, which Kopel said is a "really fun collaboration."
"Instead of offering all of the on-farm dinners and events we were going to do this summer, people can come and pick up Tessa's meals for takeout," she said. "So far it's been a really big success."
New Leaf is in the process of applying for electronic benefit transfer approval and hopes to be able to accept 3SquaresVT in the farmstand this summer. It's one of many farms around the state taking these steps to improve on-farm access to food for people shopping with Supplemental Nutrition Assistance Program benefits.
"We're trying to be as flexible as we can with anyone who expresses interest in buying our food this year," Kopel said.
"People have really come out of the woodwork to throw value behind accessing local food and supporting our farm," Kopel said. "It's more important than ever now, and it feels like a really bright spot."
Hudak Farm
599 St. Albans Rd., Swanton, 527-1147
The Hudak farmstand has been a familiar feature in Franklin County for more than 40 years. The high-visibility spot right on Route 7 is the main retail outlet for the farm's fruits and vegetables, plant starts, and flowers, though it is also a vendor at the Burlington Farmers Market.
Marie Frey "feels lucky" to have her farm's history on her side, but it hasn't made navigating the challenges of operating during the pandemic much easier. "At any given moment this week, I have vacillated between hopefulness and despair," she told Seven Days in an email.
The farm has had a busy early spring, fulfilling online orders. Creating a web-based system was "like making a catalog," Frey said in a follow-up phone call. "It was grueling — adding all the seed packets, every variety of petunia."
Frey described herself as a hands-on, notebook-and-pencil person; she said she's grateful for the work her employees have done to get the system up and running — and for her son's help in building the web platform.
"He has been pushing us to offer online ordering for quite a while, and I always told him, 'It's the last thing I need,'" Frey said with a laugh.
Now that the state's greenhouses are permitted to open under the recent turn of Gov. Phil Scott's reopening "spigot," Frey said she finds herself "doing the splits": deciding whether to stick to an online model or welcome the public in to shop.
The farm has settled on a bit of both, hanging up old storm windows for protection and requiring customers to wear masks when shopping in person. As much as possible, Hudak Farm will encourage customers to order online to keep things safe and streamlined.
The old open farmstand right by the road will be used for curbside pickup, though it presents a problem for perishable products. "We have our own pork, and we sell local beef, chicken and rabbit; that part will require some figuring out," Frey said.
Those items are available online right now, but customers aren't seeking them out. "Somehow the character of the place endures, and people aren't used to getting that stuff right now here, so they're not looking for it," she explained. "As time goes on and the processing plants in the Midwest shut down more and more, people will be more aware of what's offered locally."