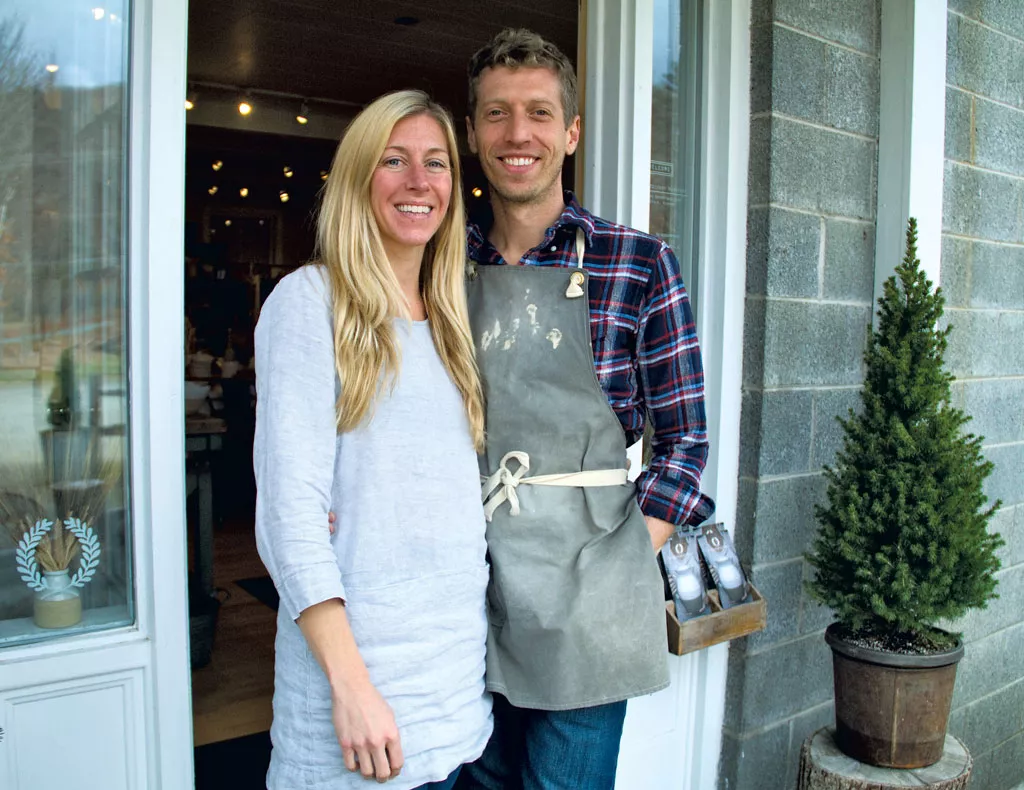 Kirk Kardashian
Zoe and James Zilian
Ever since humans began making pottery, the items they've constructed have been a reflection of the culture and concerns of the people who've used them. The Greeks put gods on their pots. Island cultures carved sea life into their vessels. In Woodstock, Vt., today — and to much acclaim — Farmhouse Pottery is handcrafting tableware that's a throwback to the golden age of agrarianism: simple but handsome, and firmly rooted in American soil.
How they do it is no secret; their workshop is open to the public, and visitors are encouraged to snoop around.
Other commercial potteries have conveyor belts, ram presses and slip casts, but not Farmhouse. Before the clay arrives in one-ton pallets, it is mined in the Midwest. It's then mixed with eastern clay using a secret formula containing sandy particles called grog. Inside the workshop, in a building locals still call the Lewis Bible Bindery after its previous tenant, the clay is hand-thrown on American-made wheels and fired in American-made kilns. Each mug, soup bowl, plate and jug is two-toned — smooth, milky white and rough khaki — and touched multiple times by hand before it's sold.
"We're old school, old world, modern day," says James Zilian, who owns the business with his wife, Zoe. "Centrifugal force, mud, hands."
The Zilians are young — probably around 40, but they won't say exactly — and so is Farmhouse Pottery, which opened online in 2012. The retail store and workshop, on Route 4 on the west side of town, arrived earlier this year. In that short amount of time the company has made extraordinary inroads into a competitive marketplace for handmade pottery, gaining the attention of national media outlets in the process. Farmhouse has partnered with West Elm, a division of Williams-Sonoma, on a design project. Its dog bowls and rolling pins are available through Sundance, and some of the company's other products are sold at 80 retail shops around the country. Farmhouse wares have been featured in Martha Stewart Living and New England Home magazines and on a handful of home-décor blogs.
On nearly any Saturday, the Zilians' store is nearly overflowing with people. By creating beautiful, simple — even austere — pieces of durable pottery, Farmhouse appears to have tapped into some latent desire.
Or maybe it's not so latent. "It's about the farm-to-table lifestyle," James Zilian says. Usually that lifestyle is discussed in the same breath as the local-food movement, but the Zilians took the idea one step further — and did it with style. Local food has to be served on something. Why not infuse the plates, even the table, with the same ethics as the stuff they hold? Why not make it local?
Barry Bartlett, a professor of ceramics at Bennington College, isn't surprised at Farmhouse Pottery's success, but he finds it fascinating just the same. "There's definitely a surge of this going on," he says. "Potters are working with chefs to make things that go with the local food. A lot of it is pretty down-to-earth, paired with food that's hearty, country fare."
Typically, the food and pottery lack pretense and are deeply contemplated works of craftsmanship, which is reflected in the prices. Or, as Bartlett puts it, "There's an interesting blending of high and low — the rustic has become the high class."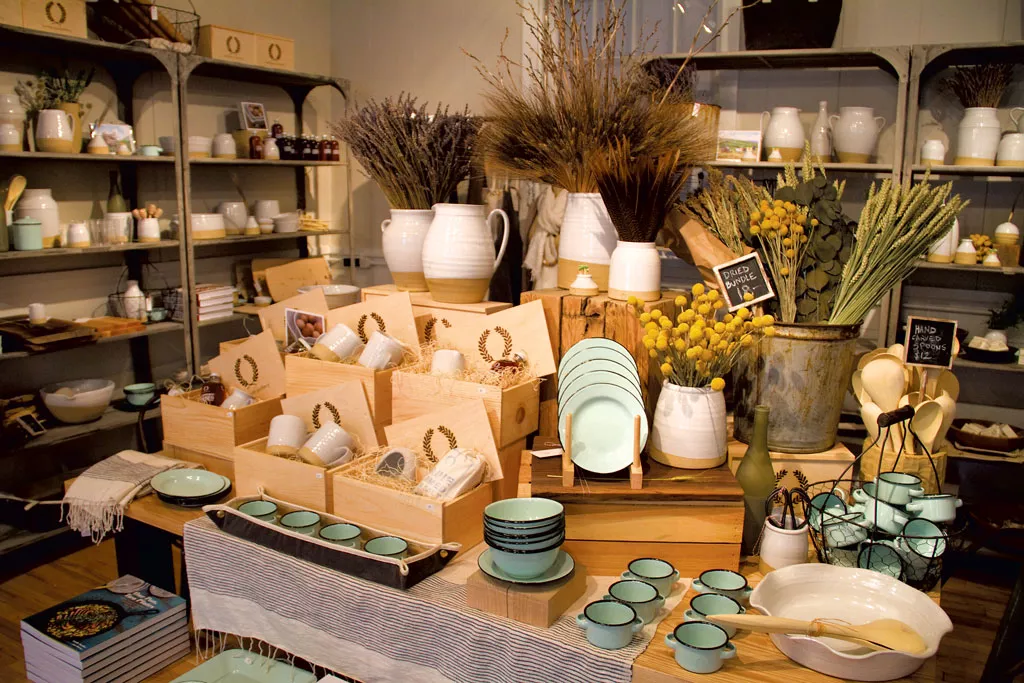 Kirk Kardashian
Farmhouse Pottery products
The Zilians fit well into this framework. Both have bachelor's degrees in fine art from the Maine College of Art. Zoe studied photography and majored in marketing and communications, while James did studio art with a concentration in ceramics. After college, while living in various states in New England, they made pottery and table lamps in their basement or a rented warehouse — wherever they could make it work.
By 2003, the Zilians' line of geometrical stack lighting was selling well and had received coverage in the Wall Street Journal. At a trade show in Atlanta that year, Simon Pearce happened to walk by their booth. As the Zilians tell it (Pearce declined to comment), he immediately offered to hire James as the design director for his already successful company, which is based in Quechee and Windsor.
"We had put so much energy into the lighting company, and we didn't want to give it up," Zoe says, "but it was a great opportunity. This was our chance to get out of Boston, have a house and kids." They moved to Woodstock in 2004, and in their spare time sold pottery at farmers markets in the Upper Valley.
That lifestyle worked, up to a point. "I became complacent in my design career," James says. "It was too safe, hiding behind a Mac, behind this great brand." He left Simon Pearce in 2013 to devote all his time to Farmhouse Pottery, where he's the leader of a small team of potters and apprentices. Zoe, ready to do something more with her skills in marketing and photography, designed a website for the company.
Even though the business has grown, it's still small enough — perhaps intentionally — that the Zilians can make the artistic decisions themselves. "Everything we do is overworked," Zoe says.
That level of detail is apparent in all their products — and they make more than pottery. Their Farmhouse Table is made of ash with a perfect grain pattern and is covered with a translucent stain that resembles milk paint but is much more durable. The Vermont Wood Stump — as simple as it sounds — is hand-hewn basswood painted blue, white or gray. Both are designed by the Zilians and made in Lyndonville.
They sell maple syrup, from the Burgess Sugarhouse in Underhill, in a clear glass apothecary bottle with a white cap (it could be twee or just acceptably cute, depending on your sensibility). The honey, from Northwoods Apiaries, comes in a stout glass container with more of an old Vermont feel. "These add a flavor to the brand," James says. "It's totally appropriate for what we're making."
For more evidence of the care the Zilians put into the smallest details, consider the box for the Cultivate & Garden Bergamot Candle. Zoe designed the artwork and lettering, and the American-made cardboard halves fit together precisely. After the candle has burned down, the box could be used to hold jewelry or be repurposed as a gift box. Farmhouse gift sets come in a box made from Maine wood. "We can make the same box in China for a dollar, but these cost seven," James says. "They're a pain, but it's what makes us special."
Although Farmhouse Pottery ships its products thousands of miles away, the Zilians seem to value their local partnerships the most. Last year, Woodstock's Worthy Kitchen purchased a set of coffee mugs and bowls and had a Farmhouse Pottery display in the restaurant.
"What we liked about them was the durability and the look," says Jason Merrill, a co-owner of the eatery. "And because it's a little rustic and has a farmhouse feel, it fits with what we're doing."
As a testament to the products' durability, Merrill says that of the 36 mugs he purchased, only one has broken, despite heavy commercial use. Farmhouse Pottery products are also on display in the Woodstock Inn & Resort and Burlington's Hotel Vermont, and are carried at Healthy Living Market and Café and the Green Life.
The Lewis Bible Bindery building, made of gray cement blocks, was once a major employer in Woodstock. The cavernous space was vacant for more than 10 years before the Zilians bought it, except for a soap maker who still occupies part of the basement. "Coming into this place was a huge risk," James says, noting that this will be the company's first winter in the drafty space turned workshop.
The best thing about the building? There's plenty of room for Farmhouse Pottery to expand. Indeed, the Zilians have already doubled their workspace and plan to double it again soon. They'd also like to open a café in a year or two.
And when it comes to long-term aspirations, James Zilian isn't shy: "We'd like to be the new Bennington Potters of Vermont," he says. If that level of success comes, perhaps locals will forget the Lewis Bibles ever happened.
The original print version of this article was headlined "Throwing Muses"