Suzanne Podhaizer
Chef and farmer Joe Buley handing offa soup order to Gregory Georgaklis
Gregory Georgaklis, cofounder of the food-distribution business Farmers to You, strides through the company's headquarters on his way to run some errands. The offices are located atop a hill in Berlin with a gorgeous view of mountains that now are streaked with autumnal colors. The top of Camel's Hump pokes up just at the horizon. The path to his white pickup takes Georgaklis through the warehouse, where floor-to-ceiling shelves hold large plastic coolers and stackable crates. Folding tables and rolling metal racks filled with product are scattered around the concrete floor.
Seven warehouse staffers move with focused energy. One pulls legs of lamb out of a chest freezer and piles them on a table, ready to weigh and price them. It's noon on Tuesday, and, by 3 p.m., it'll be all hands on deck to "work the pick," using printed lists to pack orders of food destined for families in Massachusetts.
Farmers to You is a business that combines something old — getting food from farms into the hands and mouths of hungry diners — with some things that are quite new. Specifically, it uses a customized internet shareware program to maintain inventory from its partner farms, accept orders from customers, and track what customers want and how often they want it.
Each Wednesday and Thursday, Farmers to You sends a pair of refrigerated, 20-foot box trucks to Boston to deliver some six tons of food, the vast majority of it — around 85 percent — sourced from Vermont farmers and artisan food producers. Packages bulge with German butterball potatoes from Burnt Rock Farm in Huntington, teriyaki tempeh from Rhapsody Natural Foods in Cabot, pork from Snug Valley Farm in East Hardwick and ice cream from Strafford Organic Creamery.
"We pack grocery bags like they're gifts," Georgaklis says proudly.
The "gifts" are destined for some of the 800 families who regularly use the service, which began its weekly runs in 2010. This year, FTY will spend $1,200,000 buying from area farms and delivering "directly ... with literally no wasted food," says Georgaklis.
By spring he plans to have 200 Vermont families as customers, too. Currently, there's a pickup point at the company's HQ in Berlin, with additional spots planned in the Mad River Valley, Waterbury area and Burlington. The new sites should be up and running in the next month and a half.
How does FTY work? Kind of like a cross between a grocery store delivery service and an aggregated farm share, such as the ones offered by the Intervale Food Hub in Burlington and Craftsbury-based Pete's Greens. FTY offers a way of accessing a range of "free choice" local foods to consumers who may not have much time for shopping or picking the food themselves. The offerings are based on what is seasonal and what partner farmers are keen to sell.
The online interface is simple. First you sign an agreement in which you pledge — in a nonbinding, handshake-y way — to order at least $40 worth of food per week and to strive for consistency for the sake of the participating farmers. Then you can scroll through a list of about 280 items — grouped into categories such as "meat and fish," "dairy and eggs" and "bakery and grains" — and add what you like to your basket.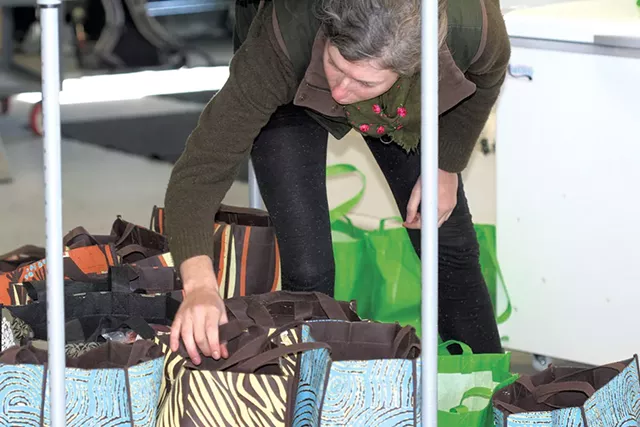 Suzanne Podhaizer
Leslie Ruster checking orders
With the cost of aggregation, packaging and delivery built in, FTY's pricing lands somewhere between farmers market and gourmet store. This week, for example, organic golden beets are $1.95 per pound. A Crossett Hill Batard from Red Hen Baking, made with Vermont-grown wheat, is $5.90. And von Trapp Farmstead's Oma cheese is $21.90 per pound. (By comparison, Boston's Formaggio Kitchen sells it online for $31.95 per pound.) Having a busy week? You can save even more time by choosing one of four predetermined shares — omnivore, paleo, vegetarian and dairy-free — for about $60 a pop. Your order is delivered to a drop point of your choice.
FTY isn't cheap, but it's a time-saver, and it guarantees access to fresh, New England-sourced ingredients. Vermonters will receive a 5 percent discount off of the listed prices, because their food won't travel as far.
Georgaklis says his customers are not necessarily well-heeled — some live in more affordable neighborhoods and have just one family car. "They're solid middle-class, but they've prioritized food," he explains.
Laurie Sheffield, who shops for a family of four, is a Farmers to You customer in Boston. She signed up for the deliveries because she was interested in a CSA but wanted more choices, Sheffield says via email. Now, 50 percent of her family's sustenance comes on the box truck from Vermont.
Similarly, Somerville teacher Rachel Otty says she used to have a CSA but enjoys having a wider variety of foods available through FTY. Now, Otty says, almost everything her family eats is local and organic.
Georgaklis notes that Americans, on the whole, spend more on entertainment, transportation and health care than they do on healthy food. But he's convinced that most families have room — or can make room — in their budgets for the farm-fresh fare his company sells. Education is key. People might change their behaviors if they learn the value of eating "food that's alive, food that's going to heal you, not make you sick," he says. "Industrial food makes you sick."
When Georgaklis and his family moved to Vermont, he intended to be one of the people growing healthful, life-giving food. As they searched for land, he used the skills he'd developed over 30 years of running his family's Boston-area horticulture business. Georgaklis worked as a self-employed agricultural consultant, helping farmers analyze and strengthen their business models.
Many of his clients kept telling him that, even with CSAs, farmers markets and wholesale restaurant accounts, they were struggling to make ends meet. "If it weren't for my wife having a job off the farm, we'd be destitute," he recalls hearing from some farmers.
But they were reluctant to talk publicly about their challenges, Georgaklis says. He recognized that small farmers required more income than one-at-a-time sales could garner but were unable to supply thousands of cases of produce at a time to behemoth grocery stores. They needed another outlet.
So Georgaklis began to envision a medium-scale delivery service that would purchase larger, consistent quantities of product from farmers — even though it would mean postponing his own farming dream. With Tom Furber (who now works at High Mowing Organic Seeds in Wolcott), he developed FTY.
The business partners were aware of the value placed on eating close to home and minimizing food miles. But they decided that the best way to benefit Vermont farmers would be to set up a business that shipped out of state. That would instantly give growers access to a multimillion-dollar market without cannibalizing their extant customer base.
After several years of operation, though, the farmers who work with FTY expressed a desire to serve their own communities, too. After all, studies by Vermont Farm to Plate have determined that in-state sales of Vermont food constitute a mere 6.9 percent of the market. Annually, $3 billion goes toward food from other places. And around 85 percent of that food, says Georgaklis, comes from supermarkets.
"There's huge opportunity here," Georgaklis says. "Maybe people don't have a co-op in their town. Maybe some people aren't good enough cooks to accept a big basket of vegetables" in a CSA.
As FTY begins to serve Vermonters, the goal is to bring newbies into the local-foods fold, rather than to poach customers from CSAs and farmers markets. However, it may be inevitable that some of the latter will defect. "Support your local infrastructure first, then use us," Georgaklis suggests. "Make the supermarket last."
FTY is not yet profitable, but it's getting close, he says. Investors and a capital fund have kept it afloat during the growth phase.
One of the associated costs of FTY, albeit a worthy one, has been paying livable wages to staffers; they start at $15 an hour and receive a discount on food orders. FTY currently has six full-time and 20 part-time employees, including its truck drivers.
Anyone familiar with central Vermont agriculture would recognize many of the faces at FTY as they pack orders and prepare for truck-driving shifts. There's Doni Cain of CheckerBerry Brook Farm in Plainfield (soon to be known as Quill Pig Farm). There's Kuenzi Wiswall, whose father, Richard Wiswall of Cate Farm, literally wrote the book on making organic farming a viable business. Watching them work, it's clear this is a tight-knit crew of people who are passionate about the food system.
Every Tuesday, after packing is done, the whole FTY group gathers for a staff dinner. This week, a cut of beef that's been cooking all day is on the menu. "Nobody has to stay, but they all do," Georgaklis says.
He hopes the same will be true for those who buy from FTY, too: "We're looking for customers for life," he says.