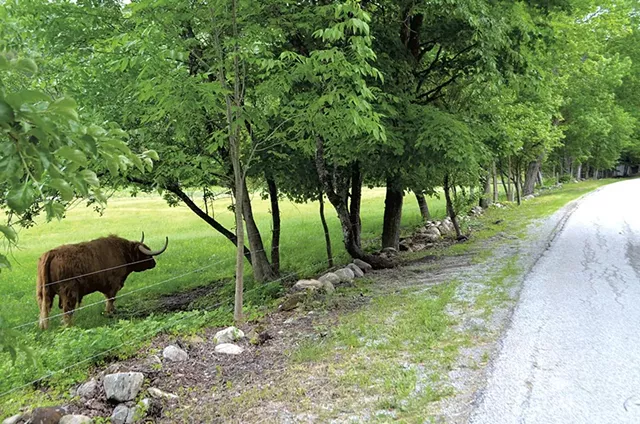 Mark Davis
The surviving bull, Big, behind a fence last week
Connecticut therapist Jon Bellis steered his car west on Route 4 in Killington around 10 p.m. on July 31, 2015, with his wife of 37 years, Kathryn, in the passenger seat. The couple, who owned a condo in the area, were approaching the Val Roc Motel. Ten minutes earlier, a truck driver had called authorities to report he had nearly hit a massive bull that was wandering the highway; police were on the way.*
Bellis got there first.
Doing about 40 mph, Bellis plowed into the 1,800-pound Scottish Highland bull. His car careened down a grassy embankment and slammed into a tree. Kathryn Bellis was injured, but she was able to get out of the vehicle. But Jon Bellis, 62, died at the scene. So did Rob, the 8-year-old bull.
Rutland County State's Attorney Rose Kennedy is responding to the accident with a charge of involuntary manslaughter against the owner of the bovine. Craig Mosher faces up to 15 years in prison in what is believed to be the first criminal case against a Vermont animal owner for harm caused by a creature that wandered off.
Kennedy's decision has enraged Vermont farmers, who worry they could be held criminally liable when their cows, pigs and sheep break free of their fences. Farmers say that collisions involving animals should be handled in civil courts, and they should not be at risk of going to prison for it. The Vermont Farm Bureau is rallying against the charge.
Around 50 farmers packed Rutland Superior Court for Mosher's arraignment on June 6 and clapped in support of Mosher as he left the courtroom. The farm bureau reports that it is getting calls from farmers across the country concerned about the case, and it is already reaching out to state legislators in hopes of short-circuiting similar prosecutions.
Farmers' fences are often knocked down by moose and other wildlife, or by bad storms and fallen tree limbs. Most farmers have to deal with escaped animals from time to time.
"This is an awful precedent, not only in Vermont, but nationally," said Joe Tisbert, a Cambridge farmer and president of the Vermont Farm Bureau. "There are so many ways an animal can get out of a pen; there are so many things that can happen. And if it's criminally prosecuted, people are really afraid of what will happen to them."
Kennedy, elected in 2015, said she is not trying to break legal ground but is motivated by the facts of the case. Mosher's two bulls had repeatedly left his property to roam along Route 4 in the weeks before the collision, according to police affidavits, and he had been warned the night of the crash that one of them was on the loose. After looking for the animal unsuccessfully, Mosher decided to go back to bed, according to a police affidavit.
"The indictment is supported by probable cause, and the facts of this case are unique to this case," Kennedy said in an interview, declining to discuss those facts in detail. "I will be trying this case in court. That's where I think this needs to be determined."
After pleading not guilty, Mosher was released without having to post bail. A trial date has not been scheduled. Mosher did not respond to requests for comment.
"Mr. Mosher is a good soul and we are going to vigorously defend him," his attorney, Paul Volk of Burlington, said in an interview. "In my 30 years of practicing criminal law, I've never seen a case like this. It very much surprises me that this is in the criminal court system. It certainly is not a novel fact pattern. We have an agrarian background. Farming has been the backbone of the state, and there are large animals that sometimes get out. Unfortunately, sometimes really sad things happen, but to have that turned into a criminal offense is pretty unusual."
According to court documents, Vermont State Police made five trips to the area of the crash in the two months before the collision because Mosher's animals had broken free of the fence along his property.
Jeff Herrick was the truck driver who almost hit the bull the same night Bellis did. After his near miss, just before 10 p.m., he drove to Mosher's home and told him that he had spotted the animal by the Val Roc, according to a police affidavit. Mosher told police that he searched his property where the bulls usually wandered.
Why didn't he check near the motel, which is across Route 4, about 50 yards from his property? Mosher told police that bull-spotting callers often mentioned the Val Roc as a reference point, but he always found the animals near his home.
After the collision, Mosher and Vermont State Police Trooper Rob Rider found that a downed tree limb had opened a large gap in the electric fence around the perimeter of his land.
Though the agricultural community has taken a keen interest in his case, Mosher isn't a farmer. He owns a business, Mosher Excavating, next to his home on a 20-acre spread tucked between Route 4 and the Ottauquechee River in Killington. He kept two bulls, Rob and Big, as pets.
Mosher became something of a local hero in 2011, when flooding from Tropical Storm Irene devastated the area. The Ottauquechee River washed out Route 4, leaving thousands of locals and visitors in Killington effectively cut off from the outside world.
"The state couldn't get here, we had no phone service and half my business was underwater," Mosher told Bloomberg News. "I jumped on my tractor and started moving rubble. Some of it was pieces of my neighbor's house."
Mosher and his staff rebuilt the riverbank with bulldozers and reopened a slice of Route 4 before the state government or the Federal Emergency Management Agency could help. According to media reports, Big and Rob escaped during the flooding.
"This man was a hometown hero after Irene. He rebuilt the access road to Killington on his own," said Rutland Farm Bureau president Ray Duquette, who has been Mosher's most vocal champion. "That's the kind of man this fellow is. He's a nice fellow. This was a terrible accident and nothing more."
On his company's website, Mosher says he acquired Big and Rob in 2008. He explains that the animals have lured countless visitors, and "their unique look and personality has made them the unofficial landmark welcoming you to Killington." The website, which has not been updated to reflect Rob's death, features visitors' pictures and paintings of the animals.
Several state laws set civil penalties for owners of animals that cause damage. For example, they can be fined $20 and held liable for damages if their animals are found roaming on a railroad.
And civil lawsuits are not uncommon. Bellis' family filed a lawsuit against Mosher that has already been settled for an undisclosed sum, according to the Bellis' attorney, Jerome O'Neill of Burlington.
O'Neill said the facts of the case have been "distorted" and that farmers have nothing to fear from the decision to charge Mosher.
"Vermont farmers who take even minimal care of their animals have no need to fear criminal prosecution," O'Neill said. "The criminal prosecution of Craig Mosher ... has everything to do with Mr. Mosher's choice to act irresponsibly with respect to his own pet animals. It has nothing to do with farmers and their responsibilities toward their animals and the public."
He said Kathryn Bellis supports the decision to charge Mosher. "As far as she's concerned, this is the man who killed her husband," O'Neill said.
Kennedy took the unusual step of bringing the criminal case to a grand jury. In Vermont, prosecutors file almost all criminal cases in court. Grand juries — panels of citizens who hear evidence and decide whether to issue a criminal indictment — are rarely convened. They are sometimes used in cases with complicated fact patterns, or in cases that prosecutors know will generate controversy. Prosecutors can deflect criticism for pursuing a case by pointing to the grand jury.
Kennedy declined to discuss in detail why she went that route. "A grand jury is a useful tool to evaluate probable cause in cases that present new issues," she said.
But Kennedy's decision could, theoretically, lead other prosecutors to file similar cases. There have been plenty of loose-animal incidents: Last November, pigs repeatedly escaped from a pasture in Barton and wandered along Interstate 91 after their owner was warned that his fences were inadequate. In June 2013, a Pennsylvania man was injured when his car collided with a cow on Route 22A in Bridport. In October 2013, cows from a St. Albans farm ambled through a downed fence and wandered onto Interstate 89.
Last Friday morning, Vermont State Police said a driver in Lowell struck and killed a year-old calf. The vehicle did not stop, and police said they were trying to locate the driver.
None of those incidents have resulted in criminal charges.
As of last Thursday, Mosher's fence had been repaired. His surviving bull, Big, chewed grass under a small tree, oblivious to the cars whizzing by on Route 4.
*Corrections, June 16, 2016: John Bellis was headed west toward the motel when the collision occurred. It was a truck driver who called police that night about the bull. Further, Bellis was not a grandfather. A previous version of this story contained errors.