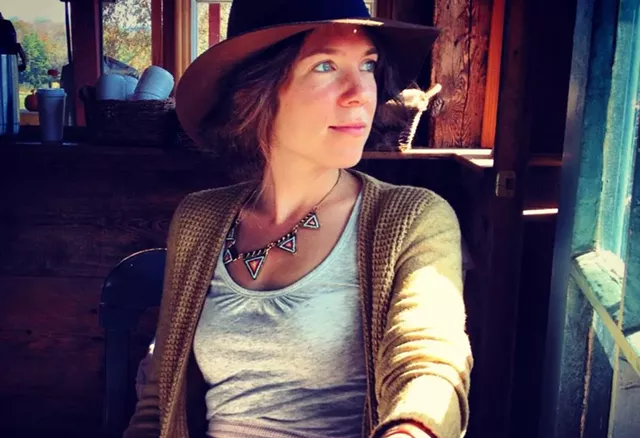 Courtesy of Sasha Katz
Taylor Katz
The phrase "paid poet" sounds like a scoff-worthy contradiction in terms — even in April, which is National Poetry Month. Then again, there is Vermont farmer-poet Taylor Katz. She writes verse for cash.
Katz is co-owner of Free Verse Farm, an herb farm and apothecary in Chelsea that she founded with her husband, Misha Johnson. Together they raise and sell culinary herbs, medicinals and herbal remedies. Katz is also the sales and marketing manager of Bob-White Systems, a South Royalton-based supplier of specialty equipment for small dairy farms. On top of that, she and Johnson manage the Chelsea Farmers Market.
So, admittedly, Katz is not paying the big bills with sonnets and limericks just yet. Nonetheless, her "side hustle" — as she calls it — of writing custom poems is steadily gaining momentum.
In early 2013, six months after earning her master's degree in creative writing from San Diego State University, Katz wondered if she could derive an income from her poetry. She put out a virtual shingle, adding a tab to her website that announced her services: "Poet for Hire."
"I will write a poem for you on the subject of your choosing," she informs prospective clients, offering to pen poems for special occasions such as birthdays, bar mitzvahs and weddings. Her services are paid on a sliding scale from $50 to $150, depending on the project.
In an online essay, Taylor argues the cause for her services: "Despite the fact that very few non-poets read poetry, people still reach for poems during life's big moments," she writes. "These benchmark moments require something more than the patterns of daily speech: They call for gravitas, for form, for the language of commemoration."
Though Katz's solicitation promised, "this is going to be fun ... [and] not very expensive," her first couple of months of offering her services were pretty quiet. By year's end, she had received her first three commissions: two birthday poems and one wedding poem. When she invoiced the customers via PayPal and received full compensation, Katz felt she had officially become a paid poet, she says.
Now, three years later, she's on a roll. Katz received six requests for her verse during last December alone — work comes "in spurts," she says. She only recently purchased her first ad and says she "thanks the Google gods" for her site's high position in keyword searches.
To date, she has been commissioned to write anniversary poems, I'm-50-and-fabulous poems, best-man-speech poems, gin-party-invitation poems and I'm-sad-you're-moving-away poems. Her verses have been embroidered on pillows, mass-emailed to a customer's loved ones and submitted as an application for a members-only diner in Pennsylvania. She's had three repeat customers. And Katz can claim international success, having written poems for three UK customers.
She's even had to clarify what kinds of poems she will not write. On her website, Katz specifies that she won't execute anyone's homework assignment. Nor will she scribe mean stuff — "Revenge, remorse, smear campaign: not my bag."
Has she really been asked to perform either of those tasks? "Yes, I've had parents approach me about writing poems that their children were supposed to write for school," Katz says. And one woman thought the poet's services would "help her friend retaliate" against an ex who was posting about their former relationship on Facebook. Katz says she told the woman, "I'm not comfortable with that."
By contrast, she can help with the kinds of situations that often make people uncomfortable or anxious. Like best-man speeches, one of her specialties. "Often these people are in panic mode, because they are charged with doing something they are not used to doing," Katz says. "Plus, they need it fast."
Repeat customer Moira Meacham of Yardley, Pa., was in a time crunch to find a one-of-a-kind gift for her fiancé when she discovered Katz's services. "I Googled 'poet needed,' and I immediately connected with Taylor; she got me," says Meacham in an email. "In order for her to write something meaningful and real, I had to share a lot with her, in a very short period of time. She nailed it, first draft!"
A couple from Colorado who commissioned a wedding poem to suit their elopement — after being together for decades — were also happy with Katz's skill. "You were able to capture everything that paints the picture of our last 32 years," they wrote in a note accompanying payment. "What a feat!"
To personalize each poem, Katz asks her customer dozens of questions, coaxing out details, backstories, quirky facts, and special places and moments. Then she pours that information into a formal structure, a poetic container. "Rhymes if you want them, no extra charge," offers her website, called Panache, Perhaps.
Katz says she has "a 99 percent ecstasy rate," in large part because she works with content provided by the customer, "so it sounds like them." To that point, she claims no ownership of the poems; she doesn't ask her customers to credit her as the author. As far as Katz is concerned, once her client has signed off on the final draft and the invoice has been paid, the exchange is complete.
In today's creative economy, fueled by artisans and technology, individuals can design their own houses, T-shirts, mugs and even cars. Perhaps it's no surprise, then, that some would want bespoke poetry, and that a poet can exchange her words for good old American dollars.