Matthew Thorsen
Kate Hays
One night last week, the Seversons and the Larsens were eating together at a back table in Wake Robin's dining room. The wives are sisters, and all four are friends. They have a standing dinner date on Sunday evenings and occasionally share midweek meals as well.
You might say these eightysomething diners are eating experts at the Shelburne retirement community.
"The food here, from my standpoint, I've always felt was very good," said Ken Severson, at 89 the eldest in the group. He appreciates the nightly choice of three entrées, which on this night allowed him to pass up the veal saltimbocca with mozzarella, sage and marsala.
"I don't eat veal or lamb because I used to raise them, and I couldn't bear to eat them, with their little wagging tails," Severson explained. He grew up on a farm in Iowa and had a career as an educator, including a long tenure as principal of Middlebury Union High School. Farm-to-table dining is nothing new for Severson.
But it's enjoying a renaissance at Wake Robin. The new director of dining, Kate Hays, is building on the practices put in place by her predecessor, Kathy King.
Wake Robin is recognized as a leader in the long-term-care community for its commitment to healthful and sustainable dining practices, said Diane Imrie, director of nutrition services at the University of Vermont Medical Center.
"Farm-to-institution is not a trend," she said. "It's the way we do business now.
"I would say that for those organizations that are committed to health improvement, farm-to-institution is sticking," Imrie added. "It's been too long coming."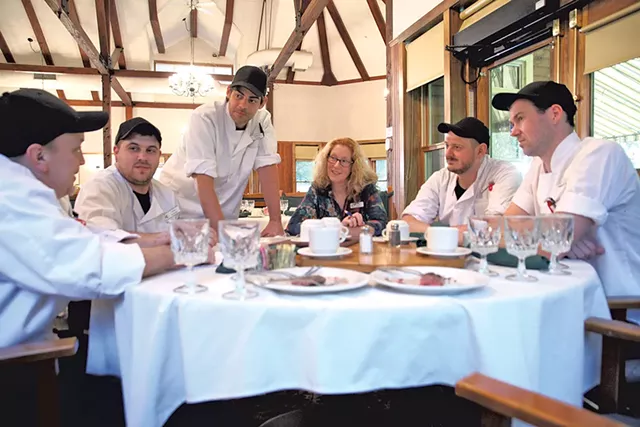 Matthew Thorsen
Kate Hays meeting with staff
Hays, 55, has been cooking locally since 1986, when she started working at the Daily Planet in Burlington. She was in the Planet kitchen for nine years before embarking on catering gigs. Most recently, she ran dining services at the University of Vermont.
In January, Hays left UVM for Wake Robin, trading dining halls teeming with college kids for a community where the youngest resident is 68 and the oldest is 104. The average age at Wake Robin is 83, according to its director of residential services.
Initially, Hays was nervous, she said, to leave a place with the vibrancy of UVM. But she's delighted with her experience at Wake Robin and said that, "magically," she loves it.
"I can't tell you how happy I am," Hays said. "The people are amazing. It's really nice to be in a place where people still engage face-to-face."
Device-less conversations are the norm, and people look you in the eye, she explained. In addition, residents are not shy about telling you what they think of the food — which Hays applauds.
"Food makes people happy," she said. "Even if complaining about it makes them happy — bring it!"
Hays oversees a staff of nearly 60 people in the dining services department, including cooks who have left restaurant kitchens for the saner hours, calmer kitchen and benefits of an institutional setting. Her executive chef, Andrew Ryan, is co-owner of Drifter's, a restaurant in the Old North End (see below). He's been at Wake Robin five years and is pleased by its farm-to-table progress.
"Having the ability to play is great for any creative chef anywhere," Ryan said.
There's more room for creativity in the kitchen than you might expect, Hays observed.
"There's a preconceived notion that this is as unsexy a job as you can get," she said. "It's not that at all. The whole model of institutional food has changed so much. 'Institutional' is bringing in two pigs a month from Farmer Brown and produce from Jane Pomykala."
Hays was referring to two of the local farms from which Wake Robin procures food: The Pomykala Farm in Grand Isle grows vegetables and fruit; "Farmer Brown" is Annette Brown, who raises pigs in Bakersfield. In total, about 40 percent of the food at Wake Robin is sourced locally, according to Hays.
A small amount of food is produced on-site, including maple syrup from trees tapped and sap boiled by residents. When the Wake Robin sugar makers presented the kitchen with six gallons of their maple syrup, the cooks prepared a sugar-shack dinner of tourtière, pâté and oysters with maple mignonette sauce.
One of the sugar makers was John Blackmer, 83, a retired high school science teacher. He moved from Pownal to Wake Robin three years ago.
"When Kate arrived, the menu didn't change, but the essence changed," Blackmer said. "It brightened up. It was the same food but with a really nice brightness. She's wonderful."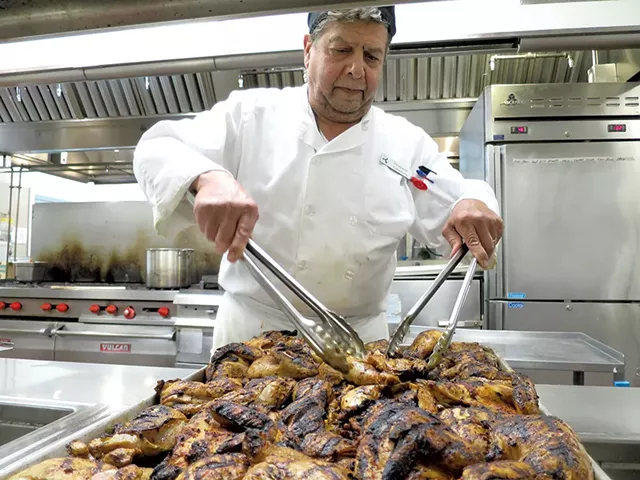 Matthew Thorsen
Wake Robin chef Pasquale Amedore
Farm-to-institution is manifested in a variety of ways at Wake Robin: a farmers market in front of the main building on Thursday afternoons for residents (who typically cook some meals in their homes) and staff, cooking demonstrations that focus on a healthful ingredient of the week, and educating and engaging residents on topics related to "culinary medicine," Hays said. That might mean talking about fermented foods for gut health or dark chocolate for brain health.
Wake Robin administrators are currently preparing for a campus expansion. The $40 million construction project will add 38 apartments for independent living and 15 homes in the Linden Health Center, according to Nancy Chiquoine, director of marketing and residential services.
Construction is scheduled to start next month, and it will mean changes — some temporary, others permanent — to the dining scene at Wake Robin. For example, a meeting room will become a temporary dining room while the current dining room undergoes renovations.
The main dining room in the community center — being permanently updated from early '90s to sleek contemporary — will include a counter where residents can look into the kitchen and interact with cooks. In the health center, which offers three levels of care for residents, a new set of small so-called "neighborhood kitchens" will have flexible hours and meals cooked to order.
As baby boomers age and begin to move into Wake Robin, this model will feel familiar to them, Hays said. Rather than the meat-and-potatoes standard of an earlier generation, the younger demographic is more likely to expect quinoa, kale and other healthful foods as part of their daily diet.
"Our younger residents are much more eager to move around and take a look at what's going on," Hays said. "Their expectations are very different, both in what they get to eat and how they get it."
Both community-center dining rooms will be renovated, and the one on the lower level will feature a grab-and-go food section for residents and contractors during the construction phase. Hays is looking ahead.
"In two years, it's going to be killer," she said. "I'm really excited about it. I've got a great team, and I'm really psyched to do some fun stuff."
Hays is thinking about pop-up dinners based on literary figures and bringing in farmers and gleaners to talk with residents who have "a profound interest in sustainability."
"These people are titans of industry," she said of Wake Robin residents. "They're smart, and they're engaged with what's happening. It's really a playground here for all ages."
Feeding Young and Old
File: Brent Harrewyn
Andrew Ryan
Andrew Ryan grew up in the New North End of Burlington in a house that had a gravitational pull for neighborhood kids. He's from a family of four — including his older brother, Robert, and their parents — but meals routinely attracted 10 or 12 people. His mother good-naturedly called the crowd of kids she welcomed into her home "the island of misfit boys," Ryan recalled.
This way of life sparked his interest in creating community and comfort around food. Ryan, 34, now works to achieve this aim in two very different settings: Wake Robin, a retirement community in Shelburne, where he is executive chef; and Drifter's, a funky little café in Burlington's Old North End that he co-owns.
"My intent is always quality of food. Food is definitely the forefront, and then I'm all about making people comfortable," Ryan said. "It's about that personal feel, making someone feel at home. That [idea] transfers from a restaurant to Wake Robin, where it is someone's home."
A graduate of Burlington High School, Ryan attended the culinary arts program at the school's affiliated tech center. After graduating, he trained in a cooking apprenticeship program before landing a job at One Flight Up, a former restaurant at Burlington International Airport.
Ryan made the rounds of area kitchens, including Fireside Tavern and Cliff House at Stowe Mountain Resort, Taste and Green Room in Burlington, and the Inn at Shelburne Farms. He moved over to Wake Robin five years ago. In January, he was promoted from sous chef to executive chef.
"I liked everything I saw that he did," said Kate Hays, Wake Robin's director of dining, who promoted Ryan. "He is the cement that keeps the kitchen together."
For Ryan, the cooking gig at the retirement facility was a major departure from working in a restaurant kitchen. The egos are mellower, and the hours earlier. And his concern that he wouldn't be able to "play with food" was allayed.
He's rotating his menu with the seasons, cooking with ingredients from local farms and making dishes such as vegetarian osso bucco. One time, Ryan used an apple corer to punch out a plug of tofu that resembled veal bone and served it with white beans and a carrot-and-port demi-glace.
"A decent amount of people liked it," he said. "And a number of people were confused."
Among the fans was Hays, who was wowed by the dish. "He's a god," she commented.
Ryan met his Drifter's business partner, Mike Lucey, at Wake Robin, where Lucey had a short stint as a server. They opened their café nearly a year ago, intent on creating a restaurant where everybody feels welcome, said Ryan.
"I didn't want to be the pretentious place," he said. "I didn't want the white tablecloths. I know what the Old North End is. I built it around the neighborhood."
The pair built the restaurant's six tables from driftwood, using coffee grounds to fill the gaps between uneven boards. A lit-up bar sign stands high above the entrance, and a colorful stained-glass window helps point the way to the counter where diners order their meals. Plates priced from $5 to $12, including parsnip gnocchi, seitan tacos and a kimchi ramen bowl, are delivered to tables.
A couple of months after Drifter's opened, two cooks and the pastry chef quit, so Ryan took over cooking duties until he could hire replacements. During breaks at Wake Robin, he would sneak in short naps in his 1981 BMW.
"I was working 20 hours a day," he said, "and I'd be full zombie."
The Drifter's kitchen now is anchored by Finnian Peralta and Jeff Hodgdon, formerly chefs at Burlington vegetarian restaurant Revolution Kitchen. They're curious about their boss' other food life.
"My guys have told me multiple times that they want to come in and eat [at Wake Robin]," Ryan noted.
They'll have to wait a few decades. The dining room is private, and residents must be at least 60.