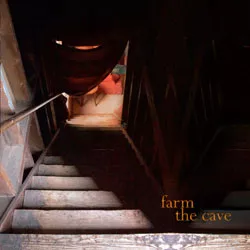 From the woolly nether regions of northwestern Vermont, experimental-folk trio Farm return with their highly anticipated third album, The Cave. Local music critics, rejoice! Following last year's excellent, if somewhat unwieldy, Gray Birds, the disc defies easy categorization — local music critics, grumble! It's possible to identify influences on a track-by-track basis, but as a whole the album is a stunning and diverse collection of tunes exhibiting a marked evolution in both style and scope.
Role-swapping chameleons Ben Maddox, Joshua Givens and Jedd Kettler — each a multi-instrumentalist and songwriter — lead off with "Bulls," a tune that justifies Camper Van Beethoven comparisons. It's short and sweet, with just a dab of plaintive lyrical innocence.
Obliging the "Americana-noir" tab thrust upon them by certain members of the local press . . . ahem, "Revelation Sessions" follows. Atmospheric slide guitar swirls around a gently roiling acoustic guitar, while the lyrics are delivered in an Isaac Brock-meets-Valium fashion. If Modest Mouse went on a folk bender, it might sound a lot like this — or Sun Kil Moon's Tiny Cities, of course.
"Second Song" is a pleasant little ditty with the slightest breezy-Brit-pop tinge. It's the closest thing to a love song you'll find here.
With guitars blazing over pounding drums and bass, "Noah's Horse" is brutal and devilish, exuding Mule Variations-era, Waits-esque tomfoolery.
"Future Things" follows, keeping the volume turned up and listeners guessing with a full-throttle, indie-rock romp.
"Bread Dust Gold Dust" is a sinister instrumental interlude, setting us up for the album's second half.
"Vaquero" provides lilting acoustic relief from the aural assault of the previous three tracks. Having mentioned Mark Kozalek's Sun Kil Moon already, I'm a bit loath to do so again. But if I did, it would work.
The remainder of the album follows in similarly unpredictable style. If nothing else, Farm keep us on our toes. Exhibit A: the bouncy, borderline dance-pop groove of "Flew Off," which might be the best cut on a terrific album.
Farm was already good. And they've gotten even better. So where the mammoth 18-track Gray Birds was almost too much of a good thing, the 15 songs found on (in?) The Cave are almost not enough. But so goes that old showbiz axiom, "Leave 'em wanting more." We do, boys. We do.
Farm celebrate the release of their new album this Saturday at Winooski's Monkey House with a smorgasbord of local rockers, including The Breaking In, How to Stay Alive in the Woods and northern New York's Monsterbuck.