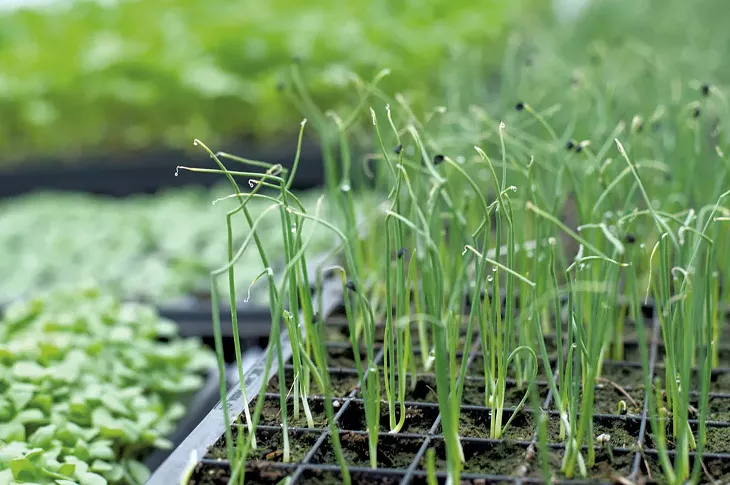 15 slides
It's barely 8 a.m. on a Friday and Christa Alexander is already behind. "We're going to be here until 11 packing," she says, balancing trays of seedlings on both arms.
Normally, the day's deliveries are packed and on the road by this time, but April means transplanting. Nearly 100,000 tiny beets, radishes, squash, onions, greens and tomatoes need to be moved out of plastic cells and into the ground — fast.
"It just snowballs this time of year," Alexander says, and adds that she still needs to graft the tomatoes, among other time-sensitive tasks. "I basically need three days of time to graft," she says, "and I just don't have it."
Alexander co-owns Jericho Settlers Farm with her husband, Mark Fasching. The operation's central hub and namesake is also her childhood home and one of the original Jericho homesteads, first settled by the Chapin family in 1783.
Though not commercial farmers, Alexander's parents kept extensive kitchen gardens and still live on the property. Alexander and Fasching live nearby with their two children. They lease the farm's home base from her parents along with five other plots scattered around Jericho and Richmond. They pay $15,000 annually for the entire 150 acres — most of it pasture land for lambs, chickens and pigs.
On the 25 acres devoted to vegetables, the Settlers crew cultivates more than 50 crops. They sell that bounty through multiple outlets: their year-round, 150-member CSA; a stand on Barber Farm Road; and the Burlington Farmers Market. They also send meat and produce to more than 25 wholesale accounts, including City Market, Sweet Clover Market, the Bluebird and Farmhouse restaurant groups, and Hen of the Wood.
Biologists by trade, Alexander and Fasching met out west. When the couple moved to Jericho in 1998, they planted an ambitious garden and started raising chickens and the occasional pig. Friends began asking if they'd take on extra critters, and offered to buy the excess eggs and meat.
By 2002, Jericho Settlers Farm was born. With technical assistance and training from the Vermont Farm & Forest Viability Program (a program of the Vermont Housing & Conservation Board), the couple transitioned to full-time farming in 2007.
They now employ as many as 15 workers at the height of the season and produce close to 2,000 pounds of salable food per week even in winter. By May, the farm harvests some 10,000 pounds per week. But numbers are deceptive, Alexander says, since weighty winter veggies give way to lighter produce such as lettuces as the weather warms.
The income remains steady. "We bring in between $10,000 and $20,000 a week year-round," Alexander says, crediting the stable cash flow in part to diversification. "You lose some efficiency when you do that," she says, "but it keeps things constant. If one thing fails, there's something else to replace it."
Farm Share is a new monthly series of photo essays, each exploring daily life on one of Vermont's food-producing farms.