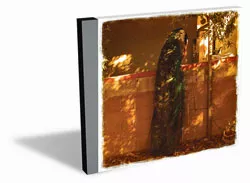 (Self-released, CD, digital download)
No Vermont band is as simultaneously fascinating and relatively unheralded as Farm. Through four albums — five, if you include the group's debut under its short-lived House Horse moniker — the experimental-folk trio never fails to live up to lofty expectations, which is saying something considering that it's often hard to know exactly what to expect from them at any given moment.
Most recently, the group has retreated from live performances, choosing instead to hole up in its fabled Enosburg Falls recording space, the Cave of Legends, to write and record a new self-titled album. While longtime fans may be chagrined by the band's decision to stay home, the record reveals it to be a fair trade-off. As its eponymous title suggests, the album represents the very essence of Farm, distilled into 45 thoroughly unpredictable minutes. Deeply and delightfully nuanced, Farm is indeed the band's most essential release to date.
A drifting piano progression introduces album opener "Monkey vs. Demons," setting a shimmering backdrop for a sparse banjo line that plinks and plops like a dripping icicle. Like many of the band's finest songs, it is both chilling and strangely inviting.
"Amidst the Rubble" continues the album's atmospheric tone but injects goose-bump-raising violin squeals and frenetic electric guitar over ghostly Rhodes tones, creating a sort of North Country gothic aesthetic.
From here, the band's wondrous multiple personality disorder — each of Farm's three members is a songwriter and plays a variety of instruments — fully emerges. The instrumental "Galena" is a bustle of warped guitar and ringing bells. "Two and a Half" presents a comparatively straightforward, guitar-based arrangement that leads into a sort of spy-noir instrumental, "Goin' Crazy Is Hard Times," featuring lightly brushed percussion and a mournful trumpet over hollow-body jazz-guitar chords.
The bleak "When It's Time" is laced with a wry sensitivity not unlike that of Will Oldham in his more princely moments. The playfully funky "Running Water" follows with sneaky electro blips over an insistent backbeat and hand claps.
"Sun Is a Fog" may be Farm's most ambitious track to date, which is no small feat. Centered on a swirling Middle Eastern groove, it is sinister and hypnotic.
Following "Forgotten Wheel" and "Murder Scene," the album closes on "Cardinal Directions." Over meandering guitars, the song finds band members issuing increasingly confusing driving directions, the sort that would be familiar to anyone who has tried to navigate Vermont's back roads sans GPS. ("You're gonna see North Road. You're gonna wanna take that west.") In a way, the song is a metaphor for Farm itself. Though the signposts and mile markers may look — or, I suppose, sound — foreign, ultimately, the destination is reached. And it's a hell of a ride along the way.
Farm by Farm is available at farmtheband.bandcamp.com and at the Flying Disc in Enosburg Falls.