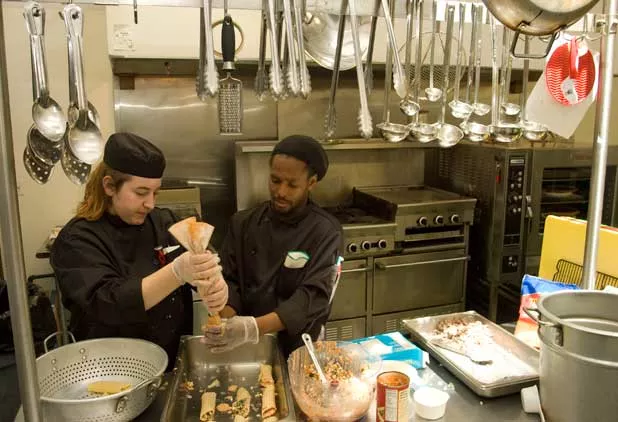 Matthew Thorsen
Tricia Cassidy and Jose Santos
Jose Santos has big dreams. He wants to be a famous drummer, a professional mixed-martial-arts fighter and a cook in a restaurant. While the first two aspirations might be a little pie in the sky, the third goal is entirely realistic.
The 29-year-old is a participant in the Community Kitchen program, an initiative run locally by the Vermont Foodbank that helps people who receive state Reach Up benefits and who have an interest in food service get basic culinary training. Once Santos finishes his 14-week class and the mandatory internship with either Aramark or Sodexho, corporate partners of the program, he'll be on the path to a real career working with food.
This is good news for the Burlington man, who has two young children with his partner and needs a steady income to support them. "The main reason I do this is for my family," Santos says.
Community Kitchen is a national program run by food-bank network Feeding America that trains people on state assistance for careers in the food-service industry. It came to Burlington in January after a trial run in Barre. The first class of seven women graduated in May, and all are either continuing their culinary training or working new jobs in food service.
Training people to work in this industry in Vermont makes sense; food-service jobs can't be outsourced and, in a state where tourism is a major economic driver, they offer opportunities to make a decent living. Plus, hotels, hospitals and universities all employ cooks and need people to manage them. Instructors in the Community Kitchen program see their graduates filling those positions.
The Chittenden Emergency Food Shelf serves as the classroom for the program, where the second batch of students has just finished their first month of training. The Burlington-based host has already seen the benefits of the partnership, says Rob Meehan, executive director of the food shelf. It's a win-win situation, he explains, because the apprentice cooks are feeding his clients. Often the food shelf receives banquet or restaurant leftovers it can't use. But with the Community Kitchen students working on site, food that would otherwise be thrown out and wasted can be made into something else and either served at one of the food shelf's daily meals or preserved in Cryovac packaging. That food can then be frozen and sent to other food shelves around the state.
It's a good thing Meehan agreed to let the program use his facility — his wife, Chris Meehan, director of network partner services and programs at the Vermont Foodbank, might have had something to say about it if he had said no. The couple laugh about their cronyism, but it's all for good. "This is a big score for Burlington and Chittenden County," Rob Meehan says of the program.
Community Kitchen works like this: Participants hear about it from their Reach Up caseworker and apply to get in. Once they are accepted, they are expected to attend every class. Chef Brian Dermody, who teaches the culinary skills part of the program, is very strict on this point, so lateness and absences are rare.
The classes are scheduled from 11 a.m. to 3 p.m. each weekday to accommodate participants who need to arrange childcare. They cover topics such as sanitation, knife skills, kitchen safety and how to use automated equipment. Students also learn the basics of cooking, baking and nutrition. When they graduate, they will have passed their ServSafe test — a food safety exam — and will receive a starter knife kit and a chef coat and pants. The idea is to give the participants every advantage in both culinary and life skills, preparing them to snag well-paying jobs. Cooks like the Community Kitchen grads are in high demand in the food-service industry, Dermody says, because companies such as Sodexho and Aramark don't need to spend the time or money to train them.
But more important than becoming marketable to restaurants, hotels and food- service companies is getting a sense of accomplishment that many Community Kitchen students have never had before, says Dermody. Many of his students have been underestimated their entire lives, but once they're given a chance, they show their drive. "A lot of their life experience hasn't been filled with success, if you know what I mean," Dermody says. "The most interesting thing has been how confident they have become. They are radically changed people."
Watching Santos, a cheerful man with a head full of long, skinny dreadlocks, dart around the kitchen, you can see this confidence. Santos knows what is expected of him and carries out his tasks, even cleaning the industrial coffeemaker, with a spring in his step. He always liked to cook, he says, but never had the opportunity to make a career of it. His partner encouraged him to try out for Community Kitchen, and he jumped on the chance.
"I spent a week selling myself to these people," Santos says. "This program allows me to pay attention to detailed cleaning, kitchen utensils and how to be more organized." And he likes the cooking: "The other day we made calzones that looked like they grew next to a power plant."
Antoinette Bennett-Jones is another student who saw Community Kitchen as a way to develop and learn to market cooking skills she already possessed. She began cooking when she was a child hanging around her grandmother in Florida, she recalls, and grew to love giving traditional dishes her special touch. "I like doing my own flavors and giving food my own taste," she says.
Bennett-Jones, 28, is a woman who leads by example. Her classmates seem to look up to her as a contemporary who has it all together. Like Santos, Bennett-Jones has very specific career goals, though, depending on how the program progresses, they may not involve food service. After the South Burlington woman finishes Community Kitchen every day, she heads over to Community College of Vermont, where she's taking classes she hopes will lead to a degree in nursing. Her goal at the moment is to be a nurse, but Bennett-Jones, single mother of a 9-month-old, is reluctant to discount any career path. "I don't want to put all of my eggs in one basket."
One option open to all Community Kitchen graduates is a 15-week certificate program in professional cooking at the New England Culinary Institute. Three of the seven graduates from the inaugural Community Kitchen class are currently studying braising, plating, pricing and butchery under the tutelage of Chef Josh Gibbs.
The partnership with NECI came about when Dermody and Chris Degenhardt of Vermont Adult Learning approached the cooking school about designing a program for the Community Kitchen grads that would build on what they had already learned. With the Vermont Department of Labor picking up the $8500-per-student tab, NECI couldn't refuse. It was a "perfect marriage," says NECI's director of admissions, Ted Wiechman.
Though the first couple of weeks were a little bumpy at NECI, Wiechman says, the three Community Kitchen grads are progressing well. Every weekday from 8 a.m. to 3 p.m., the students come prepared to push themselves. The goal of the NECI program is to prepare students to enter the food-service world immediately after graduation. "This is a phenomenal, once-in-a-lifetime opportunity," Wiechman says.
The food bank plans on training 20 students in a year's time. Ideally, within that year, those 20 people will be off welfare and supporting themselves with a job in food service or a related field. They also will be able to make smarter food decisions and cook more often and more nutritiously for their families. Perhaps more important, the participants will experience the boost in self-esteem that comes with accomplishing a goal. "There's opportunity; you can feel it," Chris Meehan says. "There's change happening here.