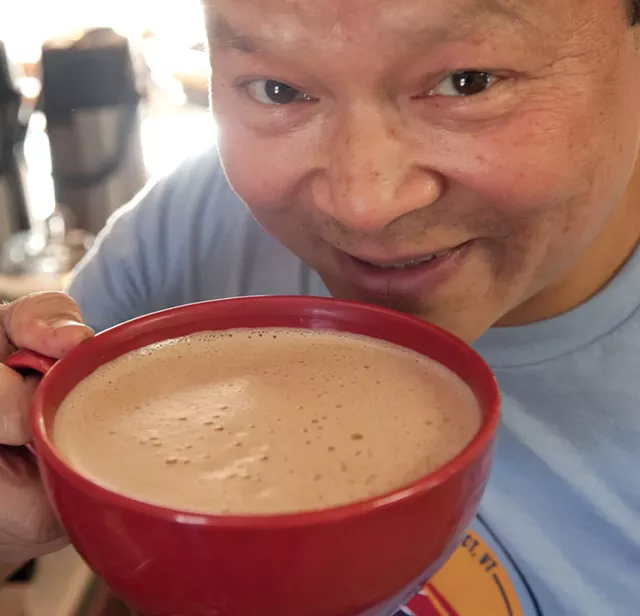 Matthew Thorsen
Firebird Café owner Jake Tran
Vermont feels a long way from California — except at Essex Junction's Firebird Café. There, owner Jake Tran ensures that even on the gloomiest days, customers can get a taste of his sunny home state.
1 Main St.
Chittenden County
Essex Junction, VT
802-316-4265
Soup 'n' Sandwich
Firebird is a casual spot where diners order at the counter from one of a multiethnic crew of young staffers. Finding a table may require some patience, but it's worth waiting for a seat in the bright, airy dining room adorned with avian sculptures and antique bird cages.
Tran says he "learned his flavor profiles" at mom-and-pop Mexican joints back in Santa Cruz, and there is nothing Green Mountain about his salsa verde. The seed-filled concoction explodes with a punch of tangy, salty, umami splendor. It's best over the tender, citrus-spiked carnitas burrito. Or try the beef or chicken in a tomato-based sauce with smoky chipotle peppers. The slow burn builds throughout the meal, intensifying with each bite. For those looking for a taste more Vermont than Santa Cruz, there are panini and wraps with fresh, homemade chutneys.
Matthew Thorsen
Firebird Café
Breakfast is available all day at this laid-back eatery — Tran doesn't put away the eggs at noon. French toast made with multigrain or sourdough bread comes with grilled bananas.
For those unafraid of a caloric splurge, the croissant version is a must. Two croissants are split into four halves, dipped in cinnamony custard and cooked on a griddle. The outside of the flaky pastry retains its crispness, while the custard filling each nook and cranny tastes like a cross between breakfast and dessert.
The only thing that can make the dish more indulgent is a cup of Firebird's hot chocolate, made with foamy steamed milk and semisweet chocolate chips.
It's hot stuff, this "fusion" food bridging East and West coasts.