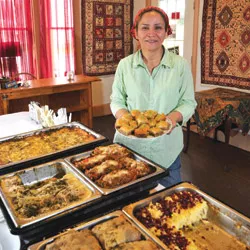 Jeb Wallace-Brodeur
Farah Oberlender
Since Sahara closed on Church Street at the turn of this century, Burlingtonians have had to head to big cities for Middle Eastern fare. That will change this month when a Persian restaurant opens in the North Winooski Avenue space recently left vacant by North End Rotisserie.
Farah Oberlender opened Farah's Middle Eastern Foods in Johnson last year. She closed it in early 2011 with plans to open a Burlington spot while preparing the take-home meals she sells to Healthy Living market in South Burlington. She and husband Jeff Oberlender hope to open their new restaurant and market, Farah's Place, between now and the end of April.
Farah Oberlender says her menu will be greatly expanded from that of her tiny Johnson restaurant and will include 20 different kebabs, with five or six available each day. At lunch, they'll be served as sandwiches on homemade barbari flatbread. Diners can get tomato-based meatballs and elegant rice casseroles all day, but the most complex dishes will be served on weekends to the strains of live music.
By the time summer arrives, Oberlender says, she expects to add a weekend breakfast menu that includes haleem, an oatmeal-like combination of whole wheat, slow-cooked turkey, butter and maple syrup. Light soups and homemade lamb-and-beef sausage will have their place, too.
At the Johnson spot, Oberlender sourced most of her ingredients in Vermont, from meats and veggies to eggs. She hopes to continue that practice and find a butcher in the area who can provide her with local halal meat, which she would serve to the local Muslim community on "halal days" at the restaurant.
In the Northeast Kingdom, diners can no longer head to Johnson for Middle Eastern fare, but late last year they got a new option. Warner's Gallery in Wells River still serves sticky buns and fills its salad bar with more than 50 items. But new owner Paul Sarkis offers those choices alongside his native Lebanese home cooking, including fattoush, shish taouk and hummus.