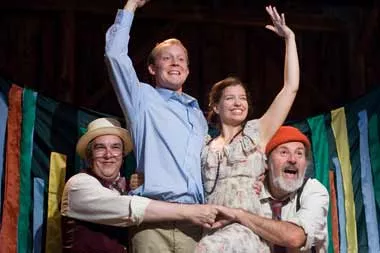 Tim Barden, Lane Gibson Jr., Micaela Mendicino, Joe Garofalo
Rural agriculture's decline has yielded an unexpected artistic dividend: some amazing acoustical spaces for music and theater. Bleating and mooing once echoed off the warm, worn timbers that now frame two of central Vermont's best summer stages. Dialogue is easy to hear at Unadilla's former sheep barn, which hosts between three and five plays each year, plus an always rollicking Gilbert and Sullivan operetta. And Waitsfield's Skinner Barn, once the hillside home to a herd of heifers, now reverberates with Broadway-caliber crooning and hoofing.
Putting on theater where farmers once put up hay requires energy and vision. The driving force behind Skinner's success is Peter Boynton, a former New York City-based TV, film and stage actor. As the Barn's owner and artistic director, he brings together Big Apple performers with Vermont's best - some with big-city credits themselves - for a vibrant summer season.
Skinner's slate of Broadway cabarets, barn dances and youth theater camps concludes with a play - usually a musical. Last year's moving Sea Marks was the world premiere of a fresh, music-infused version of Gardner McKay's quirky Irish romance, and 2005's wild Bat Boy: The Musical was the Vermont debut of a tabloid-inspired comic-horror romp.
This year's show, The Fantasticks, occupies more comfortable song-and-dance territory. But Boynton (who produced, directed and starred) and his cast make the familiar fetching and fun with their airy enthusiasm, arch wit and A-one singing chops.
Since 1960, when The Fantasticks first opened on a small stage in Greenwich Village, the show has garnered lukewarm reception from critics. The unabashedly silly love story mixes theatrical traditions with the subtlety of a Cuisinart. But while "experts" bemoaned the pastiche, audiences came. And kept coming. Playing from the Eisenhower era to the days of "W" - 42 years and 17,162 performances - the show became the longest-running musical in history. Regional, community theater and school productions carried it to 50 states and 67 countries. Just four years elapsed between the close of the original show and last year's off-Broadway "revival."
The secret to The Fantasticks? The crazy blend offers something for everyone: tender romance, madcap mayhem, poetry and lunacy.
Creators Tom Jones (book and lyrics - and, no, not the sexy Welsh singer) and Harvey Schmidt (music) drew their initial inspiration from Edmond Rostand's play Les Romanesques, which inverts the star-crossed affair of Romeo and Juliet. Instead of young lovers overcoming a real family feud, fathers pretend-fight, hoping to draw their children together using reverse psychology. Cloaked by moonlight, starry-eyed Luisa and Matt communicate through a garden wall, like mythic sweethearts Pyramus and Thisbe.
A narrator, the seductive Spaniard El Gallo, helps relay the tale. He ruminates with a few Shakespearean-inspired passages of quiet reflection, but primarily El Gallo becomes the bandito who leads the dads and kids into trouble. He goads the fathers into paying him and his acting associates to stage a faux "first-class abduction" of Luisa. El Gallo cleverly markets the stunt as a way to resolve the "feud" so that Matt feels he has won Luisa in a public and manly way.
The "rescue" goes well, but young love - so appealing in the moon's furtive shadows - pales in the sunlight. The fathers' friendship sours as well. Both Luisa and Matt go off to seek the excitement they've read about in books. Will the world reward or disappoint them? Will they find their way back home, and to each other? For both Romeo and Juliet and Pyramus and Thisbe, love stories end with his-and-her matching tombs. But this audience-pleasing musical never makes it to the cemetery.
Jones and Schmidt's original Fantasticks was an ultra low-budget affair. Its stripped-down production elements drew from the Italian Commedia dell'Arte tradition: Characters are seen on stage as a traveling troupe of actors, working with trunks of basic props; tricks of the trade are not concealed from the audience and become part of the comedy. The show is not humbled by its simplicity, but rather delights in it.
This approach is enhanced by the rustic aesthetic of the Skinner Barn, where the proscenium arch is the old hayloft's posts and beams. A small, raised, wood platform with scaffolding serves as the center-stage "set." The actors move benches, chairs and stools as needed, and dip into the trunks for wardrobe and weaponry.
A trio of supporting performers manipulated many of the props and supplied much of the physical comedy. For example, The Mute, played with poise by Matt Trollinger, mimed the garden wall with a stick, and created rain over the lovers by dropping confetti through twigs. Two hoary "old actors," who climbed out of one trunk, created half a dozen over-the-top characters with threadbare costumes, greasepaint and gumption. One of them, Jim Hogue, is better known in the Green Mountains for his perennial portrayals of Ethan Allen. But he was uproariously funny as the fright-haired, lipstick-wearing, not-so-master thespian Henry, whose Shakespearean lines had more holes than his tattered long johns. Doug Bernstein played Mortimer, his hygiene-challenged partner in theatrical crime, with equal comedic relish.
But the music was the star. The uniformly strong cast exemplified theatrical singing at its best, in which voices reflected character rather than performers trying to outshine each other. And the Barn gave its best, too, with clear, resonant acoustics that allowed singers to avoid that bane of modern musicals, the wireless microphone.
Boynton, dashing and dastardly as El Gallo, opened the show with a simple yet surprisingly powerful rendition of "Try to Remember," The Fantasticks' contribution to the show-standards canon. His interpretation blended radiance and melancholy, and his honeyed baritone made for lean-in listening. This captivating kickoff established a mellow romantic vibe, an emotional center that the show ultimately recaptured with the finale's reprise of the song. Try not to hum it wistfully for days afterwards.
As Luisa and Matt, Micaela Mendicino and Lane Gibson Jr. made a charming pair of clueless lovebirds. Mendicino's wide eyes and floaty, ballet-dancer body language conveyed a girl gripped by naïve fancies and fantasies. Gibson perfectly conjured the cute nerd, given to meteorological love metaphors, by dressing, speaking and moving with measured squareness. The couple's appealing voices blended well, each retaining a slightly green, character-appropriate edge.
Joe Garofalo as Matt's no-nonsense dad Hucklebee, and Tim Barden as Luisa's nebbishy father Bellomy, captured the delightful exasperation and well-meaning bumbling of parenthood. The frustrated fathers also harmonized delightfully. Their hilarious duet, "Never Say No," crystallized an eternal parenting paradox. "Why did the kids pour jam on the cat? . . . Why should the kids do something like that? / When all that we said was no?" In the audience, guilty-as-charged grownups remembering their own defiant-kid ways, grinned sheepishly.
Music Director Jono Mainelli, a Broadway vet, accompanied the singers energetically from the piano, supported brilliantly by 18-year-old harpist Rebecca Lewis. Ryan Shaefer's oboe occasionally veered off pitch, but his percussion work was on target. James McNamara's lighting design was effective overall, given the limited number of places to hang lights. (Actors did step beyond lit areas from time to time.) The costumes were terrific, especially the old actors' pirate rags, El Gallo's sleek black bandito ensemble and Hucklebee's goofy white pants with red-and-navy Holstein spots.
With its wafer-thin plot, cheesy puns and odd shifts of tone, The Fantasticks seems to ask for a theatrical spanking. But even jaded New Yorkers couldn't resist its charms, for four decades. Maybe the show - imperfect yet somehow irresistible - speaks to each of us about our flawed humanity. The magical Skinner production captivated me with sonorous singing. Then it reminded me to apologize to my mom, again, for the prolonged rebel-without-a-clue childhood phase. Perhaps, this time, in song.