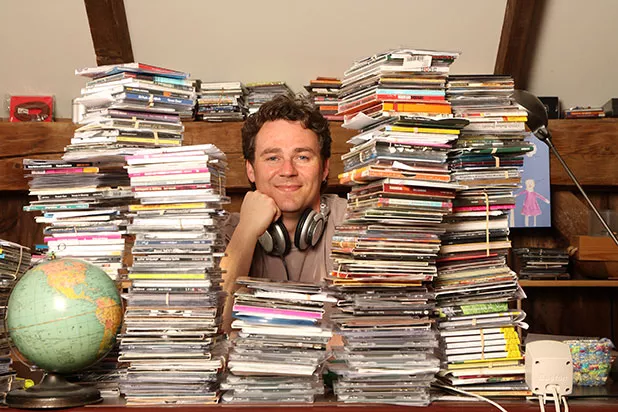 It must be fun to be Jacob Edgar.
He's the founder of a cutting-edge world-music label, Cumbancha. He's an internationally respected ethnomusicologist who, for nearly a decade, traveled the globe as the vice president of A&R for one of the most influential labels on the planet, Putumayo World Music. This month, he adds another feather to a cap already crowded with bright plumage: television host.
On Tuesday, February 9, Edgar debuts as the host of a new travelogue program for PBS called "Music Voyager." Think the Travel Channel's "No Reservations" with Anthony Bourdain, except that instead of seeking cultural enlightenment through food, it is unearthed through music. And instead of a brash New Yorker, your host is an amiable music junkie from Plainfield.
But how did 40-year-old Edgar — who built his career as the man behind the scenes — come to be the face of a budding television franchise?
Prior to "Voyager" he'd worked with Putumayo for several years trying to develop television programming about international music, but had little to show for it.
"We had many trials and tribulations, spent a lot of money, traveled a lot all over the world to try and make some things happen," says Edgar. "And nothing ever really came together."
Out of the blue, he received a phone call from producer Farook Singh, who had recently pitched Putumayo an idea for a music-and-travel-themed television program. The pitch was rough around the edges. But Singh had backing from National Geographic and was advised by the label to contact Edgar as a consultant.
Singh and Edgar spent several months hashing out everything from potential destinations to the minutiae of back-end logistics. But when it came to finding a host for the program, they were coming up empty.
"We had all these sexy, young people in mind … celebrities," says Edgar with a chuckle.
After weeks of brainstorming, Singh suggested that Edgar should host. Edgar was reluctant at first. But he warmed to the idea after traveling to New York City for an elaborate screen test that would ultimately turn into a miniature version of the actual show.
"We went to all of my favorite hole-in-the-wall places," says Edgar, recounting various NYC nightclubs, restaurants and music shops he visited, cameraman in tow. "We just kind of wandered the city."
The show's execs dug it. And why not? If you're making a program about scouring the planet for the world's best music, few could be more qualified to host than a man who's spent the bulk of his adult life doing just that. However, while Edgar is a logical fit to host "Voyager," and though he seems natural in clips available on the show's website, he says the experience is anything but.
"It's completely unnatural," says Edgar. "It's not at all like my regular life."
The reality of being Jacob Edgar isn't quite as romantic as the Jacob Edgar portrayed on the show. When he's working in the field researching new talent for Putumayo or Cumbancha, Edgar actually spends most of his time in production studios and at record-label offices. On television, he learns how to play cricket before taking in electronica sets at Mumbai's hottest dance club. In another episode, he braves the Jamaican jungle for a session with Akwaaba drummers.
"It's actually a lot more entertaining to travel for the show than it is [for] my regular life," says Edgar. "I get to experience a lot in a short period of time."
That is not to say his travels are completely without peril. In a promo spot for the show, Edgar states, "I suffer … so you don't have to." While the show's ultimate goal is to celebrate the world's great music, some collateral damage — in this case, bad music, and the occasional bout with food poisoning — comes with the turf.
"There is a filtering process," says Edgar, "And I have to listen to all of the crap, too."
But many of the most entertaining and enlightening moments on Bourdain's "No Reservations" stem from bad meals or uncomfortable situations, so the sour notes on "Music Voyager" likely will make for compelling TV, especially alongside the show's frequent brilliant discoveries.
"I hope that it will appeal to people in the same way his [Bourdain's] show appeals to people who aren't all that interested in food, in particular," says Edgar. "They'll just find it to be entertaining television and they'll learn about music along the way."