Courtesy of Weird Al YankoviC
Weird Al Yankovic
When it comes to music, beauty is in the ear of the beholder. We all have different tastes and preferences, which is one reason why being a fan is so much fun. But most of us follow certain artists with shades drawn, as it were — perhaps because they're not "cool," or because they're over the hill. Guilty pleasures? Maybe. But you can't choose who you love. And you should never be ashamed of what gets your rocks off.
To expand on that thesis, Seven Days recently sent three reporters to three very different regional concerts. Stephen Mease, a photographer, writer and public information director for Champlain College, traveled to Montréal to see pop superstar Taylor Swift, where he was older than most of the fans by a good three decades. Thirtysomething Seven Days music editor and confessed music snob Dan Bolles lived out a childhood dream by catching Def Leppard in Gilford, N.H. And Seven Days arts writer Ethan de Seife, a former academic and one of the brainiest folks we know, stayed a little closer to home to experience the satirical glory of "Weird Al" Yankovic at the Flynn. We don't mind admitting that each proved to be a transcendent performance.
It's a Taylor Thing
Stephen Mease
Taylor Swift onstage in Montréal
Last Tuesday afternoon I crossed into Canada on a mission to photograph Taylor Swift in concert in Montréal. Little did I know I was going to earn my wings as a Swiftie in the Taylor Nation.
My journey really began back in 2007, when I saw Swift light up the stage at the Champlain Valley Fair in Essex Junction. She opened for Brad Paisley, but it was clear even then that the flirty young woman dressed in a blue sundress and cowboy boots was destined for top billing.
Her first album, released in 2006, was titled simply Taylor Swift. Fast forward through Fearless (2008), Speak Now (2010) and Red (2012) to last October, when Swift left Nashville and headed to the Big Apple. No more teardrops on her guitar, no more high school crushes, no more wondering why people were so mean. It was time to have fun. With the release of her fifth album, 1989 (2014), Swift celebrated the year of her birth and her musical rebirth as a pop sensation.
By now you may be wondering, Isn't the typical Taylor Swift fan about 13 years old? Yes. And I am old enough to be her father. So is it creepy to be that middle-aged guy who sings along to Swift in his car, follows her tweets, has her photo on his iPhone screen, and ordered the new CD deluxe edition for the bonus tracks?
I don't think so. Swift is the type of person we can aspire to be at any age: She's (reportedly) kind to her friends and compassionate to those in need, knows the importance of thanking fans, and isn't afraid to stand up to a bully.
I work in public relations, so I admire Swift's skills in that arena, too. I watch and learn as her team heightens the anticipation of her every move. Sure, she's had a few run-ins with errant boyfriends, pop-star catfights, photographers and onerous contracts. But show me someone else who has stared down Apple Music and made it blink, and then given a family $50,000 to help pay the medical bills for an 11-year-old girl with leukemia.
But back to Montréal and Swift's 1989 World Tour at the Bell Centre. Feeling a little apprehensive about my first arena concert in two decades, I circled the construction minefield that surrounds the home of the Montréal Canadiens a half dozen times before settling on a $25 parking lot.
Several hours early, I scouted my way to the box office, where I found a long line of cute foxes, feathery pegacorns, starched ballerinas, TS cheerleaders, princesses and girls carrying handmade signs bearing a favorite lyric. The crowd was sprinkled with chaperoning parents, especially for the youngest concertgoers wearing blinking tutus, fuzzy cat ears and bedazzled T-shirts. Their eyes were wide with the anticipation of their first Tay-Tay concert.
The citizens of Taylor Nation were running in tight teenage-girl packs, dancing and singing along to her music blasting from the Virgin Radio 96 FM booth. It was a sea of Swifties. Tamara Pless of Jericho, who came with her 15-year-old daughter, Isabel, wore a T-shirt that summed up the scene: "It's a Taylor thing, you wouldn't understand."
Finally, the doors of the "Belle" Centre opened. Within an hour, all 14,000 seats were filled.
My photo pass never materialized, but Swift's publicist did upgrade my seat. Attached to it I found a white plastic LED bracelet. Gifts from Taylor, these were to be worn during the concert to create a synchronized starscape. Of course, the LED lights on costumes and signs already made the place twinkle like a Swiftmas tree.
Going to a concert alone, you're likely to meet people. The 20-year-old woman beside me turned and apologized for crying. "I'm still in a bit of shock," she admitted. She'd just come from a backstage meet-and-greet with opener Vance Joy, for whose show she'd snagged tickets essentially by stalking him on Twitter and Tumblr. It seemed impolite to tell her I had no clue who Vance Joy was until he played his last song, "Riptide."
On my left, a 22-year-old and her dad plopped into their seats at the last minute, nachos and beers in hand. Giddy with excitement, the woman turned and asked if I was with my daughter. "No," I admitted, "I came alone. It was just something I really wanted to do." "Oh, that's really cool," she said, smiling. "Give me five, you are a Swiftie."
Finally, the house lights dimmed. It was time to travel back to 1989, when I was 34. I settled back in my seat as the curtain fell, a New York skyline replaced it and dancers rose from beneath the stage. Then there she was, a sparkly Taylor Swift wearing sunglasses, a glittery green jacket and a purple skirt. She was dancing and singing "Welcome to New York," the song that earned her the title of NYC Global Welcome Ambassador. It was a kick-ass start to a mind-blowing two-hour concert that covered all the songs from her new album and reimagined three previous hits in pop-synth fashion.
Over 18 songs, Swift and her all-male dancers changed outfits at least a dozen times, while video testimonials from her friends filled the gaps. All the tropes of stadium shows were there: steam-cloud blasts, pyrotechnics and giant video projections.
The finale, featuring a great deal of booty shaking and the sick beats of "Shake It Off," unleashed a blizzard of confetti. Suddenly, Swift, her backup singers and dancers were taking a final bow. And then they simply disappeared. Poof. There was no question of an encore as the words "THANK YOU" filled the video backdrop and the lights came up.
As I crossed the Champlain Bridge with a CD blasting the same songs I'd just experienced, I was surprised by my own reaction. Sure, the concert was amazing, I got some great photos of Taylor and I made it out of Montréal without getting lost. But what I liked most about the show were the quieter moments between songs when Swift talked to her people. And by people I mean her female fans — 99 percent of the audience. Her remarks combined pep talks, girl-power therapy sessions and a big-sister arm around the shoulder. They might have been scripted, but they seemed sincere.
I reached Highgate at about 1 a.m. The female border agent smiled when I told her where I'd been. "Did you go alone?" she asked. "Yup," I answered.
"Could you show me your bracelet from the concert, please?" she requested. I dug it out of my camera bag and gave it a shake to light it up, showing that, yes, I was a proud Swiftie with dual citizenship in the USA and Taylor Nation. With that, the agent handed me my passport and waved me on toward home.
Let's Get Rocked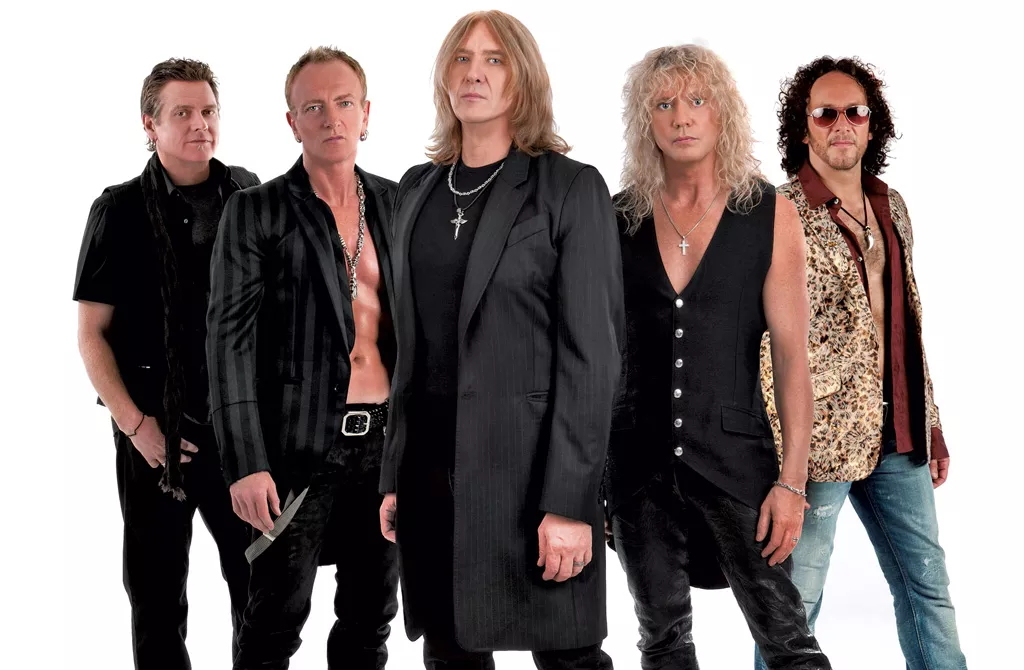 Courtesy of Ash Newell
Def Leppard
As the last notes of their 1983 hit and encore finale "Photograph" still lingered in the steamy night air, Joe Elliott and his Def Leppard bandmates strode hand-in-hand down the center-stage catwalk for one final, triumphant bow. Beaming as though the sustained ovation were rocking a packed Wembley Stadium circa 1987, and not the comparatively tiny Bank of New Hampshire Pavilion in Gilford, N.H., Elliott addressed the crowd.
"Don't forget about us," he said, punching his left arm in the air, "because we won't forget about you!"
Only two words can describe what happened next: fucking hysteria. The lights came up, the crowd went bonkers, and I felt as though I'd just witnessed one of the most satisfying concerts of my life.
Cynical readers may assume Elliott's mushy farewell was mere audience pandering: Aw, you say that to all the fans. Perhaps so. But you had to be there to appreciate the pure joy on the faces of Elliott, bassist Rick Savage, guitarists Phil Collen and Vivian Campbell and still-boyish drummer Rick Allen — the last clad in a sparkly tank top and Union Jack-festooned swim trunks, with another Union Jack covering the shoulder where his left arm used to be. You had to hear the sweet, earnest tinge of sentimentality in Elliott's faint British lilt to know he meant it.
Elliott sounded like a man who, as he wished a faithful crowd goodnight, knew there were only so many rapt audiences left to thank.
Not to get all "Behind the Music" on you, but Def Leppard have endured more than their fair share of hardships since they formed in an abandoned spoon factory in Sheffield, England, in 1977. Troubled guitarist Steve Clark — who cowrote many of the band's greatest songs, including my favorite, "Photograph" — succumbed to a fatal cocktail of booze and prescription meds in 1991, at the height of the band's fame. Clark's replacement, Campbell, has battled Hodgkin's lymphoma since 2013. His cancer is back after two periods of remission. And, famously, Allen lost his left arm in a car accident on New Year's Eve 1984, at age 21. Def Leppard have paid their pound of flesh, and then some.
Yet Def Leppard persevered. Allen trained himself to drum with three limbs instead of four. Campbell hasn't stopped performing since his diagnosis. For most of the 1980s and into the '90s, they were the biggest arena-rock band on the planet. Their 1987 album Hysteria is one of the few records in history to chart seven singles in the Billboard Hot 100. They are one of five rock bands to have two albums — Hysteria and 1983's Pyromania — sell more than 10 million copies in the U.S. upon their original release. The others are Van Halen, Led Zeppelin, Pink Floyd and the Beatles.
The rise of grunge music in the mid-1990s was in many ways a direct response to the excess of the glam metal era, with which Def Leppard was somewhat erroneously identified. In fact, they were more pop metal infused with New Wave sensibilities than glam, and far more musically adventurous than, say, Mötley Crüe, Twisted Sister or Poison. Nonetheless, changing trends caused the band to lose much of its cultural relevancy.
Def Leppard continued to tour and make records, albeit identified increasingly as a nostalgia act rather than as the hard-rock icons they rightfully should be. As they showed on a July evening in New Hampshire, Def Leppard still rock. Hard.
I grew up on Def Leppard. Hysteria was the second CD I ever owned, purchased in a comically long cardboard sleeve with dutifully saved allowance money. (The first? Van Halen's OU812, snagged from a drug-store record bin when I was 10.) I didn't need Joe Elliott to remind me not to forget about them, because Def Leppard were one of my first and most passionate musical loves. They were fun. They were sexy. They had trebly vocal harmonies and guitar sounds that didn't seem humanly possible. Just as importantly (at the time), they were a far cry from my parents' Emmylou Harris records.
How could I forget? What I needed was the rock. Def Leppard obliged.
At their concert last week, the band tore through every single hit you could want to hear. Every. Fucking. One.
Maybe it was the army of $7.50 Coors Lights we consumed. Maybe I just wanted the band to be as fist-pumpingly good as I had always imagined they would be. But even two decades past their prime, and even though 55-year-old Elliott had to detour around some of the screamiest vocal lines, Def Leppard were perfect.
"Rocket," well, rocked it. During "Hysteria," I giddily hugged my girlfriend as we sang along like a couple of drunks at karaoke. "Armageddon It" was as muscular and sexually charged as it was in 1987 — though Elliott's "C'mon, Steve!" before what would have been Clark's signature solo was sadly, and understandably, absent.
The ever-jacked Collen, who must get oiled up before shows, shredded all his solos — and many of Clark's — with shirtless bravado, especially on "Rock of Ages." "Love Bites" brought me to my knees like it has for 25 years, matched only in frustrated romantic rock potency by "Bringin' On the Heartbreak." Set closer "Pour Some Sugar on Me" — because of course it was the closer — was as hot and sticky-sweet as ever. By the time "Photograph" happened, I was delirious.
Two days after the show, my girlfriend texted me, "I'm sad. I'm so, so sad." I knew exactly what she meant. The days following the show were like that weirdly depressing time after a great vacation when beach world and real world just don't jive. Because everything after Def Leppard simply isn't Def Leppard.
If you don't love Def Leppard, you may not understand. But for two short, brilliant hours in New Hampshire, 10-year-old me and 37-year-old me were united in the enduring music of one of rock's greatest bands. Joe, I won't ever forget.
(And, baby, those "Love Bites" panties we saw at the merch booth are on back order.)
Getting Weird
Bobby Hackney Jr.
Weird Al Yankovic projected onstage at the Flynn Center
One of the running jokes of the local cultural scene is that every act that plays Burlington's Flynn Center for the Performing Arts receives a standing ovation. Once reserved as an accolade for extraordinary performances, the gesture has become meaningless. Not so with the ovation "Weird Al" Yankovic and his band received on Sunday evening.
In 30-some years of concertgoing, I'm not sure I've ever witnessed more sincere enthusiasm for a performer. Nor had I ever seen a more diverse crowd, every member of which was stomping, clapping and hooting in joyous admiration for the wildly entertaining show they'd just seen. Everyone at the Flynn knew Al's secret: He's no mere novelty act. He's a hugely talented performer who knows and loves his audience and works hard to give them exactly what they want.
Yankovic grabbed the audience right from the start and never let go; his entrance ranks as one of the best I've ever seen. After a crazy-quilt pop-culture video montage, a huge screen revealed Al in his customary Hawaiian shirt, apparently in a dressing room. As he began singing "Tacky," his parody of Pharrell Williams' smash hit "Happy," the crowd quickly realized that this was live video.
The audience freaked out as Yankovic strutted and sang his way outside, through an alley — our alley! in our town! — into the theater, down the aisle and onto the stage. Framed by the Steadicam operator against the screen where his own image was projected, one Al multiplied recursively into infinite Als. But even that infinity of Als might not have been enough for his hungry, revved-up fans.
Those fans, while not the most racially or ethnically diverse, varied in age from 5 to about 75, a range that speaks to the universal appeal of Al's brand of clean, clever musical comedy. The 6-year-old girl in front of me was grinning just as widely as the AARP-age, Hawaiian-shirt-wearing couple to my left. Music-scene hipsters were about the only group not well represented. In their stead were 40-year-old dorks wearing Jedi robes. My people.
Well, sort of. I may have been wearing a Hawaiian shirt, but I'm not enough of an Al superfan to have busted out — as many in the crowd did — Jedi robes, curly-hair-and-moustache getups or tinfoil hats (a reference to Yankovic's song "Foil," a parody of Lorde's "Royals").
I suspect that my relationship to Yankovic resembles that of many others in that audience: I loved his music when I was a nerdy kid and have always admired him. But nowadays I don't even know the songs he's parodying. When I first heard Al's "White & Nerdy," I had to call my sister to ask about the source song ("Ridin'" by Chamillionaire and Krayzie Bone) — which I still have never heard. By the way, Yankovic is actually a very fine rapper.
He's also a savvy performer. Yankovic has been in the comedy-music business long enough — since 1976 — to know that his audience consists of nerds of all ages, not just 40-ish guys like me who own In 3-D on vinyl. At the Flynn show, newer songs, such as "Foil" and "Perform This Way" (Al's Lady Gaga spoof), received as much stage time as did mid-period songs such as "Amish Paradise" and "Bedrock Anthem." There were oldies, too, including "Dare to Be Stupid," and even a beatnik-coffeehouse version of "I Lost on Jeopardy." I can't imagine that any fan left unsatisfied.
Even savvier were the video montages that played between many songs. Ostensibly there to entertain us while Al and his band members took time for their frequent, elaborate costume changes, the montages also served a more important function. Consisting of TV and film clips featuring or referring to Yankovic, they eloquently attested to his pop-culture staying power.
As the clips reminded us, this is a man who had a guest spot on "The Simpsons" and a cameo in one of the Naked Gun movies; who serenaded Jon Hamm and a befuddled George R.R. Martin at the 2014 Emmy Awards. He even voiced a curly-maned equine version of himself on the rebooted "My Little Pony" show, fergodssake. None of this came across as boastfulness. The clips played more like good-natured inside jokes between Yankovic and his fans.
As a run-up to his Star Wars-themed encore, Weird Al secured my fandom forever by reenacting James Brown's famous "cape routine," feigning exhaustion before storming back for more. (Hell, the exhaustion could have been real. It's not often remarked on, but Al can dance.)
Weird Al has been soaking up and gleefully reconfiguring American popular culture for nearly four decades. And, as this show proved, American popular culture is the better for it.