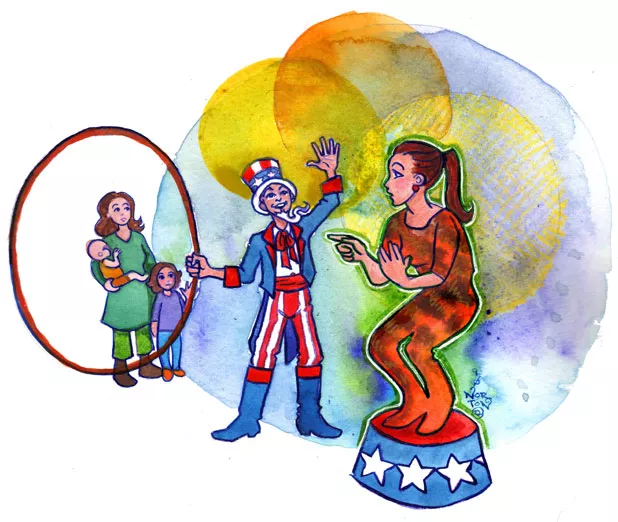 On October 27, 2009, I adopted my son, Graham, and my daughter, Ivy. When I posted the news on Facebook, more than 40 people from every stage of my life congratulated me. The mother of one of my childhood friends even mailed a card wishing me "Happy Adoption Day!"
The outpouring of support was sweet, but I had mixed feelings about the occasion. Honestly, I didn't want to adopt my kids in the first place.
My problem with adoption wasn't that I didn't want to be their parent; it was that I've always been their parent. I resented having to ask the state to certify our family.
My partner, Ann-Elise, is our kids' biological mom. She and I were civil unioned in 2000; Graham was born in 2006, Ivy in 2008. I was as involved in their conception as it was possible to be without providing genetic material, starting from the time when I asked our mutual friend to be our sperm donor. I got teary when I heard the kids' heartbeats for the first time in utero. I cut their umbilical cords when they were born. I even gave them my last name. I can't look at them and see a physical reflection of myself, but I've been humbled and blessed to experience every other aspect of parenthood — first words, sleepless nights, poopy diapers, the whole deal.
Which is why it bothered me so much to have to adopt them. When you adopt a child, you don't just fill out some forms and pay a fee. You're asking the state to grant you parental rights and responsibilities — to confer a large measure of control over the child's life. The state takes that seriously. You get fingerprinted by the police. You're subject to a criminal record check. And you have to submit to a home study conducted by a social worker.
In Vermont, if you're filing for a stepparent adoption, which is technically what I sought, you can ask the judge to waive the home study. The request is typically granted when your record is clean, which mine is. No big deal, right? I just had to write to the judge and explain why we shouldn't have to be visited by a social worker.
But typing that request was difficult for me. I understand why there are all these precautions. In most cases, they make perfect sense. It's important to protect children. But I was essentially asking the state to protect my kids... from me. It was demeaning.
And when supportive friends and family congratulated me on the adoption, I felt as if they were somehow erasing the parent I had been before it happened — as if, now that the state had given its approval, we were finally a real family. That wasn't true, and it was hard to take.
It felt unfair. But was it? I wondered.
Like most people, I don't know a whole lot about family law. I know my attorney told me that if I wanted to protect myself and my kids, I should adopt them. But I wasn't entirely clear on why. Did I need to adopt them because we don't share DNA? If a straight couple conceived a child using a sperm donor, would the man have to adopt the child to be considered its father?
After I finalized my adoption, I started asking those questions. Not surprisingly, there are a lot of people looking for answers these days. Family law differs from state to state — if I lived in Florida, I wouldn't even be able to adopt my kids. And it's in flux all across the country, as governments grapple with rapid advances in genetic testing and fertility technology, and changing definitions of family.
I started by visiting my attorney, Deb Lashman, who practices family law in Burlington. She also literally helped secure my right to adopt my kids, as a plaintiff in Vermont's landmark gay adoption case. She and her former partner, Jane, have two boys, Ben and Ethan. Jane gave birth to them both. Lashman attempted to adopt them in 1992. Despite a positive review from a social worker and supportive testimony from an expert the couple hired for their adoption hearing, the Washington County probate court turned her down. She took her case to the Vermont Supreme Court and won. It was the first time a state's highest court sided with a lesbian woman who sought to adopt her partner's biological children.
Every single time I've run into Lashman since the kids were born, she's said something along the lines of "Cute kids. Have you adopted them yet?"
I felt a little sheepish complaining to this trailblazer about a process that was, for me, more or less a formality. But she assured me she wasn't annoyed by my sense of entitlement. "Don't feel guilty," Lashman said.
She explained that, even before I adopted my kids, the State of Vermont saw me as their legal parent. That's because I was civil unioned to their biological mom at the time of their birth. Civil unions, by design, are equal to marriage, and children born into a marriage are considered the legal responsibility of both partners. So if a married straight couple used sperm from an anonymous donor to conceive a child, that child would, by default, belong to both members of the couple because they were married.
This is true even in cases where the child results from an extramarital liaison. On November 17, the New York Times Magazine ran a lengthy cover story about men who find out they're not biologically related to their children, called "Who Knew I Was Not the Father?" The central figure is Mike L., a Pennsylvania man who is currently paying child support for his 11-year-old daughter after his marriage to her mother ended in divorce. The two split when DNA testing revealed that Mike L. was not biologically related to his daughter. Now the court has ruled that Mike L. has to support the girl who still considers him her father — even though she's currently living with her mother and her biological father. Mike L. is fighting the ruling. The article is filled with similarly complicated stories.
But, as Lashman has pointed out to me on previous occasions, relying on my civil union to establish parental rights only works in states that recognize my civil union. That's the real problem.
Let's say I hadn't adopted the kids, and our family got into a car accident while visiting my relatives in North Carolina. The hospital staff there could conceivably keep me from even seeing them.
Or let's say, for argument's sake, that Ann-Elise and I split up, and she took the kids to a state that didn't recognize our civil union. If I hadn't adopted the kids, she would have been able to argue that I'd never been their parent.
That's what Lisa Miller has done to her former partner, Janet Jenkins. Their highly publicized custody case serves as a cautionary tale. Miller gave birth to their daughter, Isabella, in 2002. They were civil unioned at the time. Shortly after the birth, they moved to Fair Haven, Vt., where Jenkins still lives. Jenkins has said she didn't adopt their daughter because she thought the civil union would protect her parental rights.
But in 2003, Miller left Jenkins and moved with Isabella to Virginia, which doesn't recognize same-sex unions. Ever since, Miller has fought to keep Jenkins from seeing the girl by arguing that their civil union isn't valid in Virginia.
That's one reason Lashman has been pushing me to adopt my kids. "The adoption will be recognized," she says, "as far as we know, even in states that don't recognize the civil union or marriage."
So far, the courts have sided with Jenkins. Just two weeks ago, Rutland County Family Court Judge William Cohen actually gave Jenkins custody, arguing that it was the best way to ensure Isabella had access to both her mothers. It's the first time a court has favored a nonbiological parent this way. Miller's lawyers are appealing the decision. Carl Tobias, a law professor at the University of Richmond, told the Rutland Herald he didn't think appeals courts in either state would overturn it, but Miller's advocates say the case could be headed to the U.S. Supreme Court.
The situation is heartbreaking for all of them, and things would have been a lot clearer if Jenkins had just adopted Isabella in the first place.
Ultimately, that's why I had to swallow my pride and adopt my kids. Because, until my union is accepted in every state, my family is at risk. I could never knowingly subject them to a bitter fight.
So, I jumped through the hoop. But I hope that, someday, people in my position won't have to.