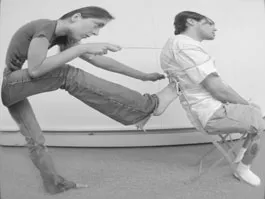 Matthew Thorsen
ROPE TRICKS Holly Chagnon and Seth Jarvis work it out.
Not to be confused with Rope, Alfred Hitchcock's 1948 film about murder, Rope: A Love Story is a new play with a killer instinct for what makes the world go 'round. That's not to say the two-character drama offers a particularly romantic scenario. Written by Jason Palmer and directed by his sister Susan, the intense saga taps into an absurdist theatrical style in navigating the labyrinth of emotional commitment.
Not bad for a couple of kids from Colchester. The Palmer siblings — she's 26, he's 30 — are presenting their experimental piece at the FlynnSpace in Burlington at the end of this month. It consists of five acts, dubbed "blocks," that are linked by ellipses: A man and woman meet in a bizarre manner, nervously explore the possibility of connecting, begin to unravel that connection and ponder a seemingly inevitable fate, before returning to their original confusion. In one form or another, rope shows up as a prop in every sequence.
During warm-up exercises before a recent rehearsal, Susan Palmer leads her two young actors through a series of slow, dreamlike movements reminiscent of t'ai chi. Holly Chagnon and Seth Jarvis stretch, hop in place, turn somersaults, thrust their necks back and forth and rotate their shoulders, hips and ankles.
"Imagine a pencil coming out of your chest," Palmer tells them at one point, "and you're going to draw circles on the wall with it."
As they do her bidding, it looks a bit like people pretending to set hula hoops in motion. The activity is part of specific physical training known as "biomechanics," a kinetic combination of athleticism and acrobatics devised by an early-20th-century Russian director named Vsevolod Meyerhold. He advocated symbolism in staging compared with the push for psychological truth touted by his long-time colleague and legendary acting coach Konstantin Stanislavski.
During Stalin's reign, Meyer-hold was arrested as "an enemy of the people." His unorthodox, politically incorrect ideas about art were considered to be subversive. He was executed in 1940.
To Susan Palmer, who studied acting in Moscow for five weeks this winter, the martyred Meyer-hold is a hero. Her own unorthodox ideas about art have infused Rope: A Love Story with a choreographed fluidity. "This technique brings balance, control, concentration and muscle memory to the actors' efforts," she says. "They can become more efficient and economical."
A local poet and Johnson State College graduate student, Jason Palmer was persuaded to take a crack at crafting the play based on Susan's kernel of an idea. "I told him a general outline, that it should have a small cast and center on a love story," she says. "I wanted it to be like [playwright Eugene] Ionesco's work, something that doesn't always make sense but with elements underneath that do. I had total faith that whatever my brother came up with would be interesting."
Jason felt close to the material. "I really liked the theme," he recalls. "I was personally going through the end of a long-term relationship. And in my prose I've always been interested in dialogue. I have written other, more linear plays, but this is the first one to be produced."
Rope, he adds, is "about what's happening beneath the surface. It's the implications of the dialogue, rather than what's actually said. The essence lies one step below the conversation."
---
A Vermont native, Susan is a frequent globetrotter, which has often been a challenge for her family. "My poor parents freak out every time I announce another trip," she admits, although by now Joan and David Palmer — a career counselor and a manager at IBM, respectively — should be accustomed to their daughter's peripatetic lifestyle.
After graduating from Colchester High School in 1993, she attended the University of Southern Maine to earn a bachelor's degree in acting, but a senior-year-abroad program catapulted her into an international frame of mind. "An advisor told me to go to the University of Central Lancashire in England," explains Palmer, a willowy strawberry-blonde. "But it turned out they had absolutely no theater there."
So she spent two weeks commuting daily by train, bus and foot to the Arden School of Theater in Manchester, while also pursuing women's studies at Lancashire. "I was exhausted," Palmer says.
Back in Maine for graduation, she participated in a workshop based on the acting technique of Michael Chekhov, the nephew of playwright Anton Chekhov. He allowed performers to plumb their imaginations rather than always reaching for the "emotional recall" demanded by Stanislavski, who was his contemporary.
Fellow students gave Palmer a list of people overseas who use the Chekhov method. "I wrote to them and got a letter back from the Rose Theater Company in Britain," she says. "They were holding auditions at a farm in Wales for a medieval folk tale, Parsifal and the Holy Grail, that would tour Europe."
She hopped on a plane and auditioned. While waiting to hear if she would be included in the cast, Palmer went to Switzer-land for six weeks to work on an experimental theater project. The Rose company called her back and, after three months of training in 1999, the troupe toured London, Ireland, Germany, Holland, Denmark, Finland, Latvia and Lithuania.
"We rode everywhere in a big blue bus," Palmer says of her yearlong itinerary. She came home to Vermont in 2000 "trying to make theater happen but, after the Rose, it felt so small here."
Then, last summer, Palmer got an enticing offer from the Rose Theater Company's choreographer — a Canadian woman living in Belgium. "She invited me and two other people to work with her in Churchill, the polar-bear capital of the world. It's in the Arctic. There are no roads into the town, so you can only get there by train or plane. We spent three and a half months with no electricity or heat."
Talk about small. "Many people in Churchill had never seen a play before," Palmer explains, noting the trip was financed by a grant from the Manitoba Arts Council to do improvisational theater with Inuit children. "We did Nuna and the Magic Drum in English, but I set some of their poems to music. It was an amazing time."
About six months later, Palmer found herself in Russia. The sojourn was arranged through Middlesex University in London, where she is earning an MFA in directing. In Moscow she formed Global Theatre Works with "associate artists" from Germany, Italy, Turkey and Hong Kong. It's also where she communed with the spirit of Vsevolod Meyerhold. "Every morning we'd do three hours of his very physical training," Palmer says. "He was an obsessive man, but I like the fact that he believed in bringing theater into the countryside. That's the Global Theatre Works mission, too: bringing faraway things into smaller communities."
When Palmer returned home in June to celebrate her parents' anniversary and Jason's birthday, she felt the time was right to fulfill that mission in Burlington. After convincing her brother to begin writing Rope, "I booked the FlynnSpace and cast two of his friends. He realized I was serious about this."
She was also serious about her methodology, as the two Rope actors have learned. Seth Jarvis, 27, is a slam poet; 26-year-old Holly Chagnon dances. Al-though both Burlington residents have acted before, they say the exacting Palmer-Meyerhold approach is demanding. In the first block, Jarvis is literally tethered. In the second, moving as if along a tightrope, the two actors freeze in "sculpture" positions, advance toward each other and then lean away, uttering shy confidences: "I believe in cultural fairy tales," Jarvis tells Chagnon. After standing side by side, she climbs onto his thigh in a stylized ritual that seems to convey nascent trust and intimacy.
"That's their idealistic fantasy world," Susan Palmer observes, as the actors launch the third and most realistic of the blocks — a depiction of the mundane frustrations that can eat away at love.
"My poems are often like little vignettes," says Jason Palmer, who hopes his graduate work in education at Johnson State will enable him to teach wilderness writing workshops. "That leads well into a metaphorical bridge for people to climb across what's being said in this play."
Susan Palmer might not realize she is crossing a bridge into history. Michael Chekhov's persecution in Russia eventually prompted him to emigrate to Hollywood. Although Vermont's Rope has no ties to the Hitchcock movie, Chekhov did receive a 1945 Oscar nomination for his role as a psychoanalyst in another thriller directed by the "master of the macabre" — Spellbound