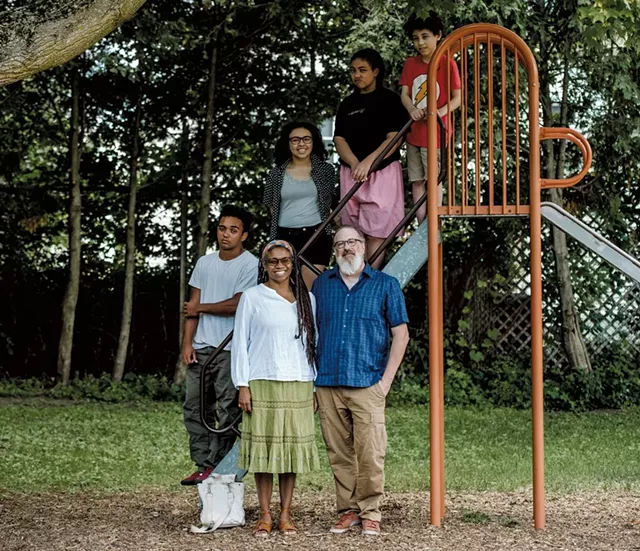 Sam Simon
Winnie, 48, and Ted, 53, with kids (from bottom to top) Russell, 19, Charlotte, 21, Josephine, 13 and Desi, 11, at Roosevelt Park in Burlington
Kids VT: You have older kids and younger kids and you all still live together!
Ted: We do! At the Rose Street Artists' Co-op. We've lived there since Charlotte was about 3. We love it, and it also just makes sense economically.
Winnie: We're really used to being in the same space. A while back we were housesitting for some friends with a really big house, many bedrooms, lots of room to spread out. And we all still just kind of hung out in the same room together!
KVT: Charlotte is a junior at UVM studying theater, and Winnie, you teach there, is that right?
Winnie: Yes, I teach Race and Racism in the U.S., the Culture of Disability, and Disability Studies and Media Representation. It's great, but very busy!
KVT: And Ted, you are currently homeschooling Josephine and Desi. How's it going?
Ted: We've been doing it for the last two years. I love it! It's relieved a lot of anxiety for everyone, I think.
Winnie: Yeah, everything is a lot more mellow.
KVT: Does it allow you to spend more family time together?
Ted: Definitely. We can make our own schedule, and we just get started when we get started. Sometimes we do things in the evening, sometimes even on the weekends. Last year, we were able to take a trip together to North Carolina. It gives us those kind of options.