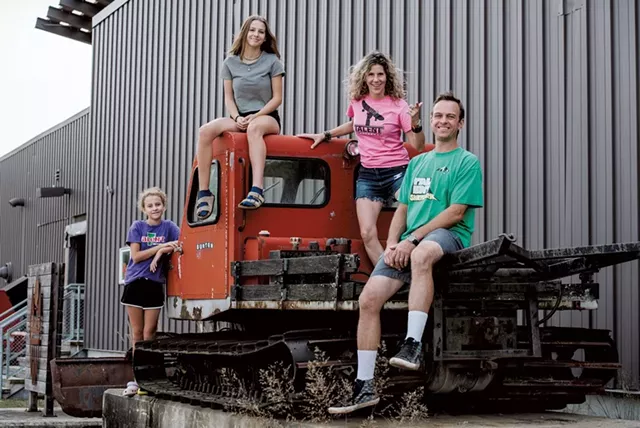 Sam Simon
(Left to right) Senyah Wood, 11, Adah Wood, 14, Hannah Deene Wood, 46, and David Wood, 47, outside of the new Talent Skatepark in Burlington. Hannah will serve as its executive director.
Kids VT: Hannah, you've been hard at work on the new Talent indoor skateboarding facility. You must be busy!
Hannah: Yes, I'm working a full-time job and doing this right now! It's a labor of love, and the time I spend working on Talent doesn't feel like work because it's a passion. And it needs to happen!
KVT: Parenting two kids on top of that must be tricky.
Hannah: It's tricky, especially when you have really active kids! Senyah is in the weight-lifting club at school, and Adah is on the volleyball team at Mount Mansfield Union High School, and I never miss a game.
KVT: Girls, are you into skating?
Adah: Not that much! I wish I'd gotten more into it when we had the old place. But maybe the new place will be like a new beginning, and we'll get more into it together. I know I definitely want to get a job here, and I'm excited to get to work here with my family.
KVT: It's a pretty cool family business.
Hannah: [Adah and Senyah] are a big part of it. Both of them were at the old Talent with me when they were two days old. I was back to work that fast. So it really is a family thing.
KVT: Do your friends ask you about the new space? Are they excited?
Adah: Yeah, a lot of my friends are.
Senyah: Even Mr. Martin, a teacher at my school, is always like, Senyah, when is it opening?