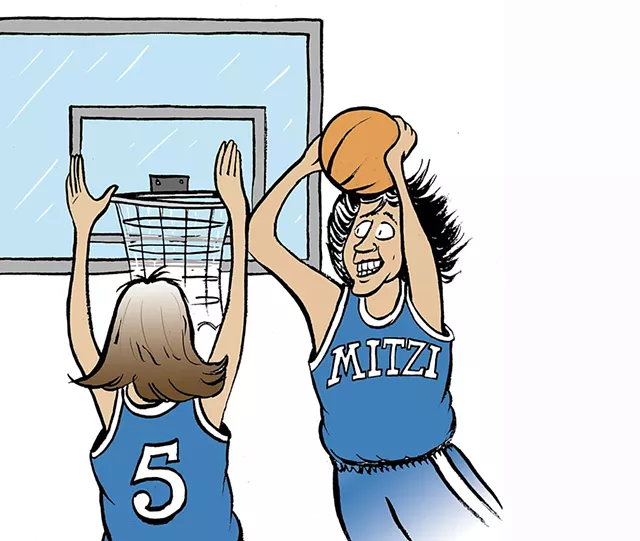 A rebel band of fiscally conservative Democrats from southwestern Vermont is testing party leaders' patience and ability to deliver on one of their top legislative priorities: paid family and medical leave.
The five holdouts, who, like Republican Gov. Phil Scott, question the size and mandatory nature of the new benefit program passed by the House, have made it clear that legislative leaders are not guaranteed the firepower to outgun the governor in a possible veto showdown.
Rep. Cynthia Browning (D-Arlington), ringleader of the rogue faction, said that by denying party leadership a 100-vote veto-proof majority on H.107 earlier this month, they've underscored how important fiscal restraint is to some members of the caucus. They hope to craft a plan more modest than the $76 million program the House passed April 5.
Browning recognizes that House Speaker Mitzi Johnson (D-South Hero) and other top party officials are displeased and said she fully expects the arm-twisting to intensify as end-of-session negotiations approach.
"I just hope that Mitzi doesn't get a stun gun," Browning said.
The proposed program passed with 92 yes votes — 16 more than necessary to send it along to the Senate.
Johnson, who does not own a stun gun or plan to buy one, hailed the tally as a "terrific success" on an issue for which many new House members campaigned. She dismissed the notion that passing the bill with fewer than 100 votes suggested potential trouble ahead.
"At this stage, we need to count to 76," she said, citing the number needed for a simple majority.
A closer look at the total number of yes votes cast during the debate, as well as the anticipated support of five lawmakers who were absent, suggests 97 members actually support the bill as passed, Johnson said.
"Ninety-seven is a lot of people to say yes," the speaker said, noting that the number exceeds the 90 votes last year's family leave bill received before Scott vetoed it.
Yet it's still short of the two-thirds threshold the 150-member chamber would need to override a gubernatorial veto. After Democrats picked up 12 seats in the Vermont House last fall, many presumed that party members and their Progressive allies, by virtue of holding a combined 102 seats, would enjoy a veto-proof majority.
The vote on paid family leave shows that unity of Progs and Dems is not a given, which was certainly not lost on the governor himself.
"I think it does send a message to the Senate that this is not a slam dunk," Scott said last week.
The House bill would require employers that don't offer a plan to collect a 0.55 percent payroll tax from all employees. Businesses could choose to cover part or all of the cost of the insurance themselves. For those making $58,000 per year, the median household income in Vermont, the tax would amount to $318 per year, according to an estimate by the Joint Fiscal Office.
The bill would allow workers to take up to 12 weeks off to bond with a new child or eight weeks to care for a parent or recover from a serious illness.
Benefits would be more generous for lower-income workers. Those earning $27,000 or less would receive 90 percent of their wages during leave. Higher earners — those making between $27,000 and about $70,000 — would receive 50 percent of their salary with a cap of $1,334 per week.
Concerned about burdening businesses and workers further, Scott and Republican New Hampshire Gov. Chris Sununu proposed instead a voluntary program with more modest benefits. Their plan would allow businesses to decide whether they want to participate in a program that would grant workers up to six weeks of paid leave.
To create a large enough risk pool and keep costs down, the governors proposed enrolling the two states' 18,500 government workers in the program.
Senate Republicans introduced a bill, S.151, that adheres to Scott's plan, but it's languishing in committee.
Scott declined to say whether he'd veto a mandatory proposal from the legislature similar to what the House passed, but he made it clear he thought a "Cadillac" plan was too much, too soon.
"We could end up exactly where they are in a few years, but at this point let's walk before we run," he said.
Browning is taking that idea and running with it. The former college economics professor, who describes herself as a Blue Dog, or fiscally conservative, Democrat, has done more than just oppose the House bill.
She cosponsored an amendment promoting an alternative program that gave similarly skeptical colleagues another path forward. Her proposal would have offered less generous benefits, maxing out at four weeks, which Browning acknowledged was "stingy." Importantly, the proposal would have allowed employees to opt out of paying the tax (and receiving any potential benefits).
It ultimately failed, despite support from the five rebel Democrats, a handful of independents and all 43 Republicans.
Browning agreed with the governor that it makes more sense to "start small" and build the program over time. She said she doesn't want Vermont to repeat a pattern of offering benefits it can't afford, something she believes led to the state's unfunded pension liability.
Browning hopes the pushback will cause the Senate to "reel it back a little bit." The four other moderate Democrats who voted against the bill all expressed similar concerns over its costs and mandatory nature.
"I don't think employees should be forced into this program," Rep. Tim Corcoran (D-Bennington) said. "I felt that it should be opt-in."
While he supports the concept of paid leave, Corcoran said his constituents have also expressed other priorities that include funding for health care, childcare and water quality.
"You're taking $80 million out of that conversation," Corcoran said.
He said it's premature to say how he might vote if the House is asked to override a Scott veto. Corcoran is hoping it won't come to that if leadership listens to his and others' concerns.
"They understand our caucus is a broad range of different views, and they have to take that into account," he said. "Hopefully, they will."
Since the bill will likely change in the Senate, a vote on a compromise version will be more telling than the one on April 5, Johnson said. And if the governor ultimately rejects the proposal, it would set up a very different decision.
"The question on veto override is, 'Do you want to support or prevent this bill from actually becoming law?'" Johnson said. "That really changes the weight of the discussion."
Senate President Pro Tempore Tim Ashe (D/P-Chittenden) said the lower chamber's vote "informs our actions" but does not govern them.
"As a matter of just doing business in the Senate, we do not start off by saying, 'How can we make a handful of House members happy?'" Ashe said.
His priority is to increase the state's minimum wage, which he views as the most effective way to bring people out of poverty. In February, the Senate approved raising the minimum wage to $15 an hour by 2024, and the measure is now under consideration by House committees.
Ashe hopes both initiatives become law but acknowledges that compromise on paid family leave may prove tricky given the baked-in differences between proposals.
"Is there a word for something between mandatory and voluntary?" he asked.
Johnson and Ashe both noted that the House didn't initially have the votes to override governor Jim Douglas' 2009 veto of Vermont's landmark marriage equity law. The Senate passed the bill by a veto-proof margin, but the House could only muster 95 votes. After a frantic weekend rallying support, House leadership convinced enough members to switch their votes, and 100 representatives voted to override.
As for paid leave, some areas that seem ripe for potential compromise are actually fraught with conflict. Browning's idea of allowing individuals to opt out would result in higher costs as the pool of insured employees shrinks.
Trimming the length of the benefit is also a nonstarter for some.
Ashley Moore, a lobbyist for the Vermont Main Street Alliance, a business group that has been pushing for paid family leave for several years, called the 12 weeks of paternity care the "minimum standard" the organization was willing to accept.
"We're not interested in passing a benefit with significantly less time than what was outlined in the existing bill," Moore said.
Complicating matters further was the unexpected death of Rep. Robert Forguites (D-Springfield) last week. Forguites, who was 80, voted in favor of the legislation and died in his sleep days later.
Until Scott names Forguites' successor, that leaves 96 representatives presumed to support the House bill. As speaker, Johnson doesn't typically vote. But if she did to help override a veto, three representatives would still need to reverse their votes to reach 100.
Rep. Linda Joy Sullivan (D-Dorset), who voted against the bill, predicted that reversal might be tougher than leadership presumes because "seasoned legislators" cast some of the votes.
She cited Corcoran, who was first elected in 2002, and Rep. David Potter (D-Clarendon), first elected in 2005, as examples of veteran lawmakers who would likely "hold firm." Freshman Rep. Chris Bates (D-Bennington) is the fifth defector. He expressed concern that the plan would be mandatory and businesses of 10 people or fewer wouldn't be required to give people their jobs back when leave was over.
Sullivan feels the bill was rushed through the House without sufficient analysis, in part because leadership felt they had the votes this year to ram it though.
"They went at it as though they had a supermajority," Sullivan said, "but, in fact, they didn't."
Disclosure: Tim Ashe is the domestic partner of Seven Days publisher and coeditor Paula Routly. Find our conflict-of-interest policy here: sevendaysvt.com/disclosure.