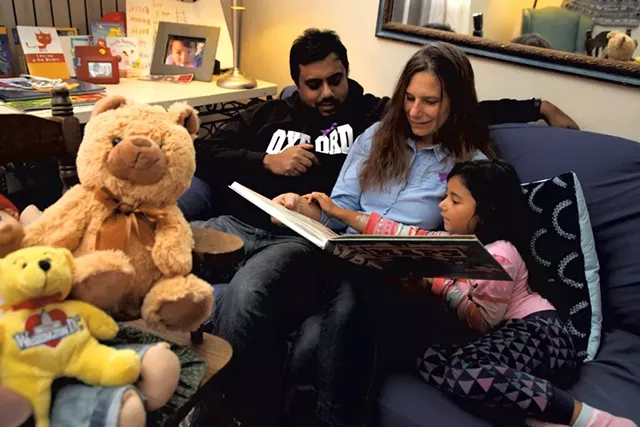 Matthew Thorsen
Dad: Pablo Bose, 45, associate professor of geography and director of global and regional studies, University of Vermont
Mom: Alisha Laramee, 43, program specialist, New Farms for New Americans with the Association of Africans Living in Vermont
Daughter: Lily, 5
It's an unseasonably warm fall evening as I ascend the front steps of Pablo and Alisha's cozy two-story home in the Five Sisters neighborhood of Burlington's South End. With small lots and houses nestled together, this neighborhood is known for its close-knit community and family-friendly culture — two things the pair appreciates.
During our conversation, Pablo points to a wall in the living room devoted to photos of parents, grandparents and even great-grandparents; a reminder, he says, of the importance of family and history in their lives. As an interracial couple — he's from an Indian-Canadian Hindu family and she grew up in a white Catholic family in the Northeast Kingdom — they've found common ground in the progressive, diverse city of Burlington and in their love of working with immigrants and refugees.
On being thankful:
Alisha: Because we do similar work with refugees, we have a lot to talk about. And I think because of that work, at mealtime there is a deliberate effort, at least on my part, to make this consistent. What are we thankful for? every single night — not just Thanksgiving month. I encounter so many situations that make me want to come home and say how thankful I am for my family.
Pablo: And you say that a lot. You actually say that every night.
Alisha: Then Pablo says, "Let's eat! The food is getting cold!"
Pablo: Because I am the cook!
On the joys and challenges of having flexible jobs:
Pablo: Both of us have flexibility in our jobs, and that can be fantastic. For example we were gone this whole past spring — I was on sabbatical and Alisha was working one day a week remotely, but she took a lot of time off. We traveled a lot — Kentucky, Tennessee; we were in Vancouver for two months, and then Arizona for a couple of weeks. So we are able to do stuff like that. But for a person like me, it's also really hard to have a lot of unstructured time. I have the kind of job that, if I let it, can just be all the time. I have gotten used to being fully here when Lily and Alisha are awake, and then I work almost every night after they go to bed. That's been going on since she was born.
Alisha: That's been going on since before she was born. You always work!
On unplugging:
Pablo: When I am with [Lily] and Alisha, I like to be with you so I have put some barriers on time, and not working, which wasn't always the case in the past. You are much better at this. When you are with Lily, you generally don't ... well, you do ... but you like to think you don't!
Alisha: The fact is that it is 2017. I do check text messages and sometimes emails, but generally I am pretty adamantly opposed to doing that while I am with her. And I role model that to the best of my abilities. It's challenging with jobs to say, I'm off.
Pablo: I have been lucky in that respect. My department is all women who have families and are awesome and they have actually done a really good job in this. I had a chair who said, "I don't answer emails after 5 o'clock."
On eating al fresco:
Pablo: I've never said this to you before, but one of the things I love most about our life is that we eat meals together. I love the fact that we have dinner together every night and we eat either at the dinner table or outside, until it's too mosquito-y or too cold. People walk by and say stuff to us all the time.
Alisha: "How do we get reservations?" [laughter]
Pablo: It's really nice.
On the lack of childless date nights:
Pablo: A lot of times I think your family in particular, and my family too, actually, will be like, "Why don't you guys want to go out just the two of you?" Partly, it's our schedules, but we really like spending time with Lily. We would like to go out for dinner — with Lily. All three of us.
Alisha: I don't feel like we're missing out by not having some couple time or special dates. Neither of us really likes going out — besides going out to dinner as a family. Pablo doesn't really drink so it's not like, Oh, let's go to the bar and have a drink.

Pablo: It's harder sometimes to have conversations over dinner. Lily sleeps in more and we have had some really nice early-morning conversations.
On being aware of cultural norms:
Alisha: Especially when Lily was little, I would ask a lot of [refugee] moms [I work with] about the way things are in other places, and right away they said, "No cribs." They thought that was the strangest thing, to separate your baby from you. And going into people's homes and seeing they still had kids in their beds until they were 8 or 9 years old. Then you have these internal conversations about the cultural norms — and you just do what's right for you in the end. And then you think you are doing what's right for you, but then you just realize you are doing it because it's the way the culture works. So we never used a crib!
In "Balancing Act," we ask Vermont parents about the intersection of work and family life. Know parents we should interview? Email us at ideas@kidsvt.com.