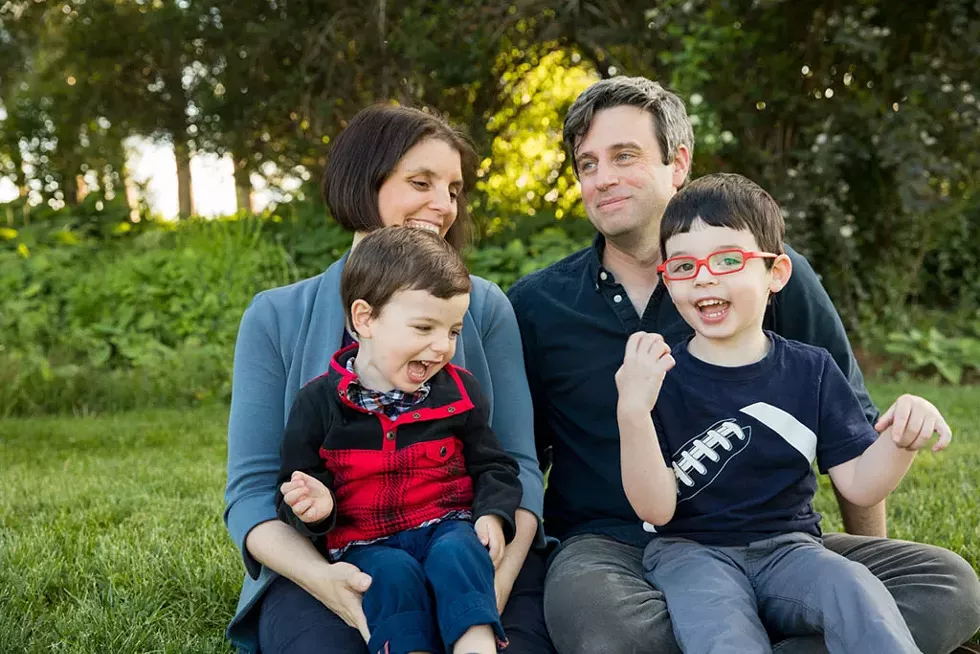 Courtesy of Kristy Dooley
The Bell family
T
he night before Ascension Childcare reopened in June, Rebecca Bell tucked her 4-year-old into bed and told him that things would be different. "I told him that they'd have to separate on the playground and everyone would be wearing masks. There were a lot of new rules," Rebecca explained.
But her son took it in stride. "There are already rules at school, mom," he told her. That was the moment Rebecca realized that he would be totally fine. He was so thrilled to be going back that the new accommodations didn't matter; he just wanted to see his friends and teachers again.
Not every child in Vermont gets to do these things. In fact, three out of five of Vermont's youngest children don't have access to the child care they need. And too many families can't afford it. Pre-pandemic, families were already spending up to 30 percent of their household income on child care — if they could find it.
And Vermont's child care programs were understaffed and underfunded prior to the pandemic. Now, it's even worse.
Pre-pandemic, Vermont faced a shortage of early educators who have been underpaid and undervalued for decades. Now those educators face increased risk, as well as an increase in safety protocols and precautions.
Now more than ever, Vermonters understand that child care is essential. We spoke with four families around the state who rely on child care to find out how access to quality child care has been impacting their ability to work and get their kids what they need. Many of them work with kids themselves — one mom is Vermont's current Teacher of the Year. They describe the crucial difference early educators have made in their lives and how they have gone above and beyond to support the next generation during this difficult time.
---
Bibba and Harrison Kahn
Middle school teacher; vice president of marketing, Montpelier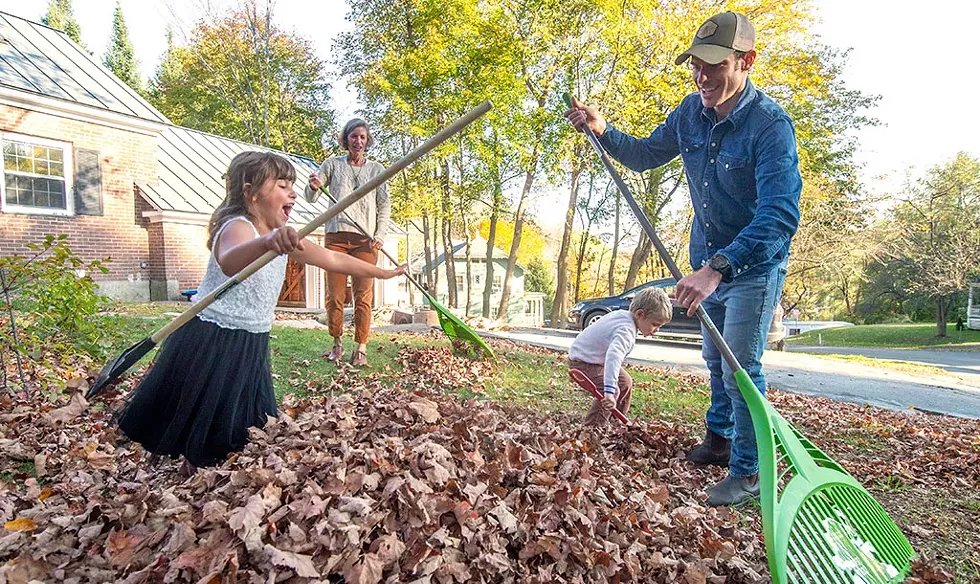 Jeb Wallace-Brodeur
The Kahn family
On the day Montpelier Children's House began welcoming students again, Harrison and Bibba Kahn woke up at 6 a.m. They anticipated being able to get ready for the day before Iris, 7, and Asher, 4, woke up, but Asher beat them to it. By the time Bibba was out of bed, Asher was fully dressed and had completely packed his own backpack.
"He loves it there so much," Bibba said, laughing.
For Bibba and Harrison, the reopening this fall was not just a joy, it was a relief. The two parents had been juggling child care along with working from home and were starting to feel the burnout. Bibba, who teaches French at Main Street Middle School in Montpelier, is Vermont's Teacher of the Year. Harry is the vice president of marketing at Caledonia Spirits and also the secretary of the Montpelier Development Corporation.
"It was exhausting," Bibba explained. "Both of us often had to work late nights in order to get work done that we couldn't do during the day. Luckily, Harrison's schedule was flexible, so we could tag team with our meetings most of the time."
Kids Can't Vote.
But You Can.
It's important that EVERY candidate for political office fully understands the issues that matter most to Vermonters, including increasing access to high-quality, affordable child care.
Harrison continues to work remotely and is able to log off around 6 p.m. each evening. With Bibba back to in-person school, however, they have had to find supplementary care for the kids. Because the pandemic has shortened school days, both children are done with classes earlier, so the Kahns have hired a nanny to assist with afterschool care. They realize this is an option many Vermont families aren't able to afford and are grateful they have the resources to make it work.
The Kahns are deeply involved in their community, and both of them care a lot about the ability to access high-quality child care.
"We have also both seen the incredible impact child care — or the lack thereof — has had on our colleagues," Bibba said. "Talented, hardworking professionals have had to reduce hours and responsibilities in order to provide for their children. If we want to have a robust workforce in Vermont, everyone needs to have access to plentiful, high-quality child care."
From a teacher's perspective, why is access to quality child care so vital?
Early childhood education is so vital to childhood development and really sets them up for success later in life. Asher didn't learn much from me while we were at home, because early childhood isn't my expertise. It's so important for him to be able to go to child care.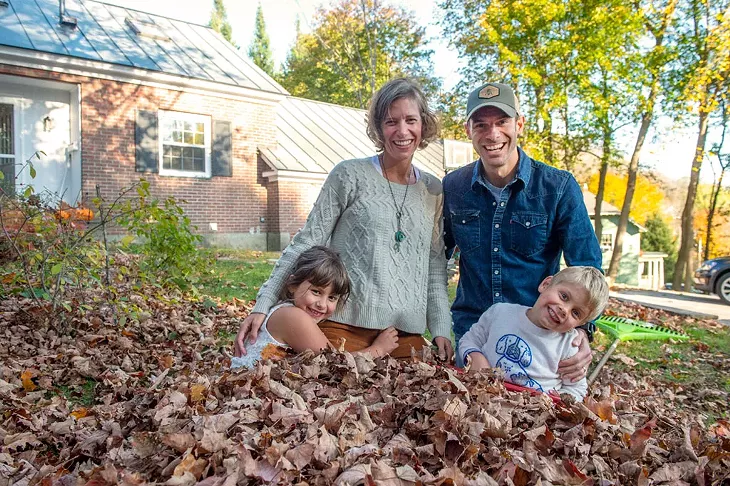 Jeb Wallace-Brodeur
The Kahn Family
How did your child care provider go above and beyond to support you during the pandemic?
Any time we've had concerns or questions about Asher's development, Samara, the director at MCH, has responded quickly with thoughtful answers and helpful resources. For example, when we were grasping at straws trying to homeschool our daughter, do our work and keep Asher engaged, Samara collected books, puzzles and toys having to do with dinosaurs and lent them to us for a month! Because of her, this guy is an amateur paleontologist!
What changes have they made as a result of the pandemic?
They're having a lot more outside time, and it is a huge relief to know that Asher is outside, because he's safe, exploring nature and with caring adults. Our little guy goes on hikes multiple times a week, and today he was so proud to share that he even napped outside!
Did you struggle finding child care services?
Luckily, a friend gave us the tip to get Iris on the wait list early, so by the time Asher came along, we already knew the drill. There were limited spots for programs in our area, and we feel so lucky that we had the option to go to Montpelier Children's House. It breaks my heart to hear that there are students on the wait list that can't find or afford child care in our community. I feel guilty we have this great option but there's not enough capacity for our neighbors.
What would you do if you didn't have access to child care?
One of us would have to quit our job. In non-pandemic times, we might be able to rely on grandparents for some child care, but that is not an option now.
---
Maresa Nielson
Second-grade teacher, Springfield
Sarah Priestap
Maresa Nielson and her husband swinging with one of their foster sons
When Suzy's Little Peanuts in Ascutney closed due to the pandemic, Maresa Nielson's son learned to make a peanut butter sandwich. With two 3-year-old foster children at home, she had to find new activities to keep them occupied. One of those things was spending more time in the kitchen, learning how to make their own lunches. "We got creative with activities and tried to limit as much screen time as possible."
Even so, watching more TV than usual was an inevitable consequence of the pandemic. Maresa and her husband are both teachers; they were busy facilitating online classes at times. When Maresa's second-grade classroom at Elm Hill School in Springfield went remote, she taught hour-and-a-half-long classes every day and attended meetings with staff and parents. Now, it's back to school four days a week, and her foster son is back in child care.
The time that Maresa spent with her family was unforgettable, though. They built a swing set in the backyard, started a garden, took nature trips, and tried different arts and crafts. In a sense, Maresa turned her own home into a child care center. But despite how much fun she had during those months, it wasn't a lifestyle that she could sustain.
Making sure young kids are active and learning is a full-time job in itself. "I didn't fully realize that until our child care center closed," she said. "Having a full-time job and raising children is a challenging task, and the ages 0 to 5 are the most formative years where kids need the most attention."
Sarah Priestap
Maresa Nielson tending the garden with one of her foster sons
How did you feel about your child care center reopening?
I was actually debating this summer whether to even go back. We were apprehensive because of the health risks, but it's a necessity we can't do without; we had no choice. I was nervous sending him back to class during the pandemic, but there was no other way to do it. Suzy's made me feel better about it by making changes, like changing their sick policy, getting rid of stuffed animals in the classroom, washing hands more and wearing masks. They're doing everything they can.
What big changes have you made to your daily life?
We see my parents a lot less. They live about two hours away, so they used to come help with childcare, and stay with us for weekends or vice versa. Having them around for backup was a huge relief, but now that school is back, they have not been able to stay with us because they need to isolate.
As a teacher yourself, what sorts of things did you hear from parents who had to adjust to a world without in-person school or child care?
It depends on the parents' wealth or situation, if they could work remotely or have people in their family to help. A lot of children in my class have parents who are essential workers that couldn't take off, and those kids were having an especially hard time trying to do remote learning. There was a wide scope of how people were feeling, but all families were incredibly stressed and trying to do the best for their kids no matter what.
---
Rebecca Bell
Pediatric intensivist, Burlington
Courtesy of Kristy Dooley
The Bell family
During the week when everything shut down in March, Rebecca Bell was working in the pediatric intensive care unit at the University of Vermont Children's Hospital. A pediatric intensivist, she spends her days caring for seriously ill and injured children. That week, Bell admitted a child to the PICU because early educators had sounded the alarm that something was wrong and were able to bring it to the attention of the family. "It was something very serious," she said. "It was amazing that their teacher noticed it."
This was when worry started to set in for Rebecca. All she could think about was what families would lose when centers were shut down. Kids would be at home without that trained, expert set of eyes looking out for them during all hours of the day. "I remember sitting down and just thinking,
Oh, no. All of this is going to be really bad for kids
."
Kids Can't Vote.
But You Can.
It's important that EVERY candidate for political office fully understands the issues that matter most to Vermonters, including increasing access to high-quality, affordable child care.
In addition to being a pediatric intensivist, Rebecca is also a mom of two. When her child care center closed, she went from having one busy full-time job to juggling two of them. Luckily, her husband's employer was flexible. She knew other parents who had it worse — people she worked with at the hospital or the families that she'd see come in and out of the PICU. However, it was still a struggle to keep two young boys, ages 4 and 2, occupied.
A day on the job for Rebecca in the PICU is busy but rewarding. Every day is different. She works days, nights and weekends at times, in addition to her role as an associate professor of pediatrics at the University of Vermont Larner College of Medicine, where she teaches classes. Her schedule can be all over the place, and child care plays a big role in helping her keep up with all of her commitments.
"The most glorious day of the pandemic was when my child care center reopened," she said. "We were just so happy."
In what ways did your child care center go above and beyond to support you?
My youngest son was diagnosed with gross motor delay and speech delay early on by his pediatrician and qualified for early intervention services. He had a physical therapist and a speech therapist who would come to his school and work with him and his teachers. He was diagnosed before going to child care, but we noticed rapid improvement when he was in his center at a place with experts in child development. He's caught up so much since that he no longer qualifies for the services any more, and that's thanks in part to the support he got at his child care center.
What do you like best about your child care provider?
Like other early childhood education centers in Vermont, my kids' center is staffed with early childhood educators who are experts in child development. It is such a huge relief for me to be able to leave my children in a safe, nurturing environment.
Why do you feel that access to child care is so important?
I guess I'm a little biased as a pediatrician with young kids and a lot of friends with young kids, but the pandemic completely emphasized the importance of this. If you ask any family what the biggest stress was these past few months, a majority of the responses would be around child care. We need to make supporting early childhood education a priority.
---
Alishia Cleveland
Photographer and assistant behavior analyst, Holland
Courtesy of Alishia Cleveland
The Cleveland family
Alishia Cleveland was eight months pregnant when the world started shutting down in March. She had to stop herself from looking on the internet and searching what giving birth was like for mothers. It made her too nervous. "I was extremely anxious," she said. "There was a lot of pacing around the house. I did a lot of positive self-talk every day to ease my nerves while everything was changing."
She had been worried about having to go into the delivery room alone. She spent the first three hours by herself while they determined whether she was in labor, but after that, her husband was able to come in with her. However, he was the only one allowed. He couldn't swap places with his mom or her mom, and it was a strange experience. "With my daughter, who is 5, everyone was there. Usually everyone is able to come out and see the baby, but not this time."
Now, her son is 5 months old and thriving. Alishia works part time as an assistant behavior analyst, and she runs her own photography business, mostly taking photos for weddings, though business dried up during the pandemic. Her husband is a construction supervisor and was able to work from home, as well. They kept their daughter home in the spring and summer, but she's now back at Manda's Pandas for child care.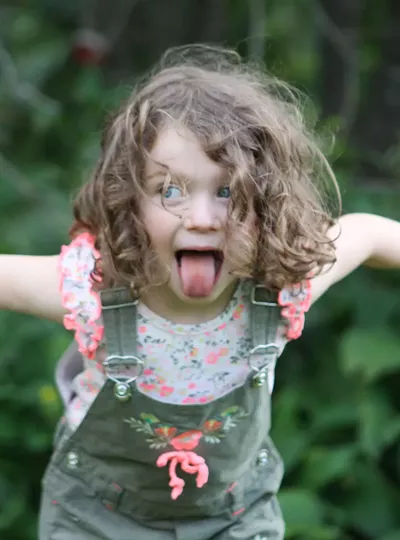 Courtesy of Alishia Cleveland
Alishia's daughter
"Our daughter got pretty good at understanding that when the laptops were out at the kitchen table, it was work time," Alishia observed. But "it was hard to juggle looking after kids along with our work schedules."
Alishia has found it difficult to explain COVID-19 to her daughter. "She calls it 'the sickness,'" Alishia said. The biggest challenge was trying to get her to understand why she had to stay away from people and couldn't go see her grandparents. "She is really excited to be back at child care, but she definitely misses being able to give hugs."
In what ways has your child care provider gone above and beyond to support you?
I wanted to nurse my son during my lunch break at work, and she made many calls to get clarifications on the guidelines and make sure that would be possible for me. In addition to that, she makes sure the environment is safe for my children by sanitizing everything each day and enforcing social distancing.
Was it easy to find child care services?
It was not. Amanda actually didn't have room at first, so a family friend watched my daughter for quite a while until Amanda had room for her. And child care is expensive, especially for babies.
What do you think needs to change about child care in Vermont?
I think it needs to be more accessible for the middle class. It's not affordable for a lot of people. I used to work at a center that was $45 per day for an infant, that's a lot of money for one child, let alone multiple children.
What about your life would change if you couldn't access child care?
I wouldn't be able to go to work. I'd have to quit. And if I couldn't work, then I wouldn't be able to help provide for my family.
Kids Can't Vote. But You Can.

It's important that EVERY candidate for political office fully understands the issues that matter most to Vermonters, including increasing access to high-quality, affordable child care.
This article was commissioned and paid for by Let's Grow Kids.