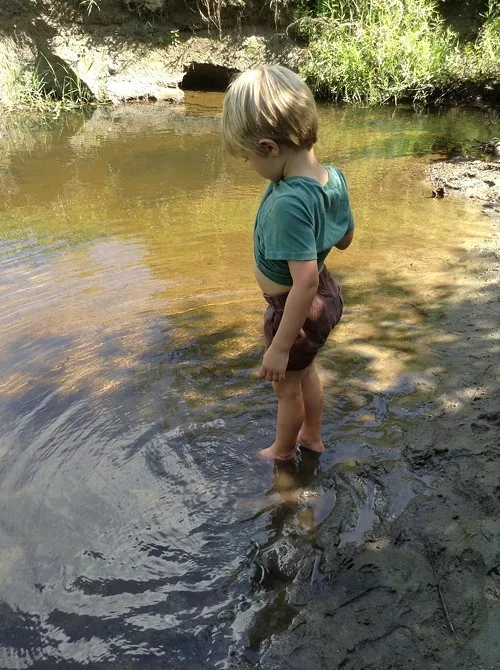 Theo Novak wading in Allen Brook
My 3-year-old, Theo, is on a running kick. Whether it's doing laps around our house after dinner or trying to beat the tractor back to the visitor's center at
Shelburne Farms
, the kid has the need for speed.
Consequently, I'm always on the lookout for fun, outdoorsy places where my boy can roam free. On a recent weekday, we tried out the Allen Brook Nature Trail, located behind Williston Central School.
Upon arrival, we were immediately sidetracked by Williston Community Park's awesome playground in the back of the school. It's got your standard swings and slides, but also some more unusual features, such as a stand-up seesaw and metal vehicles to sit in and "drive."
We could have spent a good hour immersed in pretend play, but nature was calling. We wandered a bit on the paved recreation path that circled the baseball and soccer fields, looking for the trail. Some black-raspberry bushes on the side of the path provided us with a little pick-me-up and we soon encountered a local nursery school class, whose teachers pointed us in the right direction.
The Allen Brook Nature Trail begins with a wooden bridge stretching over the shallow brook for which it's named. Theo and I noticed kids wading under the bridge with buckets and shovels, and couldn't resist joining them. It was off with our shoes and into the water! We found tadpoles, minnows and a little crayfish, as well as purple and green dragonflies and what looked to be muddy raccoon tracks.
When we were all creatured out, we dried our feet and made our way further into the woods. My intention was to do an easy half-mile loop. But, thanks to my terrible sense of direction, we somehow got siphoned off on another half-mile path and found ourselves at the south entrance of the trail, right off of North Williston Road.
I briefly contemplated calling my husband for a ride but decided I'd rather send Theo the message that I was a strong, resourceful mama, not a damsel in distress. At this point, however, my runner had run out of steam. So I hoofed the .6 miles back with a 40-pound kid-pack.
As we walked — and briefly lost our way again — I yapped on and on to Theo about the importance of not giving up when you run into difficulty. I thought it was all lost on him until we got to the parking lot.
Theo looked up at me. "I'm so happy we got lost," he said.
"Why?" I asked him, surprised.
"Because we figured it out," he said.
View from the Allen Brook Nature Trail
If you go:
The easiest parking for the Allen Brook Nature Trail is at Williston Community Park, next to Williston Central School. From the parking area, walk along the paved recreation path a few hundred yards, past the sports fields. The Nature Trailhead will be on your right. There are maps in a box at the trailhead. If you're smart, you'll take one!
For more information, contact Williston Parks and Recreation at 878-1239.

This post was written by Kids VT contributor Alison Novak, who lives in Shelburne with her husband and two kids.