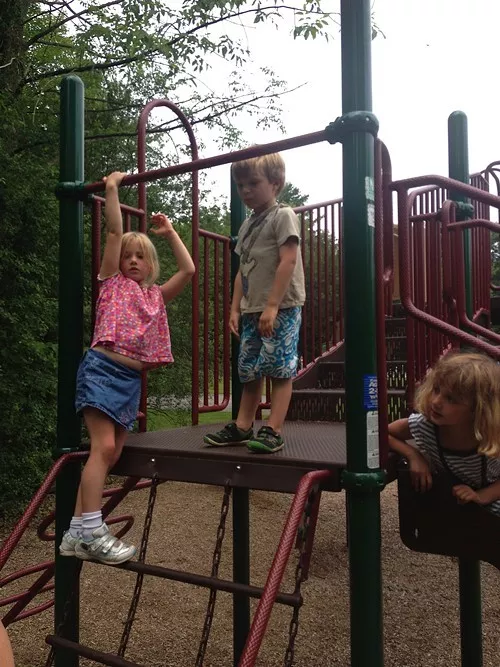 photo by Alison Novak
Exploring the playground at Button Bay State Park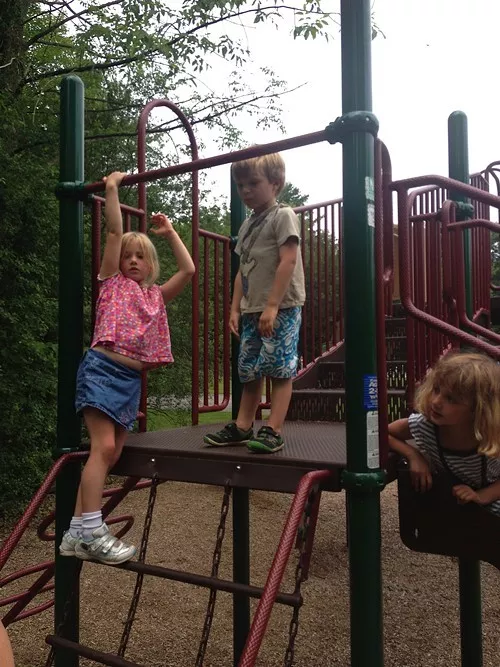 Exploring the playground at Button Bay State Park
When my kids recently asked what the word "humid" meant, I likened it to "walking around in a bowl of soup." That's what it felt like last weekend, and the forecast for the coming week looked just as steamy.
Pool club memberships are expensive and sometimes lake swimming just isn't appealing. So where can families go to get some relief from the heat?
On Saturday, we found one answer at Button Bay State Park in Ferrisburgh. The 253-acre park sits on a bluff overlooking Lake Champlain, and offers camping, nature trails and boat rentals. But on our visit, we only had eyes for the pool.
My husband, Jeff, and I brought along two neighborhood friends in addition to our own kids, for a total of four kids between the ages of 3 and 7.
Theo, our 3-year-old, spent most of his time cavorting in the pool's shallow wading area, playing with the little spouts that shot water into the air. Our 7-year-old neighbor, a confident swimmer, was thrilled to go down the twisty water slide at the opposite end of the pool. Mira, our 6-year-old who is still learning to swim, and her 5-year-old friend stayed somewhere in the middle, practicing their underwater moves while still able to put their feet on the pool's bottom.
There were several dozen kids splashing around, so Jeff and I had to be vigilant to keep tabs on all four of our charges. But the small size of the pool and the watchful lifeguard on duty gave us an added sense of security. And when the kids tired of the water, we set up towels on the grass nearby for a picnic lunch and monkeyed around on the large play structure next to the pool.
If you asked the kids what their favorite part of the trip was, though, all four of them would probably have said the double-chocolate-fudge ice cream cones from the Love Shack in North Ferrisburgh, where we stopped on our ride home. My coffee milkshake wasn't half bad either. Hey, if it's gonna be hot and humid, we might as well make the best of it!

Know before you go:
Button Bay State Park is located at 118 Button Bay State Park Road in Ferrisburgh. Its pool is open daily from Memorial Weekend through August 17, 10 a.m.-2 p.m. and 3-7 p.m. Park admission is $3 for ages 14 and up; $2 for ages 4-13; and free for kids under 4. For more information, visit vtstateparks.com/htm/buttonbay.htm.
Vermont Cookie Love's Love Shack is located at 6915 Route 7 in North Ferrisburgh. It offers cookies, scones, creemees and hard ice cream. For more information, visit vermontcookielove.com.
This post was written by Kids VT contributor Alison Novak, who lives in Shelburne with her husband and two kids.